A beginner's guide to Spain
Explore the cities and beaches and siestas.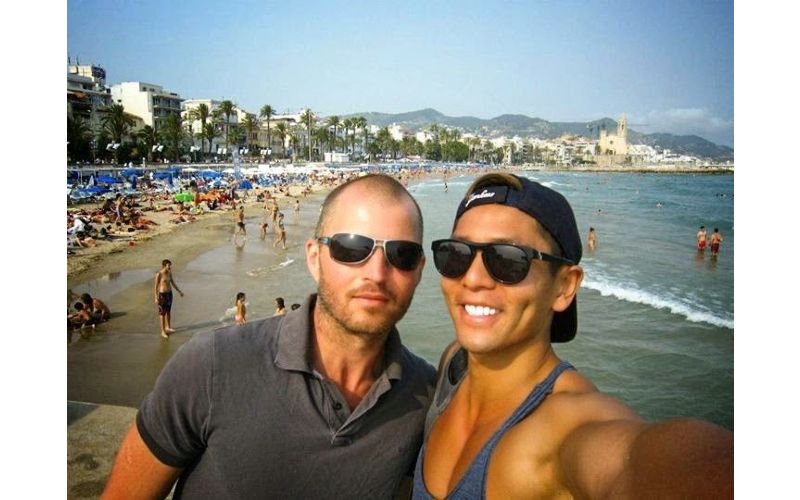 Not only is Spain a large country in terms of size, there's also a huge wealth of destinations waiting to be explored and discovered by the eager traveller.
Each region has its own character and traditions, and whatever your interests — food, culture, beach, history, nightlife — then you'll find what you're looking for somewhere in Spain.
Here's some of the highlights to consider adding to your itinerary.
Barcelona
This beach-side party city ticks pretty much all the boxes for a summer break.
The huge stretch of beach sets the pace and rhythm for the city. The whole beach is pretty queer-friendly, but if you want to hang out and meet the locals then the official gay and clothing optional section is called Mar Bella.
Barcelona's nightlife is mainly found in the Eixample neighbourhood. Everything starts late and finishes late, so make sure you've had a siesta before heading out.
Gaudi's extraordinary cathedral is well worth a visit — make sure you book in advance. For food-lovers, the massive Boqueria food market is the perfect spot to grab some lunch.
If you fancy a day-trip, then beach resort Sitges is an easy train-ride away.
Benidorm
Close to Alicante, Benidorm gets a bit of a bad rap as its synonymous with the worst of English tourism to the Spanish coast.
However, it's not all bad. The beach is great, and if you stick to the old town and avoid the sports bars, then you won't see many English tourists.
Denia
Denia is a small, sleepy beach-side town, on the coast between Alicante and Valencia.
This is where families from Madrid come for their vacation. The beach is good, and it's a slow pace of life that revolves around food and family.
There are numerous festivals held throughout the year — one of the best is the Fallas festival which involves huge bonfires being lit throughout the old town. The Fallas festival happens in March each year. It's a traditional Valencian festival of Saint Joseph the carpenter. What began as a contest among carpenters to create an effigy of the saint has over time escalated to see municipal districts competing for prizes for the best papier mache monument, all of which are spectacularly torched on the final night of festivities.
Les Bovetes: This is the main stretch of sandy beach that stretches for miles – all along Les Marines and into town. It's always fairly busy but it's a good option for some quality beach time.
The Nude Beach: Yes, Denia has a nude beach. This is definitely worth exploring, although it's a bit of a stretch to call it a beach — more of a secluded rocky cove. To get to it, you should try and park as close as possible to Restaurant Mena. It's then a short walk south along the coastal path as far as you can. After about five minutes, you'll reach the end of the path, and you descend down some steep wooden steps to the cove. The rocks aren't super comfortable for sunbathing, but the water is clear and the swimming is great. You'll get the most out of this place if you've got a snorkel and goggles and some protective shoes for your feet. It's never busy.
Les Rotes: The rocky stretch of coastline to the south of the town is known as Les Rotes. The water here is crystal clear, and there are some fantastic rock pools which you can swim in. It's best to come equipped with some protective shoes for your feet, and goggles and snorkel so you can immerse yourself completely without injury.
Xalo: This is one of the villages that you'll find in the mountains overlooking Denia. It's about a 30-minute drive. There's generally a market on Sundays, but a good place to explore for lunch – all the action is all at Casa Aleluya. You couldn't ask for a better "let's drive somewhere and have a relaxed traditional Spanish lunch" scenario — friendly and efficient service and honestly one of the best dishes of paella that I've ever had.
Ferries: If you want to extend your expedition beyond the mainland, there are ferries from Denia that connect you with Ibiza or Mallorca.
Gran Canaria
Great weather and great beaches, this is a classic European party-island destination.
It is all fairly basic — nothing wrong with that, it is what it is — don't arrive thinking it's going to be all Ibiza-style-glamour. Gran Canaria is more Benidorm than Marbella.
Gran Canaria is an incredibly queer and queer-friendly kind of place. A bit like Sitges, but a bit more gay and a lot more naked. Pretty much all the beaches are clothing optional.
Granada
Granada is an interesting city — there's lots of history, good restaurants, and it's a great place to see some flamenco dancing. But the main reason to visit Granada is to see the Alhambra.
Perfectly situated on top of a hill, overlooking the city, the Alhambra is a royal residence that was built by the ruling Moors in the 13th century.
A complex series of buildings and gardens — much of which is still intact — the Alhambra is an astonishing example of Moorish architecture.
Ibiza
The iconic Belearic party island has been setting the standard for decades.
Still delivering an unbeatable combination of great weather, stunning beaches, and big nights out, for many people Summer doesn't feel complete unless it has included a wild week in Ibiza.
During the day, you'll find that most people head to Playa Es Cavallet — the queer-friendly nudist beach with a big stretch of golden sand and gentle waves perfect for swimming. This beach gets busy around midday, with a party atmosphere kicking in as the afternoon unwinds — Chiringay beach bar provides the music, food, and refreshments.
Regardless of your plans for the evening, most likely you'll start the night off in the old town of Ibiza — there's plenty of restaurants for dinner, and lots of small bars where you can meet up with friends and make plans.
Lanzarote
Part of the Canary Island group that sits to the south of mainland Spain, Lanzarote offers fantastic weather and an extraordinary landscape.
If you're into kite surfing, then this is an ideal destination as the wind is reliably good. Otherwise, you can marvel at the volcanic plains that give this island an otherworldly feel.
Madrid
Spain's capital city is rich in history and culture, but also has a fairly hard-core nightlife if that's what you're looking for.
The LGBTQ district of the city is Chueca — right in the heart of the action, just off Gran Via which is the imposing avenue that is a useful reference point when trying to find your bearings.
Malaga
The gateway to the Costa Del Sol, from Malaga you can easily reach hot-spots such as Torremolinos, Puerto Banus, and Marbella.
Malaga is also a great base from which to explore inland Andalucia, and Granada.
Mallorca
For years, the island of Mallorca has been one of the preferred options for British tourists looking for some sun.
Palma is the main city on the island. It's family-friendly, and a bit upmarket.
Magaluf is the town that has attracted a younger crowd looking for inexpensive package deals and some wild nights.
Sitges
Just a short distance from Barcelona is the beach-side resort town of Sitges.
Hugely popular with families and young people, this also a big destination for queer guys.
Valencia
One of Spain's ancient port cities, Valencia has a wealth of history that is worth discovering.
Stop for lunch in the city's food market — a big space with a great range of fresh produce and cafes where you can grab a bite to eat.
Explore the city's many churches, and its walled fortifications — some of which are still standing today.
Which are the best gay nightclubs in Spain?
If you're thinking about getting away for a mini-break somewhere, and you want to get a bit loose and work up a sweat on the dance-floor, then there's plenty of nightlife options in Spain that are worth adding to your travel wish-list.
Here's a few of the places where we want to dance and drink until we can't dance or drink any more.
Arena, Barcelona
It looks like Metro has permanently closed, but the Arena group have a couple of options in the Eixample district.
Privilege, Sitges
If you're planning on a late night in Sitges, then you'll probably end up at Privilege.
There's bars, there's shows, there's boys, and a dance-floor.
That's got a good night written all over it.
Centuryon, Torremolinos
In Torremolinos, when we want to get our groove on, we head to Centuryon.
Weekends is really when Centuryon pumps into life – big-name DJs, shows, and all the good stuff.
You'll need a siesta after this one.
Bunker, Gran Canaria
You'll find Bunker in the Yumbo Centre of Playa Del Ingles – which is pretty much where you'll find all of Gran Canaria's nightlife.
Bunker is the perfect combination of nightclub and sex-club.
Let your body do the talking.
Kluster @ Chango, Madrid
Kluster. Let's get amongst it.
DC-10, Ibiza
This is an island blessed with an abundance of iconic nightclubs and parties.
DC-10 has a special place in our heart.
Which are the best gay beaches in Spain?
If you're thinking about getting away for a few days in the sun, then a beach holiday in Spain is probably somewhere near the top of your travel wish-list.
There's obviously no shortage of beaches in Spain, but which are the best gay beach destinations.
Here's our four favourites.
Barcelona
Summer is an ideal time to visit Barcelona – immersing yourself in the beach-side beauty of the city. Barcelona's beach is a long strip of golden sand, notionally divided into different sections or neighbourhoods – some parts more oriented towards families, some parts more oriented to getting your clothes off and working on your all-over tan. You can easily spend your days just hanging out on the beach and soaking up the sun.
At the city end of the beach, you can stroll along to the W Hotel and sip cocktails in their outdoor bar while the DJ spins some relaxed tunes.
At the other end is Mar Bella beach, which is the gayest bit of the beach, and clothing optional. There's a really good beach bar in this section of the beach, serving up drinks and food and also offering sun-lounges and umbrellas to hire if required. The swimming here is also fantastic –  you're quickly out into water that's deep enough to swim and the waves roll gently over you.
Sitges
Sitges has three gay beaches to choose from.
Playa De la Bassa Rodona: This is the most accessible gay beach in Sitges  –  pretty much opposite The Calipolis hotel, overlooked by the Pic Nic beach-side restaurant. There's a relaxed vibe, swim-briefs on, and plenty of people watching.
Playa De Las Balmins: Not far from the Melia hotel, like all the best gay beaches, you need to know where you're going to find this one. You're heading beyond the church at Platja de Sant Sebastià. Follow the path alongside the beach, climb the hill past the cemetery.
Playa del Muerto: Beyond the Terramar Hotel and a bit past the L'Atlantida Disco is Playa Del Muerto. It's a pebble beach and has a small bar. A feature of this beach is the wooded area behind the railway, which is good for cruising.
Torremolinos
There are three gay beaches to pick from in Torremolinos.
The most popular gay beach is El Gato/Eden Beach.
El Gato is easy to get to from the centre of town and offers a good mix of local and international guys.
Gran Canaria
Gran Canaria is blessed with an enormous expanse of beach  -  courtesy of the sand from the Sahara desert, mixed with a bit of the black volcanic rock of the island.
As beaches go, Gran Canaria is about as gay as they get.
Pretty much the entire stretch of beach, from Playa del Inglés to Meloneras is officially designated as clothing optional. All very family-friendly, but everyone pretty much totally naked.
The gay part of the beach  -  again, totally naked  -  is at beach kiosk number seven, and helpfully marked with a Pride flag. If you're staying up the Avenida de Madrid end of Playa del Inglés, you can get to the gay beach by walking along the beach  –  but it's a long, long walk. It's a better option to take a taxi from Playa del Inglés to Meloneras  -  this costs about €6, and then it's about a ten minute walk to the gay beach. If you're staying closer to the Yumbo Centre, again a taxi is probably the sensible option, but it is a relatively easy walk through the Hotel Riu Palace and then across the dunes.
Think about your footwear. If you're walking through the dunes you'll probably need something more robust than flip-flops. On a hot day, the sand gets so hot that it burns your feet.
The gay beach has a pretty relaxed vibe. Some guys do wear swim-wear at the gay part of the beach, but most guys are naked.
If you fancy a bit of man-on-man action then there's a busy cruising area in the dunes behind the beach. Technically, it's illegal to have sex in public in Gran Canaria, but everything is pretty relaxed here – you'd have to be doing something fairly in-your-face to attract any attention from the police.
Which are the best gay parties in Spain?
If you're thinking about getting away for a mini-break somewhere, and you want to get a bit loose and work up a sweat on the dance-floor, then there's some major gay party options in Spain that are worth adding to your travel bucket-list.
Here's a few of the events at which we want to dance and drink until we can't dance or drink any more.
Circuit, Barcelona
You're going to need plenty of stamina for this one – it's not one party, it's a marathon of successive parties.
The massive water park party is the one that gets all of the attention, for obvious reasons.
Circuit will be returning to Barcelona in August 2022.
Bear Week, Sitges
A massive event for big boys with bounce, Bear Week in Sitges is actually 11 days of parties and events.
Sitges is good fun whenever you go there, but cram the place full of beefed-up bears and you're in for a treat.
Bear Week normally happens in September.
Delice Dream, Torremolinos
15 different events make up this festival.
You'll need sunglasses, sangria, and plenty of stamina to make the most of this fiesta with no siesta.
Delice Dream normally happens in October.
Maspalomas Fetish Week, Gran Canaria
Gran Canaria is a pretty sexed-up kind of destination any time of the year. However, when Fetish Week rolls into town, it's next level.
Fetish Week normally happens in October.
WE Pride Festival, Madrid
Madrid Pride is always a big deal, and the WE Pride Festival delivers all the parties that you want to be at.
The WE Pride Festival will be back in July 2022.
Pride, Ibiza
This is an island known for it's big-ticket parties, but what better place to fly the rainbow flags for a Pride celebration?
Ibiza Pride normally happens in September.
Which are the best gay hotels in Spain?
If you're thinking about getting away for a mini-break somewhere, and you want to make sure that you're staying in the middle of the action, then getting your accommodation right is a key factor.
Spain is a destination that delivers some of our favourite gay hotels.
Here's a few options to add to your travel wish-list.
Axel Hotel, Barcelona
A great place to base yourself is the Axel Hotel.
Axel is a small chain of hotels across Europe, specifically aiming for the gay travel market. Their Barcelona property is particularly good, with the rooftop bar providing spectacular views across the city.
The Calipolis, Sitges
The Calipolis is one of the larger beachfront hotels in Sitges, with 170 rooms  –  most of which have views overlooking the gay beach.
The air-conditioned rooms feature private terraces and free wifi.
If you fancy a break from the beach, then the hotel's pool and sun-terrace is a great place to relax.
Sitges' gay bars and clubs are a couple of minutes' walk from the hotel  –  as is the railway station if you fancy a night out in Barcelona.
Book early for peak season.
Hotel Ritual, Torremolinos
Hotel Ritual is our favourite place to stay in Torremolinos. Not just because they have rooftop nudist area with a pool and a bar, although that is definitely a major factor.
Maspalomas Fetish Week, Gran Canaria
Gran Canaria is a pretty sexed-up kind of destination any time of the year. However, when Fetish Week rolls into town, it's next level.
Fetish Week normally happens in October.
Which are the best gay bathhouses in Spain?
If you're thinking about getting away for a mini-break somewhere, and you want to sex things up a bit, you might be interested in a destination that has a decent bathhouse.
Bathhouses – or saunas or sex-on-premises venues – are good fun wherever you are, but when you're on vacation they're a great way to connect with local guys or fellow travellers.
Spain is a destination that delivers some of our favourite gay bathhouse experiences.
Here's a few options to add to your travel wish-list.
Boyberry, Barcelona
Boyberry offers a busy cruising zone, full of private rooms, dark rooms and glory holes. Head downstairs to the basement where you'll find even more action.
They often have theme nights and parties.
Sauna Sitges, Sitges
Sauna Sitges is not huge but it's well established and gives you everything you need from a gay bathhouse.
Their foam parties are popular, but always worth checking out.
Apolo Sauna, Torremolinos
In Torremolinos, the bathhouse is called Apolo.
It takes its inspiration from the American bathhouses of the late-70s, combining shows and entertainment with all the facilities and fun of a gay sauna.
Heroes, Gran Canaria
You'll find Heroes on the upper level of the Yumbo Centre – the hub of gay life on Gran Canaria.
This is a quality bathhouses – all the facilities you'd want, and plenty of different spaces to explore.