A beginner's guide to the Isle of Arran
Castles, whisky, kilts, and rugged landscapes.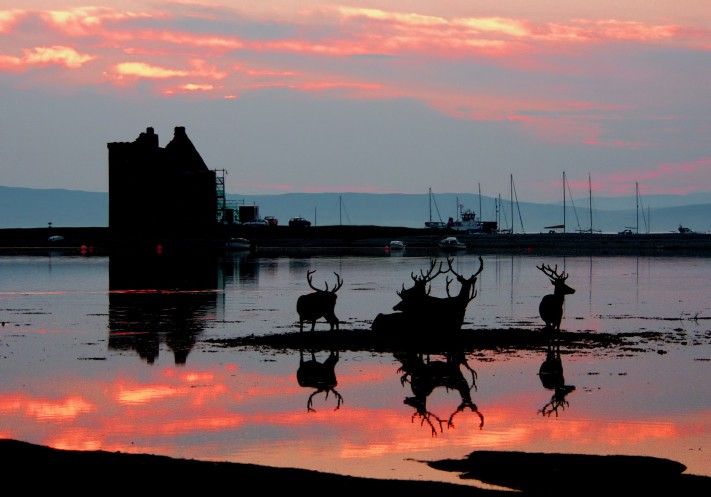 'We're the Arran Ceilidh Band…' announced the band-leader in a strong Scottish accent, while his band-members adjusted their array of traditional instruments. 'We're going to play some music, because that's what we do. I hope you like it.'
I was in a restaurant in Brodick on the Isle of Arran, looking out across the water. It was a small, unassuming place, but on a Saturday night it was full of people and folk music.
In many ways that sentiment of: 'This is what we do, hope you like it…' is probably the perfect tourism slogan to describe the Isle of Arran.
It's a unique place. Undeniably Scottish, almost intensely so. Tourism is the island's major industry, but this is a place that feels very real, a place where people live. The traditions and realities of life on an island just off the coast of Scotland are authentic, unapologetic, and unforgiving.
You get to Arran by ferry. It's only an hour across the water from Scotland's west coast, but it feels a world away from the gritty bustle of Glasgow or the sedate grandeur of Edinburgh.
Approaching the island, the dramatic coastline gradually comes into view - emerging from the water, promising a glimpse into a different way of life, a change of pace.
I was there for a weekend in June. I found the people of Arran to be incredibly welcoming, and the island offers a huge range of things to do and experience.
Is the Isle of Arran an LGBTQ travel hot spot?
I told everyone that I met that I was a gay travel writer. People were interested, polite, not really bothered. A few people mentioned local queer couples - people they knew running businesses or who had recently married.
I wanted to know whether the LGBTQ market was something that tourism promoters on the island were targeting:
"We don't really target anyone specifically…" explained one operator. "We want to welcome everybody - whether you're gay, a family, if you have accessibility needs, or if you've got a dog - we don't want to make a big deal of it, just be welcoming."
If you're wanting a taste of Scotland, then Arran is a great way to do it. If you're a couple looking for a romantic mini-break, a family looking for activities to entertain the kids, a group of friends looking for some outdoor activities, or if you're looking for a destination where you can take your dog with you - Arran gives you all of that. Just don't expect anybody to make a big deal of it.
The History
Settlements on the island have been dated back to the Neolithic period - around about the period of 4500 BC. The standing stones and stone circles that can still be seen today are from the early Bronze Age, so probably date to around the period of 2000 BC.
Control of Arran has shifted numerous times across the centuries - ruled from Ireland as part of the kingdom of Dalriada, ruled from Norway as part of the Viking empire of Magnus III, ruled by Alexander III of Scotland, often contested by the English, and held by various clans throughout the years.
Arran was caught up in the Highland Clearances of the 19th century. Alexander, the 10th Duke of Hamilton - the Earl of Arran - forcibly evicted tenant farming families. This led to widespread emigration from the island, the removal of entire villages, and the devastation of the Gaelic culture that had been part of the island's identity since the 6th century.
Today, about 5,000 people call the Isle of Arran home. One of the biggest challenges facing the island's tourism industry is recruiting the staff required to run the hotels, restaurants, and activities. Attracting people from the mainland isn't easy, agency staff from across Europe are hard to come by.
The ruins of Lochranza Castle. Photo: Gareth Johnson
What to do
Lochranza Distillery is a relatively new player in the history of whisky in Scotland, but it's a great opportunity to see a distillery in action and taste some of the outstanding whiskies being produced with the water of Arran.
If you want to get active, then Lochranza Field Study and Activity Centre has a range of activities on offer. I went sea-canoeing which was a great workout and a fantastic way to experience the island's coastline from a different perspective.
Go walking - the island offers a surprisingly diverse range of landscapes and opportunities to explore the outdoors. Popular walks include the Eas Mor Waterfalls near Kildonan, and the Standing Stones near Machrie.
Cycling is also popular, but be prepared for some challenging hills. I hired a bike from Arran Bike Hire at Brodrick. I didn't tackle anything too steep, instead exploring some of the local sights such as Brodick Castle, the Arran Cheese Shop, Arran Aromatics, and the Arran Heritage Museum.
Horse-riding gives you a chance to experience the island at a different pace - I joined Cairnhouse Riding Centre for a relaxed ride along the beach, but there are also longer and more challenging rides available.
Keep an eye out for wildlife - there are herds of Red Deer on the island, Golden Eagles circling overhead, and seals and otters along the coast. There's currently a white stag in one of the herds in the south of the island - apparently an omen of impending death within the ruling clan.
If you're tired of walking, then Arran Adventure offers a Segway tour. This was much more fun than I was expecting - whizzing along forest trails and admiring the views across the island.
Golf and hunting are also readily available.
Bonding with Magnus the horse on Blackwaterfoot beach, as part of a Cairnhouse Riding Centre trek. Photo: Dawn MacAlister
Follow Gareth Johnson on Twitter
---
Show your support for G-TV by grabbing a t-shirt.
Available in a range of sizes, colours, and styles.