A cautionary tale about navigating the alternate reality of social media
Trophy Boy explores the darker side of all of those filters.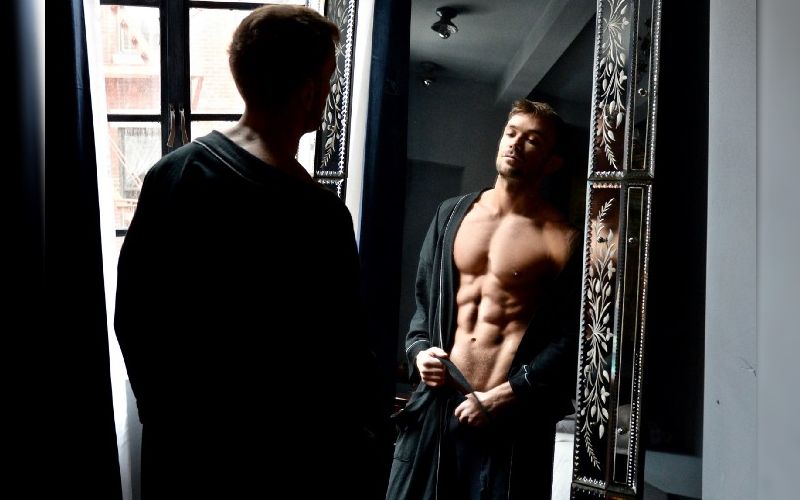 Trophy Boy is a short film from Emrhys Cooper, written by Anthony Johnston.
We caught up Emrhys Cooper for a behind-the-scenes look at the film.
You've written that your starting point for this film was wanting to penetrate some of the smoke and mirrors of how people can look so perfect on social media. What's been your experience of magnifying the reality of your life to impress the rest of the world?
I think we're led by a lot of bad examples of people who portray themselves in a way to get attention and validation, rather than truth. In social media, you get to discretely pick and choose which photos or videos to post. Not only that, we have lots of time to fix up our appearance, and plenty of different apps to make us look more perfect.
Clearly, anyone will appear sexier, happier, and more confident than if you appear in random photos taken by a stranger on the street. This has been my experience as well, and most comments reflect my 'advantaged' self.
Trophy Boy (image supplied)
Trophy Boy (image supplied)
Even though we know that the perfect lives we see on social media have been photo-shopped, face-tuned, and filtered, what is it about human nature that leads us to compare ourselves against strangers on the internet?
We measure ourselves against the standards of social media. We almost always zoom in on the extremely beautiful people, and feel crappy if we don't measure up. Rare is the person who seeks out homely people in order to make himself or herself feel better about their appearance.
As to the definitive answer to the question 'Why?' — I despair. My understanding is that Darwinian rules tweak our desires when seeking mates. A heterosexual male, for example, gravitates towards women whose bodies give them the best chances of safe childbirth. This is to safeguard continuity of the species. But most LGBTQ people don't usually engage in reproductive sex, which makes the question even more perversely difficult to answer.
You've written that the character you've created for this film is drawn from Mr Sloane from Joe Orton's play Entertaining Mr Sloane. What can a pre-internet character teach us about social media?
The pre-internet Mr Sloane was a youthful bisexual con-artist. My character of James in Trophy Boy, has grown up to be a savvy and complex sociopath. Primarily, as the background music implies, he is a 'beautiful' boy.
James at first seems to believe that his stunning appearance, as supported by social media counts and statistics, also credentials him as a 'kept' boy. He finds out, alas, that kept boys also get fired.
This is the first time you've collaborated with Anthony Johnston — were you apprehensive or nervous as to whether you'd gel together as a creative partnership?
There was a brief period of nervousness, but a joint project erases those worries. We both wanted a resounding success.
Has Gerald McCullouch been type-cast as a sexy muscle-daddy?
Gerald's enormously varied acting resume speaks for itself. Gay viewers might know best from his work in producing and starring in Daddy, where he indeed is sexy. Readers may not know that Gerald is a boxer in real life — hence the muscles.
Taking the lead role in a film that you're directing is always a challenge. Is it something that you'd tackle again?
It's twice the work, but it's also twice the reward.
When you direct, you have authority to shape a film's over-arching direction. When you take the leading role, you also shape its spirit. A success can change your life — a failure can make you stall and drown.
You've presented Trophy Boy at festivals around the world — what's the response been like?
Since the premiere in Cannes, Trophy Boy has screened around the world, picking up multiple awards and some great reviews .
The response has been so overwhelming positive, but the film works because of the teamwork behind its creation.
Emrhys Cooper. Photo by Mikhail Kharlamov
Emrhys Cooper. Photo by Mikhail Kharlamov