Alexis Mateo brought the drama to RPDR AS5
Bam!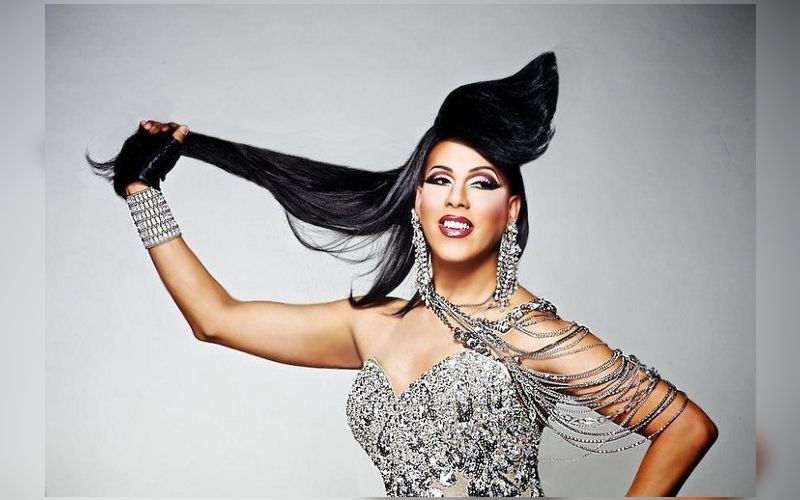 Born and raised in Puerto Rico, Alexis Mateo found worldwide fame in 2011 as a cast member of season three of RuPaul's Drag Race.
She was back on our screens for the first of the All Stars series, and has always been one of the most prominent cast members of the show – helped along by the emergence her drag-daughter Miss Vanessa Vanjie Mateo.
There was a lot of buzz around the inclusion of Alexis when the cast of All Stars 5 announced – she was clearly a force to be reckoned with and was picked by many to be one of the front-runners.
Although she was eliminated in Episode 6 of the series – a Top 5 finish – Alexis certainly hasn't disappointed.
She's served some stunning looks, her Snatch Game performance was very strong, and she gave zero-fucks when it came to having tough conversations and airing out some drama.
While Alexis had some friction with both Miz Cracker and Shea Coulée, it's the drama stirred up India Ferrah that is going to be one of the defining moments of this series.
It all went down in Episode 5 – the Snatch Game episode. Shea had been declared the winner, but that meant that the rest of the cast were in the bottom by default and all up for elimination. With a poor Snatch Game performance and a weak track record, the obvious choice for elimination seemed to be India. During deliberations, India told Shea that Alexis had been campaigning to encourage the rest of the cast to work together to get Shea eliminated from the competition. Shea promptly confronted Alexis, who denied the charge. Ultimately, Shea – as winner of the lip-sync – decided to eliminate India.
Inevitably, that drama spilled over into Episode 6. There was a lot of debate and discussion as to who was telling the truth, and whether Alexis could be trusted by the rest of the cast. Miz Cracker won the challenge but lost the lip-sync, so the elimination decision was made by the votes of the rest of the cast – and they voted to eliminate Alexis.
It was a bittersweet end for one of the series' most consistent performers, but the series has been a great opportunity for Alexis to remind the world that she is a talented queen and a forced to be reckoned with.
Bam!
We caught up with Alexis a while back – ahead of the All Stars 5 cast reveal.
Does the discussion of the pageant circuit on RuPaul's Drag Race encourage new contestants to compete in pageants?
To be honest, no. The show depicts pageants as a bad thing. People use the term 'pageant girl' as a negative way to describe me. I guess because RuPaul was never a pageant girl, pageants will continue to be seen negatively on Drag Race.
Your drag daughter, Miss Vanjie, has turned disaster into triumph and become a huge star. Have you had a lot of people wanting to join the House of Mateo?
A lot of people don't realise, but we were all friends for many years before I even decided to form a Drag Family. But no more kids, I think it's the end of the line for the House of Mateo. We all grow in different ways  -  Vanessa is one of my best friends, but with all of her travels and success we don't get to catch up very often these days. I'm very proud of Vanessa.
Is being a member of the House of Mateo pretty much what we see on Pose?
It's exactly like Pose, but more! Egos and success often get in the way, but I always remind myself that I'm the house mother and I have to maintain the house.
If someone was interested in drag and wanted to try and get a booking to perform at their local club, what advice or guidance would you give them?
Do it as a hobby, and always get paid  –  no free performances!
Follow Alexis Mateo on Twitter
Alexis Mateo. Image courtesy of Alexis Mateo.