Are these the best gay beach vacations in the world?
We need to try them out to be sure.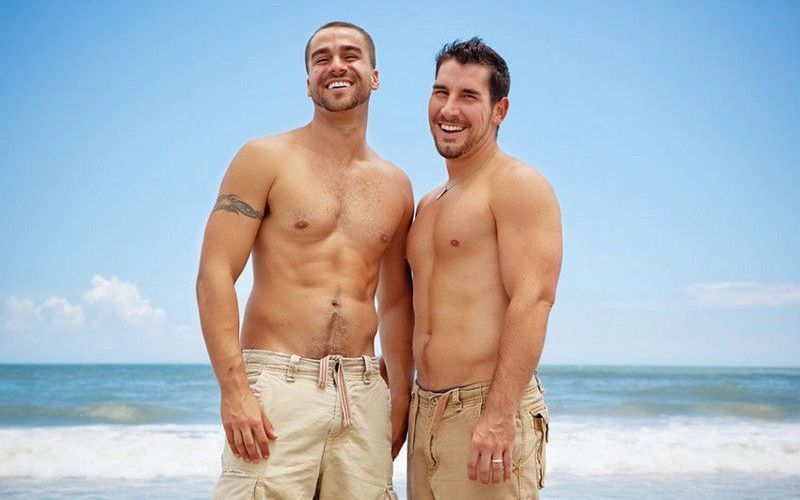 For many of us, the epitome of a great vacation is to be able to head somewhere warm, sit on the beach and watch the waves roll in.
There's something incredibly soothing and relaxing about having the sand between your toes, the sun on your skin, and the water close by.
If it's a gay beach, then it's at the top of our wish list. Bonus points if it's a clothing-optional beach.
This is by no means a definitive list, but here's our list of some the best gay beach vacations in the world.
Mykonos, Greece
The Greek islands are a bit of a mixed bag — some are super quiet and romantic, some are over-developed and touristy. The island of Mykonos somehow strikes just the right balance.
This is one of the most popular Greek islands, and it has the reputation of being a bit of a party island. It's a reputation that's well deserved, but there's a lot more to this sunny destination than just drinking and dancing.
The most famous beaches on Mykonos are probably Paradise Beach and Super Paradise Beach, but our favourite is Elia Beach. It's a long beach lined with sun lounges, where you can base yourself for the day and the local waiters keep you plied with food and drink. The swimming here is perfect — deep clear water in which you can float and paddle and socialise.
Plus, the old town is a lot of fun just to wander through, deciding where to eat or where to get a drink. Mykonos is a total Mediterranean dream.
Turtle Cove, Australia
Just near Port Douglas, up in the tropical far north of the state of Queensland in Australia, Turtle Cove is an idyllic tropical beach paradise.
Access to the beach is through the Turtle Cove resort, but it is a public beach so you don't need to be staying at the resort to access it.
Lined with palm trees, and awash with warm golden sand, this is a clothing-optional beach where you can work on your all-over tan while admiring the dazzling blue water that stretches out to the Great Barrier Reef.
The downside of this part of the coast is that you have to watch out for crocodiles and stinging jellyfish, but somehow that doesn't spoil the appeal of this beautiful destination.
Biarritz, France
On the Atlantic coast of France, Biarritz is old-school seaside glamour.
The surfing is good here and there is a lovable French-ness about the whole place.
Easy to get to on the train from Paris, or you can fly. Hire a car to explore the region, or just spend your days enjoying the waves and learning how to surf.
Sitges, Spain
While the beach in Barcelona is pretty spectacular, just a short distance away is the little beach-side community of Sitges.
Sitges has a great stretch of beautiful sandy beach that offers some of the best people-watching in the world.
This is true beach-side living, with cafes lining the promenade so that you can always keep an eye on the comings and goings of the world.
Smith's Beach, Australia
It is quite a journey to get to Smith's Beach — it's just near Margaret River which is a good three-hour drive south of Perth in the west of Australia.
Not only is the Margaret River area one of the world's best wine regions in the world, but Smith's Beach gives you great surfing and swimming.
The sun is usually baking so you can't really do too much tanning here, and there have been a few shark attacks in this area so watch out for Great Whites and don't go too far from the shore.
Ibiza, Spain
Ibiza may technically be part of Spain, but this small Balearic island really is in a little world of its own.
When you say you are going to Ibiza for vacation, people automatically assume that you're heading for a crazy all-night rave scene that will leave your body destroyed by the end of the trip.
While Ibiza does have some great clubs, there's a lot more to this beautiful island than just dance music.
Our favourite beach is Las Salinas — a bit of a walk to get to from the car park (or you can take a boat across from the old town) but it's worth the effort. It has a great beach bar that serves amazing grilled squid, and the music gets progressively louder and more upbeat throughout the day.
Boracay, Philippines
Not the easiest place to get to but definitely worth the effort, Boracay island is about an hour's flight from the capital Manila (and then a short ferry ride).
This is a long, beautiful beach lined with bars and restaurants. The water here is so warm it's hard to believe that you're in the ocean. Take a catamaran around the island to find some of the best snorkelling spots.
Playa de Maspalomas, Gran Canaria
Gran Canaria is a hugely popular destination for gay travellers looking for a bit of sun. With its vast expanse of dunes and beach, you'll soon be making some new friends.
Manuel Antonio, Costa Rica
Manuel Antonio is a fairly relaxed beach as it's not easily accessible — you need to climb rocks to get there and make sure you head back home before the tide rises so you don't get stuck.
Zipolite, Oaxaca in Mexico
A pristine beach in front of the hidden Island of Love, part of the Oaxacan Riviera, there's also good waves for adventurous surfing during sunset at the only nudist beach in Mexico.
Ipanema in Rio de Janeiro, Brazil
Ipanema is where gay life happens in Rio. With Farme de Amoedo Street as your starting point, everything can be done on foot – from bars, cafes and restaurants to nightclubs and obviously the beach. Posto 9 as Brazilians call it, refers to the life guard station by the sea. Rio is very gay-friendly, but the exact location of the beach is between Postos 8 and 9, and some locals may call it Posto 8-and-a-1/2. It's swim-briefs galore, tanned torsos, celebrities, and the usual Brazilian fun. To your left, posh Leblon and to your right there's Praia do Leme and Copacabana, where more gay attractions are located.
Playa Mar Bella, Barcelona
You can't really go wrong anywhere along Barcelona's beach, but the Playa Mar Bella section is where you want to be – you can sunbathe nude, it's gay-friendly, and there's plenty of bars and restaurants to keep you going during the day.
Los Caños de Meca, Cadiz
Not super-gay, but there's a definite vibe.
Hilton Beach, Tel-Aviv
Between May and October is the ideal time to visit Tel-Aviv.
Little Beach, Maui
Tucked away over a rocky divide, Little Beach is a secluded area where you can go to frolic in the surf and sand. While Big Beach, on the other side if the divide, has huge expanses of sand for the entire family, Little Beach is perfectly suited for clothing-optional tanning.
Cap d'Agde, South of France
Not necessarily the most beautiful beach but quite good fun all the same, just for the sheer goings on you see there.
Eloro Beach, Sicily
Just near the baroque town of Noto, this has a combination of spectacular clear blue water, a rocky hill framing it on a side and very friendly crowd of locals.
The Lido, Venice
It's a bit of a ferry ride from central Venice and then a hike to the dunes – it's in the bushes just a bit back from the beach where most of the action happened.
Berlin resident Bunna La Rue makes his case for
Wannsee Lake, Berlin
1,200m of sandy beach just 30 minutes by train from central Berlin – the gay area is located at the very end of it, obviously in the naturist area. Great facilities with showers and toilets, but also a very cruisey roof terrace.
Clifton Beach, Cape Town
Cape Town's Clifton beaches have it all – great golden sand, the backdrop of Table Mountain, and the sun setting into the Atlantic. There are some fabulous houses on the cliffs above with many famous people having homes there. The section called Clifton 3rd is definitely the gayest.
Brighton Beach, England
Brighton's pebble beach has it all. It's hugely popular but there is a clothing-optional section down the far end of the beach.
Studland, Dorset
A huge expanse of sand and dunes, this is probably the best gay beach in the UK. You also have to take a small ferry to get there so it feels like you're on holiday.
Helgoland Beach and Amager Beach, Copenhagen
In both the mens and the women's sections there are 80–90 percent naturists. The male section is very gay.
Tisvildeleje Strand, Copenhagen
A beautiful and fairly secluded beach with clear water, picturesque dunes and action in the dunes and pines.
Bellevue Beach, Copenhagen
One of Copenhagen's best gay beaches –  only a very short train ride from the city centre. The northern end of the beach is a combined nude and gay beach, and very popular during the summer.
Raco Del Conill, Benidorm
A bit out of the way but the best gay beaches always are. Plenty of cruising action.
Beach 19, Lisbon
Within a protected nature reserve, this isn't the easiest place to get to but definitely worth making the effort.
Castel Plage, Nice
This part of the world can get a bit expensive, but if your credit card can take it then there's plenty of fun to be had in the south of France.
Mont Rose Beach, Marseille
One of the most established gay beaches in Europe. Worth exploring.
What to wear on a gay beach?
Different parts of the world have different perspectives on swimwear.
In Europe, guys of all ages pretty much wear speedos everywhere — the beach, the bool, tanning in the park. However, in the US it's almost unheard of — guy's swimming attire is limited to big and baggy swim-shorts.
However, it's pretty universal that if you're at a gay beach then you need to be in a pair of swim-briefs or at least a pair of short shorts.
Short shorts are slutty shorts that don't leave much to the imagination.
A good plan is to wear your swim-briefs under your short shorts.
If you've never tried rocking a pair of swim-briefs then you're missing out — you'll feel sexy, you'll look sexy, and you'll be turning heads wherever you go.