Are you a good boy? Doggy Style could be the underwear treat you deserve.
Got a bone that needs to be buried?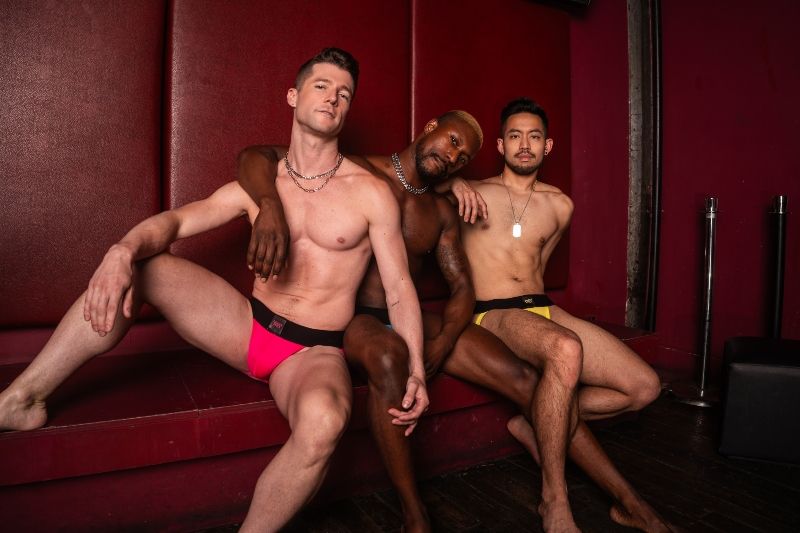 Doggy Style – a gay-owned underwear and accessories brand – is introducing The Technicolor Collection, its new line of men's briefs, jockstraps and harnesses in hot pink, electric blue and blazing yellow.
This range represents the next stage in the evolution of the fetish brand that launched earlier this year with its black-and-white Monochrome Collection.
"The Technicolor Collection is the same soft and comfortable fabric our customers have come to love but in the fun new shades they have been asking for…" says the brand's co-founder, Levi Woods.
There are other changes, too – most noticeably to the jockstrap. Instead of the Doggy Style logo placed across the front of the waistband as it was in the Monochrome Collection, it is now across the back, where, according to co-founder Manu Bautista, it always should have been.
"The rear view of a jockstrap is one of its best assets…" says Bautista. "That's the focal point. Moving the logo to the rear is good marketing."
Also significant with the new collection is the ability to pair harnesses with briefs and jockstraps of the same colour or mix and match pieces. The colour-coordinated tags are an added feature that work to elevate the garments from their Monochrome predecessors.
Levi Woods and Manu Bautista launched their brand last year after the phrase Doggy Style came up in casual conversation.
"We remarked how it would be a great name for a queer underwear company…" Woods explains. "It's sexy and provocative and lends itself to additional branding and product concepts. We knew we were onto something and had to give it a go.'"
Doggy Style's "The Technicolor Collection" will be available 8 September at Doggystyleunleashed.com