Are you looking for the hottest queer parties in Asia?
Make sure your travel itinerary includes a few endless nights of music and dancing.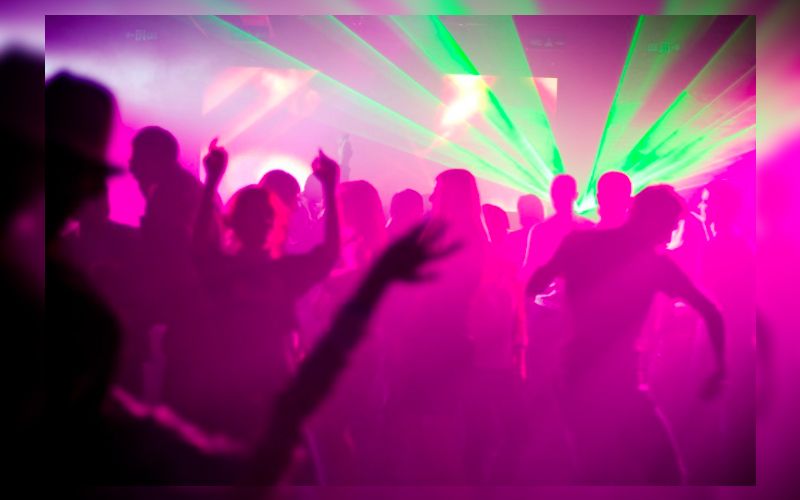 If you want to spice up your expedition to Asia with a bit of fun and some great music, then you might be interested in our round-up of some of the best parties across the region.
Get your diaries out, here's what's happening over the next few months.
What gay parties should I go to in Asia?
If you're wanting to bathe in the sun with all the hard muscle bodies around you then make your way to Vita Pool Party in Tokyo. Splash around the pool of the Hilton Tokyo Bay Hotel where the music will be bumping and go-go dancers will be grooving all day and all night.
The gay scene in Tokyo can sometimes feel a bit hard to crack – the small bars of the Ni-Chome district only give visitors a glimpse of what's going on. A big event like Vita is a great way to meet some local guys and show off your new swim-briefs.
A circuit-style dance party in Bangkok that promises big-name DJs and plenty of entertainment.
Bangkok is a brilliant city to go out in. Local guys really know how to cut loose, and there's always a lot of international visitors travelling through the city who are looking for a good time.
The biggest monthly gay night in Taipei is WERK! Triangle club is the home for this boys-night-out, and the club is transformed into a full-throttle party with drag shows, DJs, and hunky go-gos.
Taipei is a city that knows how to party. It's in Taipei that you'll find one of the biggest annual LGBTQ Pride events, and a night out in Taipei never disappoints.
This is a two-storey mainstream club that is one of the most popular queer options in Singapore.
Technically, it's illegal to be gay in Singapore. As a visitor, you need to be a little bit cautious when spending time in this socially conservative country.
In practice, Singapore has a vibrant and visible LGBTQ community with a queer nightlife that is a lot of fun. English is widely spoken, so meeting local guys is always pretty straightforward. Plus, there's a really big expat community working in Singapore so you'll be meeting guys from all around the world.
One of the newer clubs in Manila, this attracts a queer crowd and features go-go boys.
If you'd like to add an event to our listings, please email Gareth@MeansHappy.com
Which countries in Asia have the best gay nightlife?
If you want disco balls and flashing lights on your travels, then finding a big night out in Asia is not a difficult task.
The diverse and numerous destinations within the Asian region offer travellers stunning beaches for relaxing, and unique cities for exploring, plus the queer party scene in many Asian countries has long been a force to be reckoned with.
Obviously, there's lots of different destinations and a huge range of diversity across Asia. The best bet is to pick one city or country and really experience what life like is light. Here's some suggestions that you might want to add to your itinerary if you want to include a bit of fun in your Asia travels.
Pride celebrations
If LGBTQ Pride parades are any indication of progress, many Asian countries like Taiwan, Hong Kong, and Japan have turned the political movement into a welcome annual institution.
Taipei Pride
Taipei Pride draws tens of thousands of marchers to its annual parade, and also receives support from some of the world's largest corporations . This is a huge event – probably the largest LGBTQ Pride celebrations in Asia, so definitely worth timing your visit with this if possible. Events are held at the end of October.
Hong Kong Pride
Things are very unsettled in Hong Kong, and authorities banned any Pride celebrations in 2019. Despite that, the local community still staged a Pride march. The future for Hong Kong's LGBTQ community remains uncertain.
Tokyo Pride
In Tokyo, the annual Pride celebrations are known as Tokyo Rainbow Pride. Although it's been going for a number of years now, LGBTQ Pride celebrations are relatively small. Japan is still quite a socially conservative country, and the Pride celebrations tend to focus on a celebration of diversity rather than explicitly advocating for equality for people of every sexuality. Tokyo Pride celebrations receive a lot of support from international corporations and embassies from other countries, keen to support and encourage the local LGBTQ community. For multinational companies, supporting an event such as Tokyo Rainbow Pride is a useful way to demonstrate their commitment to diversity within their company and customers. Tokyo Pride takes place in April of each year. In 2020, Tokyo Rainbow Pride will be held in Yoyogi Park over the weekend of 28-29 April.
Singapore Pride
Anti-LGBTQ legislation continues to pose an interesting challenge for both travellers and locals. Despite sex between men still being illegal in Singapore, the local queer community is quite vibrant, continues to attract LGBTQ travellers from around the world, and is making progress fighting anti-gay laws – there's currently a legal challenge being heard by the High Court.
Singapore's annual LGBTQ Pride celebrations are called Pink Dot, and they're held in June. The dates for 2020 haven't yet been announced, but unless you're a Singapore local, there's not much point planning to attend. Under government regulations regarding permits for public assembly, foreigners are not permitted to participate in Singapore's Pink Dot event. The Pink Dot organisers are forced to enforce this rule or are liable to face prosecution. Foreigners who attempt to take part in Singapore's Pride event are also at risk of being prosecuted.
Image published via Twitter
What's the gay scene like in Bangkok?
Bangkok is a great city to visit, and the nightlife is vibrant and a lot of fun. There's a lot of gay bars and clubs to check out, as well as some regular events and big parties that are worth timing your visit with.
Where to party
DJ Station: One of the most popular gay nightclub in Bangkok, DJ Station is packed every night of the week. The ground floor of the club tends to be more popular with locals, while the second floor is for mixing with international visitors. While the club opens at 9 PM, the party usually doesn't get started until midnight - or around 11 PM when they have a show.
G Bangkok: As DJ Station winds down, G Bangkok is typically the next stop. Otherwise known as G.O.D. - for guys on display - starts getting going around 1 AM and then very busy from 2 AM after DJ Station closes and the shirtless bodies start packing the place. G has resident DJ Spectrum K on Friday, Saturday and Sunday - he's Asia's most popular live DJ.
Where to stay
Trinity Silom: Excellent value and in ideal location — right next to the BTS Station means one stop to the gay nightlife and three to some of the area's most popular shops.
The Heritage: Close to all the gay bars and clubs in Silom.
Siam Kempinski: A stunning luxury hotel next to all the shopping malls. The rooms come equipped with the latest technology you could need.
So Sofitel: Close to Silom, the So Sofitel hosts gay events and pool parties.
Sukhothai Hotel: A popular choice for LGBTQ travellers.
Bangkok. Photo by @apparenabkk published via Instagram
What's the gay scene like in Taipei?
Where to party
JumP: With theme nights that change every Saturday, JumP is one of Taiwan's best gay dance venues.
G5: One of the biggest dance party venues in the region, G5 attracts world-class DJs and packed crowds every weekend.
Where to stay
Inhouse Hotel: Close to the gay district of Ximen, the Inhouse is great value for a designer hotel. The Inhouse is located a 5-minute walk from Ximen MRT station, with surrounding night markets just outside the hotel door.
SWIIO Hotel: A stylish and modern hotel. The hotel is only blocks away from gay bars in the Red House Quarter.
Hotel Eclat: A boutique luxury option with a design aesthetic all its own. An excellent location for parties, close to the shops and Taipei 101, Taiwan's tallest skyscraper.
W Taipei: the W brand brings its eclectic visuals and supreme service to the streets of Taipei, conveniently located above a department store and blocks away from major sightseeing stops. The W also great for making it to parties and has an excellent pool to come home to.
Taipei. Photo by @davidl_jpn published via Instagram
What's the gay scene like in Singapore?
Where to party
Taboo: One of the most popular gay dance clubs in the city. The 2-story, 5000 square foot venue comes equipped with a loft area for chilling out. Big-name international DJs are regularly featured.
Where to stay
Porcelain: A budget hotel in the heart of Singapore's Chinatown. The rooms are well designed and compact, and close to the gay scene.
Naumi Liora: Originally built in 1858, this mid-range boutique hotel was completely renovated in 2012. Also close to the gay scene, the Naumi Liora has a 24-hour fitness room and nibbles bar.
Marina Bay Sands: An iconic hotel and casino with one of the most stunning pools in the world. The stunning Skypark pool is an infinity pond nestled amongst skyscrapers.
Pink Dot Singapore. Photo by @departure_gate_3 published via Instagram
What's the gay scene like in Hong Kong?
Where to party
Zoo: A bar that has become a staple in Hong Kong's gay scene.
BEAT: Across the street from Zoo bar, BEAT has a resident DJ and live shows throughout the week.
BOO: A karaoke bar for bears and their admirers. Has a local bar feel with good drinks, cute waiters and a decent happy hour.
Petticoat Lane: A bar and dance club
Where to stay
The Mercer: Conveniently located next to ZOO and BEAT, this high-rise boutique hotel offers lush and stylish accommodations.
Ovolo Hotel: Free minibar and breakfast come included with booking one of these stylish boutique rooms.
W Hong Kong: The classically cool W Hotel incorporates local art and design influences. Near BOO bar, this hotel is in a league of its own with a glass-wall pool and sun terrace on the 72nd floor.
What's the gay scene like in Tokyo?
Ni-Chome is the gay district in Tokyo. The best way to get there is from Shinjuku station – one of the main transport hubs in Tokyo. Ni-Chome is an easy walk from Shinjuku.
Where to party
The Annex: Owned by the same people who organise Arty Farty, a gay party open to boys and girls, The Annex party bar & dance club boasts a lengthy bar and a late-night DJ.
Shangri-La at ageHa: One of Tokyo's largest gay parties, Shangri La is a monthly party that takes over four floors, four bars and a pool.
Where to stay
Hotel Sunroute Plaza Shinjuku: For comfort and convenience, this hotel is a top choice. It's close to Ni-chome gay area and popular shops.
Park Hyatt Tokyo: One of the best views in town, the Park Hyatt is worth every penny. Of Lost in Translation film fame, the hotel takes up the top 14 floors in a 52-story building. For the best views, head to the gym and pool for floor-to-ceiling glass walls.
Comments