Are You Proud?
Ashley Joiner's documentary explores the past, present, and future of the LGBTQ Pride movement.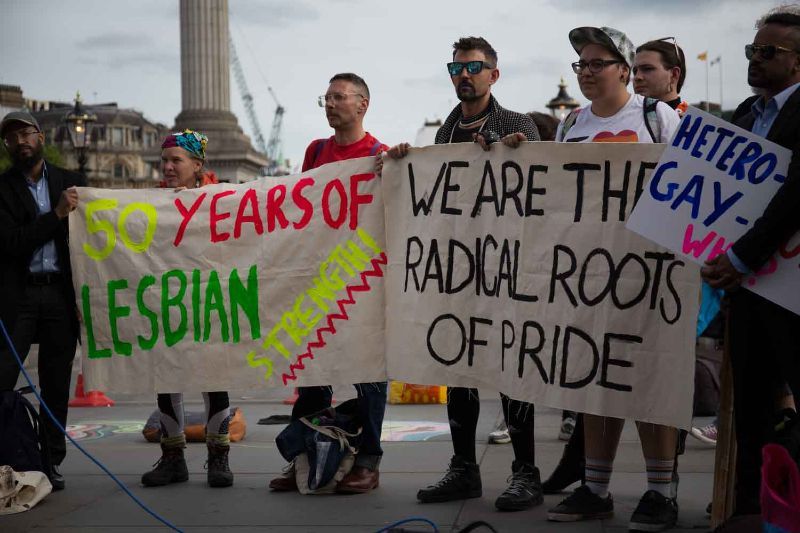 Directed by Ashley Joiner, the documentary Are You Proud? brings together rare archive footage and interviews from across a spectrum of campaigners to celebrate the past, present, and future of the LGBTQ Pride movement.
This is a powerful and important film that is a fantastic reminder of how far we've come, some of the ups and downs along the way, and the challenges for the future.
We caught up with Ashley Joiner for a behind-the-scenes look at the documentary.
You've talked about how the push to tackle this project came from being challenged about your own knowledge of LGBTQ history. Do you feel that we've failed to share the context and importance of Pride with younger generations of LGBTQ people?
The recent campaigns against the introduction of LGBTQ education in schools is a good signifier of how important it is for LGBTQ people to discuss LGBTQ history. Since LGBTQ people are rarely raised by LGBTQ parents, LGBTQ history can only be told through community efforts.
I think we, as a community, are partially to blame but we also have to consider the damaging effects of Section 28 and less directly the deconstruction of societal values that were happening at the same time under the Thatcher Government.
There has been an entire generation of LGBTQ people brought up through an education system where the mention of homosexuality was punishable, and are therefore unlikely to discuss it as adults. Compounded with a generation of gay men being wiped out by AIDS, the reality is that there were fewer people to share these stories.
I'm pleased to say that's not the reality now. Issues and histories are more widely spoken about and younger generations are more energised and eager to learn then perhaps my generation was.
This has been a passion project for you for a number of years now. How have you found the production process?
The most difficult aspect is the responsibility to do justice to people's stories and ensure true representation. Whenever dealing with people's stories such as we were, you're also dealing with huge amounts of trauma and there are understandably huge issues of trust. Building trust with each of the contributors took time but was absolutely essential and the most rewarding aspect of the process.
As we mark the 50th anniversary of the Stonewall Riots, one of the interesting linkages that you highlight is how queer activists in the UK directly drew on the impact and lessons of the Stonewall Riots to kick-start queer activism in London. How much research did you need to do in order to piece together this period of queer history?
I would say that 80 percent of the research I did before starting to film isn't featured in the film, and that's because I wasn't researching the right thing or in the right way. The film only truly came to life when I started to meet with people. That's when the real research began and the film started to take form.
In all honesty, I struggle with the word history in this context because it suggests it's of the past and not the present. This "history" is the lived experience of so many. Whether it be those who lived through the times we highlight or those who live in countries where LGBTQ people are still criminalised. It's not history. It's very much the present.
One of the things that the film tackles is the impact of Section 28. There seem to be echoes of Section 28 in the current discussion about appropriateness of teaching children about LGBTQ people. What contribution does this film make to that conversation?
Section 28 garnered such a response because it suggested the government were able to define who was family and who was not. And so even those who weren't homosexual understood that to be frightening. "If homosexuals now, who's next?"
The protests against LGBTQ education in schools show a lack of tolerance which is rising in the UK and not just against LGBTQ people. We live in a social and political climate that feeds off fear and in particular the fear of the other.
If anything, I hope Are You Proud? helps highlight how all our struggles are connected and that we have to come together and support one another. The charge on this one should come from our allies.
What do you hope that people feel when watching Are You Proud?
Anger. Joy. Sorrow. Love. Pride.
It's a roller-coaster. I hope people allow themselves to remain open enough to feel all of those emotions. Open enough to listen and learn – at times agree and at times not. I hope viewers allow a fire to burn in their belly and look for a way to channel it for good use. I hope people understand that they're needed and that they're powerful enough to create change.
Follow Ashley Joiner on Twitter
One of the contributors to the documentary is activist Dan Glass. We caught up with Dan to reflect on the film and his perspective on what lies ahead for the LGBTQ community.
Why was the Are You Proud documentary a project that you wanted to be part of?
This project was asking the most important questions – how far we've come, where we're at now, and where we need to go to.
The film has a great balance of celebrating how far we've come, but also recognising how far we've got to go. When you look back at the original aims of the Pride movement, there's been huge achievements for some parts of our community, but for many there is still so far to go.
The process of being part of the film has been fascinating – there's so many stories, so many people that could be included. We need to stop, pause, and reflect, so we can learn from all of that going forward. It was an honour to be involved.
Watching the film, how did you feel?
I was very proud. I mean, I'm talking about getting fucked up the arse on a giant screen, so of course I'm proud!
What came through for me is a strong sense that the queer community is incredibly powerful, creative, courageous, and critical. Of course, we've come through centuries of oppression and internalised oppression, so it's understandable that it's easy for us to turn in on ourselves. The current environment isn't easy – there's a rise in hate crime, queer migrants are vulnerable – the film is a really good tonic to remind ourselves how much we've created in the world and how we need to continue to do that. It's really empowering. Everyone has a role to play.
Why is Queer Tours of London something that you're passionate about?
I'm a Section 28 baby – I started school in 1988 and ended college in 2003 – I was completely within that ring-fenced silence. That had a huge impact on me, I internalised all of that stigma. I've got a lot to compensate for and catch-up on in terms of queer identity and queer love. Understanding, acknowledging, and exploring our history as a tool to catalyse our present and future empowerment. Instead of coming out, what do we come into when we scratch under the surface of our history? We're part of a much bigger story that, in many ways, has been stolen from us.
Organising the Queer Tours of London, I get to meet incredible people who were there and were part of key milestones in our queer history. It's humbling as well as incredibly interesting. Plus, I get to meet the people who come to London from all over the world, who paint a picture of the wider journey and continuing struggle for LGBTQ people around the world. I also get to know and re-engage with this city – every street and every building in London has a queer story to tell, queers are everywhere!
Do you feel optimistic about the future of queer activism in London?
I do. In the last 50 years, so much has been achieved. 50 years in the grand scheme of things isn't a long time. Genuine hope is what we need to have. When you talk to people about what they went through before decriminalisation, they still deal with it all with hilarity and wit and flair and sex – I'm totally in awe of them and what they've been through. But what young people go through is also challenging – hate-crime is on the rise. We're an incredible community – with systematic oppression comes more resistance and more creativity. We're living in extraordinary times, we have to be hopeful., we have a job to do in terms of achieving absolute freedom for all.
I'm fucking glad that I'm queer. However hard it is, I'm so lucky that this was my destiny. We're fighters. We're creatives. We see through bull-shit. We know that life is so short. We have a deep instinct when it comes to our purpose on the planet.
Are You Proud is distributed by Peccadillo Pictures
Photo credit for all photos: Ray Malone
Means Happy and Gaydar are proud to have contributed to bringing the Are Your Proud? documentary to the screen