Are you ready to follow your dreams to Budapest?
A new campaign wants the LGBTQ community to include Hungary's capital in their post lock-down travel plans.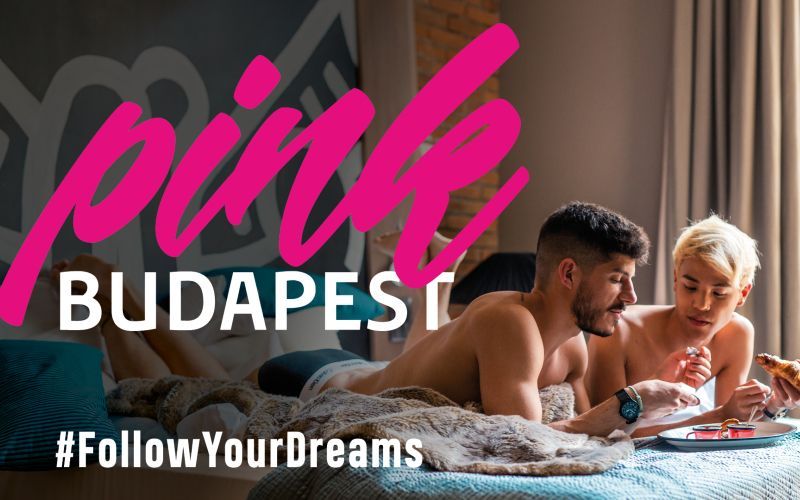 Pink Budapest – the city's LGBTQ tourism specialists – have created a video to mark the start of Pride month.
Research conducted by Pink Budapest indicates that in a post lock-down world, two-thirds of the LGBTQ community plan to travel both domestically and abroad after the Covid-19 restrictions are lifted. This puts the LGBTQ travel segment at the forefront of post lock-down travel trends.
"At a time like this, when the world and, with it, tourism has collapsed overnight, so many people have lost their jobs, we will only be able to think positively and stay motivated if we continue to follow our dreams and trust that the world will soon be able to recover…" said Zsolt Erdei, President of Pink Budapest. "This is also what Pink Budapest's latest video is about – because Budapest is the city where your dreams can come true."
What to see in Budapest
On a clear day, take the Funicular to Buda Castle and enjoy the breathtaking views of the Danube and the Pest side of the city from the grand terrace. From there, wander through the Castle district to Fisherman's Bastion and the awe-inspiring Matthias Church. A stone's throw away, you'll find a street full of small privately-owned galleries showcasing local art and design talents.
If your feet are up for it, take a stroll along the beautiful, tree-lined boulevard towards the imposing monuments at Heroes' Square. This is also home to The House of Terror. The building, which was the main city's headquarters for both the Nazi and Communist parties, gives a chilling insight into Budapest's troubled past.
If you're looking for some quirky shopping  -  and can handle a bit of bargaining  –  make a visit to the Ecseri flea market for Soviet relics, World War Two artefacts, and random treasures.
For an authentic taste of Hungary, head to one of the many no-frills canteens across the city that serve local staples such as goulash for a reasonable price. The local markets such as the one held in The Great Market Hall also offer up some tasty treats, including Mangalica  -  a special breed of Hungarian pig.
On a night out, the first thing you should do to initiate yourself into Hungarian culture is have a shot of Pálinka. House parties are popular, but you'll need to befriend some of the locals for access.
If you've indulged in a few too many shots of Pálinka, you can detox in one of Budapest's legendary thermal baths, such as the Király Baths.
Photo Credit: Lilla Szeles-Tiszolczi / PinkBudapest.com
#LoveIsLove
LGBTQ equality is on the agenda in Hungary in part because of the #LoveIsLove campaign promoted by Coca-Cola.
To coincide with the massive Sziget music festival in Budapest – a week-long festival that brings about 500,000 people into the city – the soft-drink brand ran a poster campaign featuring same-sex couples. backed up by slogans such as 'zero sugar, zero prejudice'.
One of the couples featured in the campaign were Germán Henao and his boyfriend Krisztián. They were selected to be part of their campaign when they submitted their photos in response to an open casting call.
"In my day-to-day life in Hungary – living as an openly gay man – I've never experienced any homophobia…" confirms Henao. "In fact, following the publicity that was sparked by the Coca-Cola campaign, we've received so much support and positive comments from so many different people that it gives me a lot of hope for the future."
Coke's inclusive campaign annoyed members of Viktor Orbán's ruling nationalist Fidesz party. Orbán's party opposes marriage equality.
While the deputy speaker of Fidesz publicly called for a boycott, Coca-Cola stood firm – standing by its promotion of equality and inclusion.
"We believe both hetero and homosexuals have the right to love the person they want, the way they want," the company said, in response to criticism in Hungary.
Ultimately, the government fined Coca-Cola €1,500 on the basis that the campaign damaged the moral development of young people.
Shifting public opinion
According to a 2018 study by LGBTQ advocates Háttér, around 65% of Hungarians believe LGBTQ people should be free to live as they please, up from less than 50% in 2002.