Are you ready to unleash your inner Queen?
Princesses need to be rescued. Queens rule.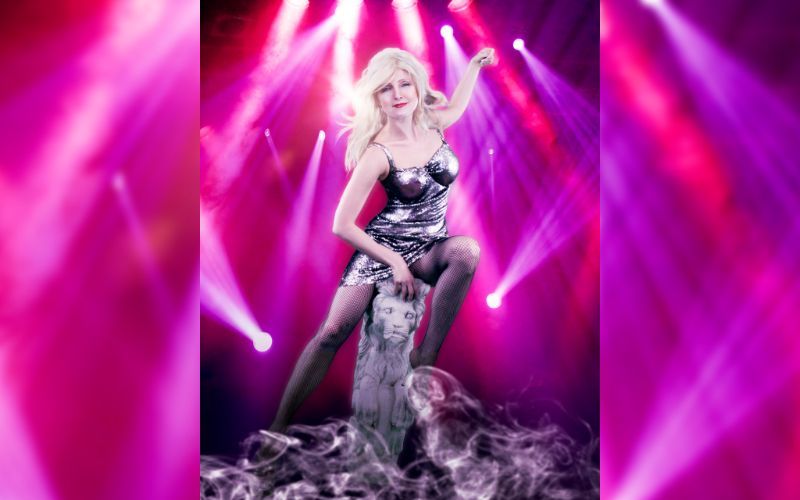 Marysia Trembecka is Queen Of The Fucking World, unleashing her power in performances around the world.
We caught up with Trembecka for a behind-the-scenes look at a show that is all about embracing your inner-queen.
How did your research into gender and sexual politics lead to the evolution of your persona as Queen Of The Fucking World?
It was the other way around, actually. I was finally developing my Singing Psychic character into a full show in 2014, and the Queen character popped up during an exercise. Queen was so outwardly fiercely sexual – as a stripper – but her internal monologue was intelligent and angry about being judged for her sexual choices and willingness to wear her sexuality openly.
I then applied for UK Arts Council funding to research all the judgements against women and the LGBTQ community, that they have been burdened with, especially where it comes to being free with their sexuality. From my over 150 interviews with prostitute's unions, strippers, sex workers specialising in the disabled gay community, to a huge amount of historical and literary research on sexuality – including everything from what the Catholic Church did to Mary Magdalene in deliberately lying about her and making her a 'prostitute' to the incredible passionate love letters of Vita Sackville-West who slept with both her bridesmaids, whilst married to Sir Harold Nicolson who loved men in uniform and the ultimate life-lasting and affirming love they shared.
Out of all that came the character and show.
What happens at a performance of Queen Of The Fucking World?
Queen takes the audience on a journey to 'unleash your inner queen!'
Queen, in the role of an ex-stripper turned musician, explores, entertains and educates about how a Strippers Book Club changes the lives and minds of those involved. From stripping lessons for the audience, to how love is love and being fierce in our own skins – including how being open about and enjoying our own sexual power is a good thing.
We all need to understand the 'moral' judgements that are weighed on us come from a largely straight white male rhetoric that told us to do one thing yet did what the hell they wanted themselves. Lady Macbeth monologues accompanied by Metallica bass lines on needing to 'unsex' herself to be able to kill, Earl of Rochester poems on how the upper classes would come in the hands of their 'whores' and 'bugger his page' and exploring the buying of sex via weddings in Beyonce's 'Single Ladies'.
How do the fairy-tale stereotypes of princesses and queens play into your views on sexual politics?
I wrote the titular song 'Queen Of The Fucking World' which covers this very question
'Mamma always told me, don't be no princess, you gotta be a queen. Cos princesses, they need princes, don't need no one to rescue me. You gotta be a queen. Got to stop judging each other, by who we sleep with, what you want to wear, and how we choose to fuck. Gotta be queen on your own fucking world, You gotta be a queen'
I talk also about how 'princes' themselves need rescuing sometimes, and even if they do want to rescue a princess, she sometimes is only a princess on a Saturday night, in a drag club and she's called Winston.
You've talked about how we're all judged by who we fuck. What do you mean by that?
Historically the only men who don't get judged by freely indulging in their sexuality is white straight men. The rest of us are judged by who we fuck, from our gender, to the gender of those we sleep with, to the positions we choose to have sex with, to the religion, the colour of the skin, and whether we have sex under a legally binding contract. From black men being seen as having 'baby mommas', to the LGBTQ community being looked down on for the sexual positions that turn them on, to women being sluts in freely having sex.
We all have sex and we should delight in it and own our own very specific beauty and sexuality. I want a world where we're all walking fiercely down the street knowing we are queens.
Any tips on how we can embrace our inner Queen?
I know how important self-love and self-acceptance is for all our mental health. The Queen theatre cabaret is really looking at all the judgements imposed on us by society and makes us all realise how outdated and based on nothing they are.
So, love yourself, and appreciate that what turns you on is fine – as long as it's between consenting adults, there is no wrong.
Lastly, meditate and smile – that's my tip for daily happiness. You are fabulous!
Who are some of the queens who you admire or who inspire you?
Firstly, queens is a non-gender specific word for me. A queen is someone who is very comfortable in all that they are, including glorying in their sexual choices and their own individual beauty. Queens also are educated, kind, respectful to others and fight for the rights of all of us to be respected no matter what our life choices are. Queens also know that sometimes in life you get knocked down but it's in the getting back up that makes us Queens and sometimes we all need help to get back on our feet or need to help others.
Some queens I respect include Oscar Wilde – still writing 'The importance of being Earnest' while his lover's father, the Marquis of Queensbury, stalked him through the London clubs, ultimately making his 'There is a love that dares not speak it's name' speech during his third court trial.
Bayard Rustin, who co-set up the 1963 Washington March where Martin Luther King's speech 'I have a dream' ricocheted across the world, yet has been largely been ignored by history as he was openly gay and fought for the LGBTQ community. The black civil rights movement decided they could not fight civil rights and gay rights at the same time.
All the men and the women in the world who are struggling right now to feed themselves and their kids, and if selling themselves sexually is the only way they can do that, then being looked down on is not the correct response, but compassion and help is.
What do you hope that people feel when watching you perform as Queen Of The Fucking World?
The first time I performed the show in Edinburgh, an American father came up to me after the show and said 'my daughter is an arts historian but she has been shamed by our family because of her sexuality. Thank you for inspiring her so much, she is feeling amazing right now.'
So, I know from having done many shows across the globe as Queen, that people find courage, compassion, wisdom and life force.
Courage, from hearing what others across the centuries have gone through and understanding that we all need to stand together and love each other.
Compassion for each other, I certainly learnt compassion listening to my interviewees – from the woman who went on the game because her disabled son's benefits were cut as it was the only way to get him the help he needs, to the wonder a disabled gay man felt when a sex worker helped him finally find the joy in sex.
Wisdom, including how to strip in a way that makes you feel the beauty of yourself.
Lastly, life force, to leave my show knowing you are a queen, to be fiercely proud of all your scars and walk out as a hot queen ready to take on the challenges of every day life, and win.
Follow Queen of the Fucking World on Twitter
Comments