ArtCrush: Mickey Taylor
A man of many talents.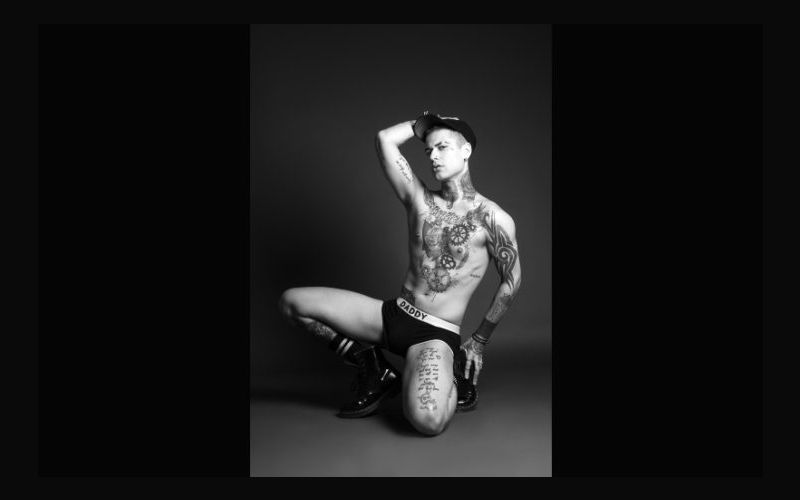 Mickey Taylor made his name as an award-winning performer and content creator in the world of adult entertainment.
He's now retired from that side of the business, and is pursuing music and art.
A while back, we caught up with Mickey for a behind-the-scenes look at his online life.
How would you describe your sense of style?
"I've always been someone who doesn't see gender on the clothes rack, and will just wear what I feel comfy and happy in."
"I feel confident in what I wear and what I do. I love that people enjoy my outfits. I get so many messages about my style and how it inspires others to be confident. It baffles me a bit, but I welcome anything that pushes others to try new styles – that makes me happy."
Any more tattoos planned?
"I'm almost done. It's really only my right arm that I'm planning on fixing now. I've just had my torso reworked, and I love it! I'm almost done after that. No more face tatts – I promise!"
Who are some of your porn heroes and inspirations?
"mr. Pam is definitely up there at number one. She got me an exclusive contract, taught me how to write scripts, and how to direct. She's a total inspiration to me. We both push each other to go beyond what we do."
"I wouldn't say many people within work gave me that drive besides her. Maybe for comparison and healthy competition, I look at others to get better. But my strength comes from friends and my incredible support system. I don't like to look to other models for that. I don't want to become insecure by comparing myself to what they do. They do what they do, and I do what I do. We can't compare or compete. We will never be each other."
Follow Mickey Taylor on Twitter