ArtCrush: Héctor Barros
This is what we want on our walls.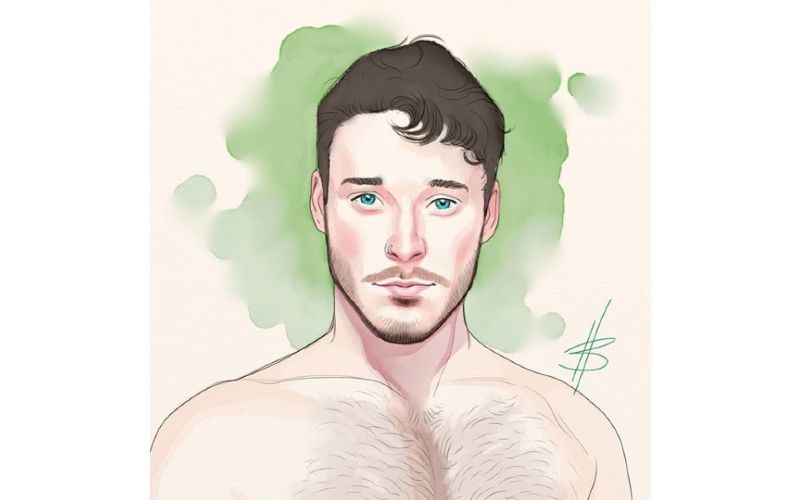 We follow Héctor Barros hard. He draws the men of our dreams.
We caught up with Héctor for a behind-the-scenes look at his art.
What led you to start exploring your passion for drawing and illustration?
I've been drawing all my life, as far as I can remember – I don't think I've ever considered a different path.
I've been incorporating my other interests into it – comic books, mythology, fantasy – but nothing compares to the 'high' of drawing and painting.
Are you a bit obsessed with the X-Men?
I might be a little obsessed with the X-men, a healthy amount. I mean, I could quote entire issues by memory – but that's normal, right?
My favourite superhero has always been Rogue from the X-men, but I like her so much that it's difficult for me to draw her.
The heroes I've drawn the most – and whom I love drawing – are Jean Grey, Emma Frost, Colossus, NightCrawler, and Storm. If it's a mutant, I like it.
Who are some of your art and illustration heroes or inspirations?
I'm sure I will forget some important names, but at the top of my list are Olivier Coipel, Gustav Klimt, Mike Mignola, Travis Charest, Waterhouse, Adam Hughes, Schiele, Rick Leonardi, Becky Cloonan, Eric Canete, Alphonse Mucha, Harry Bush, Travel Foreman, and Jeffrey Catherine Jones.
You accept commissions?
I do – I'm almost always open for commissions.
The most frequent request are portraits – either dressed as superheroes or just classic ones. I also get asked a lot for naked portrait commissions.
There have been quite a few weird requests, but what happens in Vegas…
What do you hope that people feel when they look at your artwork?
Honestly, I just want people to like my work. I try my best on each painting – as long as that translates to the client or the model, I'll be happy.
Different pieces call for different responses. For erotic illustrations, I hope my work matches whatever fantasy the client wanted to see.
Follow Héctor Barros on Twitter