Avocado Toast - The Series. A codependent friendship that speaks to us all.
We caught up with Heidi Lynch and Perrie Voss to talk comedy, dating, and family.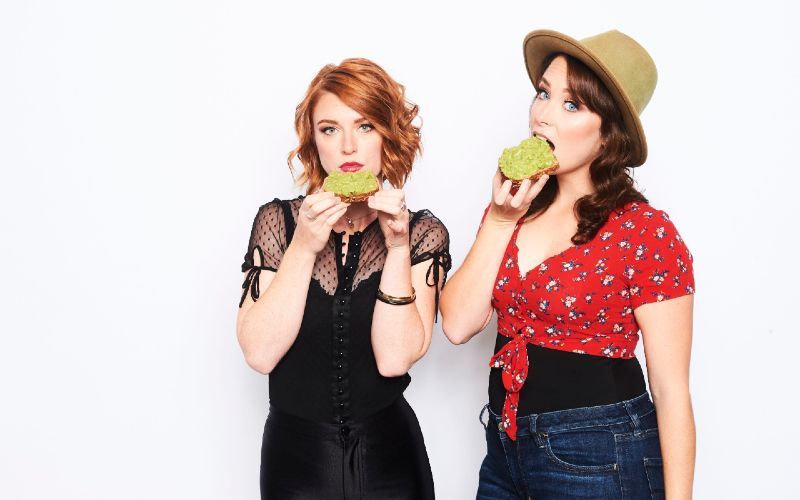 Avocado Toast – The Series is a new comedy from Heidi Lynch and Perrie Voss.
The series gives us the story of Molly and Elle.
Ever wondered about your parents' sex life? Neither did Molly and Elle until coming out and divorce forced them to learn about their parents' new sex-capades. After a lifetime of dating men, Molly surprises herself when she falls in love with a woman for the first time. When she finds the courage to come out as bisexual to her suburban parents, they empathetically reveal their own admission – they're swingers and throw sex parties.
Meanwhile, Elle is reeling after learning her parents are divorcing and her mother, who also happens to be her boss, had an affair with a guy young enough to be Elle's brother. To avoid the wrenching pain of her exploded family unit, Elle wages revenge in an eye-for- an-eye corporate takeover against her mother.
When Molly gets dumped, she reluctantly heeds dating advice from her sexually blossoming parents and clumsily embarks on the bisexual dating world while navigating her broken heart. As life as they knew it crumbles away and their love lives and careers become precarious, it's their codependent friendship that takes all the heat.
Finally, when the pressure cooker blows, they are shocked to realise that the nuts haven't fallen so far from the tree.
I caught up with Heidi Lynch and Perrie Voss to talk about the show.
What was the inspiration for this story and these characters?
Heidi Lynch: When I was coming out, there were no bisexual coming out stories to view. I didn't see myself anywhere. I loved when actors started coming out as bi – it made me feel seen. I'm so happy we get to contribute to bi storytelling, among other important issues.
Perrie Voss: Not only are the two main protagonists based on our real life experiences from the several years, but also a few of the supporting characters and story-lines are drawn on from real life. There are definitely spots where we took some artistic license and flipped things around, or just straight up fiction. But we definitely drew on our own feelings and experiences for a lot of the story.
This is a story of millennial women figuring stuff out. Did the creative process throw up any surprising conversations or teachable moments for you?
Heidi Lynch: The entire process was a learning curve.The actual writing helped us both to identify and put into words what we went through and how we had changed. The roller-coaster of not having funding, to getting the funding to make our show made us both grow in so many ways. I feel like we could handle pretty much any career disappointment now and realise that something good will still happen to us if we just keep trying. I'll need a month after we launch to process everything we learned – good and bad! We'll be in such a good position for Season 2.
Perrie Voss: It's interesting to bring up a point of view or life experience – like we have done – and then have feedback from other people who reach out saying that they experienced something similar. Even on the set, our cast and crew would often pull us aside and say 'I experienced that' or 'my dad had an affair when I was an adult and it was really hard' – we found really special moments of connection with people around parent-divorce and sexuality. We also had interesting conversations with some people saying 'I don't get why this is a big deal to come out if you have that much support around you' or 'why would you be upset if your parents got divorced- you're an adult', and that's exactly the point. We're adults, and big life changes still create big feelings that are valid to express. Once we expressed that, we were able to open up a dialogue around that. It's also exactly why we made this show. To create these conversations and representation.
What was the production process?
Perrie Voss: We started writing it about five years ago. The core idea is still what started then, but we've had a lot of revisions since then, and we've also gone through lots of different titles for the show. We didn't work on it every day during that five-year period – because we'd get called away as actors or just life in general – but definitely almost everyday for the past two years.
Heidi Lynch: We shot the entire show in 21 shooting days, with some days off within that. It felt like a dream when it was over.
What was the casting process?
Heidi Lynch: I would say 80 percent of the show has been cast for quite some time. Mag Ruffman, Jefferson Mappin, Faye Marsay, Kristian Bruun, and Scott Cavalheiro were always who we had in mind for the main characters and we wrote it for them specifically. They were incredibly talented friends doing favours for us and we feel so lucky it worked out two years down the road when we actually got to filming. We were very lucky to get to work with our friend and incredible casting director Jesse Griffiths of Jesse Griffiths Casting. He really helped us fill in the holes and helped us when we had some emergency replacement situations. I headed up BG casting and the BG kids and everyone else we brought on were absolutely wonderful and really helped make the show more real.
Perrie Voss: I wrote Jake based on my friend Kristian Bruun, who incredibly was actually available for the shoot. There were several times in watching audition tapes back that we absolutely shrieked in excitement because someone fit the part perfectly. It was really exciting to see that character come to life exactly how we imagined it, or better.
Is there life for Avocado Toast – The Series beyond this initial run?
Heidi Lynch: Absolutely! We'll be writing Season 2 – lots of ideas are already brewing. I'm so excited to see which parts of Season 1 resonate with people so that we can give them more of what they want.
Perrie Voss: I hope this show has a very long life and multiple seasons.
What do you hope that people feel when watching Avocado Toast the series?
Heidi Lynch: I hope people feel seen and represented so that they feel less alone. Visibility and representation for these stories are essential to normalise the normal. Everyone is normal no matter who they love but it's easy to feel alone when you only see one particular kind of story-line.
Perrie Voss: Both of our protagonist's narratives are ones that I haven't seen before in full dimension or realistically. Bisexuality and divorce have been talked about or mentioned in shows I've seen, but the actual experience of going through and discovering those things can be extremely painful and ultimately life-changing. Both of us needed this show when we were in the trenches of these experiences and I'm hoping that our viewers feel like we are connecting with them through telling this truth. I've actually found a lot of solace in both story-lines, and continue to learn from it as we re-watch and re-examine the plot while we finish post-production – I've found that I still need these stories! We wanted to write about friendship and how life intersects that. But we also really want to make people laugh. Human beings can do ridiculous things when we're in pain, and we show that here. We also hope you laugh. Our love of laughter – even in times of pain – is a huge reason we wrote this series.
Avocado Toast – The Series is available on Amazon Prime and OUTtvGo
Photo Credit: David Leyes