Planning ahead for Christopher Street Day in Berlin in 2021
Get ready to wave your rainbow flag.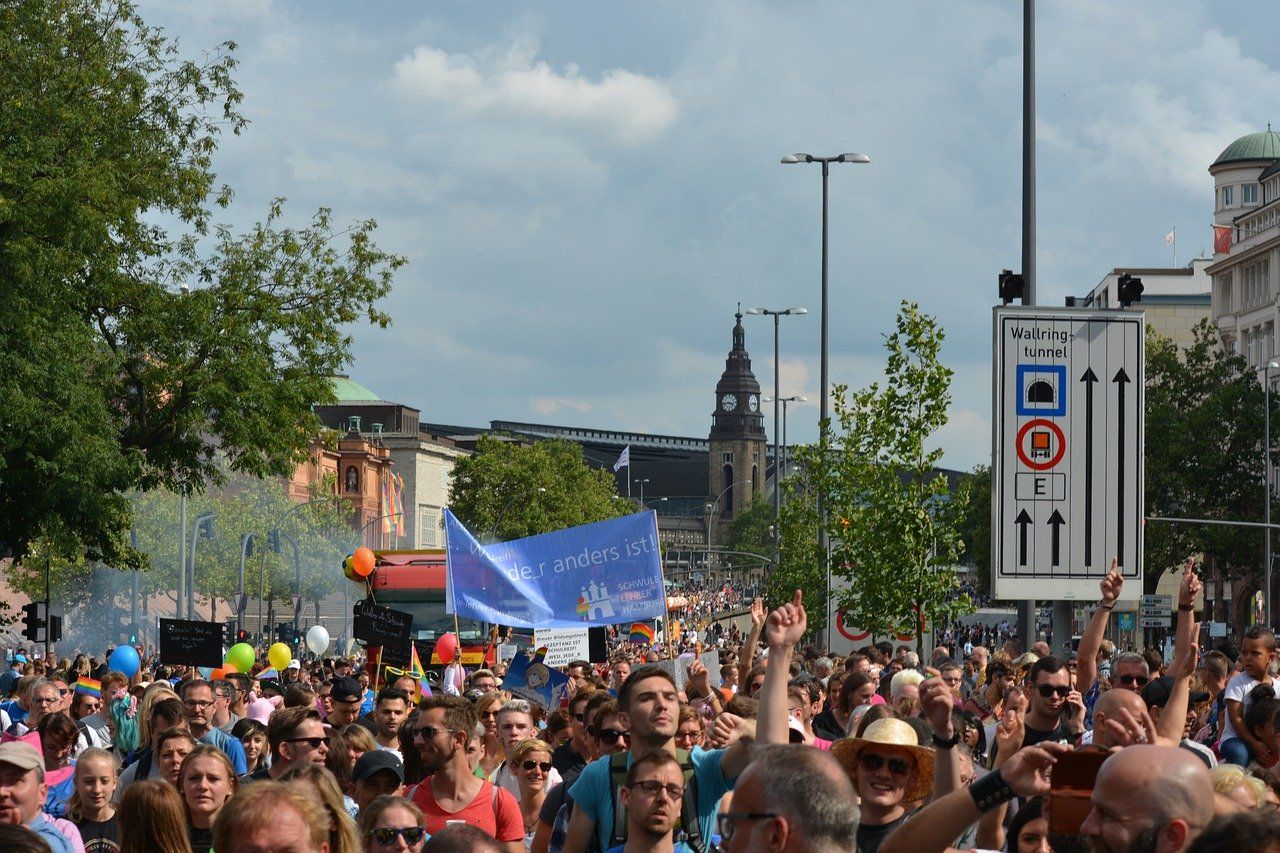 It's slightly surreal to think that the Berlin Wall has now been down longer than it was up. The wall divided the city from 1961 to 1989, but it symbolises a period of history that in many ways still defines Berlin today.
While there are numerous memorials, museums, and monuments to help educate and remind us all of the dangers of extremism and division, most of the physical scars of that period are beginning to fade.
For first-time visitors today, it would be possible to enjoy a city-break to Berlin without really having any understanding of or exposure to the broken history of Germany, however having a bit of context about the history of Berlin will definitely enrich your experience of the city.
While our travel plans are currently on hold while the world navigates the Covid-19 pandemic, Berlin is definitely on our travel wish-list for 2021. The city's Christopher Street Day celebrations - the annual LGBTQ Pride festival - could be the perfect time to go.
How to get there
As one of Europe's transport hubs, there's plenty of options for getting to and from Berlin. Flights are plentiful, but also check out your train options – the high-speed train services in this part of the world are pretty impressive.
Where to stay
Berlin's transport system is fairly impressive – wherever you're staying, you'll be able to get around town. Embrace the public transport options. The city's metro system is a dream – there's the U-bahn and the S-bahn city rail networks, and your ticket works across both of them - it's hassle-free.
Mitte is a good base for everyone, but if you want to immerse yourself in the queer part of town, then head for Schöneberg.
Tom's Hotel is a men-only hotel right on Motzstraße in Schöneberg – putting you right in the heart of the action. In Berlin terms, it doesn't get much gayer than that. As well as contemporary and comfortable hotel rooms, Tom's also has a number of self-contained apartments available which make an ideal base if you want to live like a local for a few days.
Things to do
Walk along Zimmerstraße, and follow the route of the wall that divided the city.
Checkpoint Charlie is one of the key historical markers when trying to understand the history of the Berlin Wall and the post-war division of the city.
Topography of Terror  –  A place of remembrance on the site of the SS central command. You'll find this on Niederkirchnerstraße, close to Checkpoint Charlie.
If you feel like immersing yourself in one of the residential neighbourhoods of the city, Rixdorf near Richardplatz is cute and has a relaxed feel.
Schwules Museum
One of the things that should probably be on your itinerary for your visit to Berlin is a visit to the Schwules Museum. It's in the Schöneberg neighbourhood, so it's easy to get to.
The museum showcases art and photography that reflects the LGTBQ experience. They've always got interesting stuff going on.
The Memorial to the Murdered Jews of Europe
Also known as the Holocaust Memorial, this is an incredibly powerful piece of sculpture. Designed by Peter Eisenman, the memorial consists of a 19,000-square-metre site covered with 2,711 concrete slabs arranged in a grid pattern on a sloping field.
It's located in the city's embassy district, just adjacent to the Brandenburg Gate.
Eisenman explained that the arrangement of the concrete slabs is designed to produce an uneasy, confusing atmosphere. The whole sculpture aims to represent a supposedly ordered system that has lost touch with human reason.
As you walk through the alleys of the memorial, it's emotionally overwhelming.
‍
Memorial to Homosexuals Persecuted Under Nazism
The Memorial to Homosexuals Persecuted Under Nazism is a pretty important landmark in Berlin's queer landscape.
You'll find it in Tiergarten - pretty much opposite the Memorial to the Murdered Jews of Europe.
Designed by Michael Elmgreen and Ingar Dragset, this is a concrete cube that contains a looped video. The video changes from time to time, but generally it's images of men kissing. It's incredibly powerful, and heartbreaking to remember and pay tribute to the gay men who were persecuted by the Nazi regime.
Records indicate that 50,000 gay men were officially prosecuted by the Nazi authorities. It's estimated that around 100,000 were arrested. It's believed that about 15,000 gay men were sent to concentration camps by the Nazi authorities. Persecution of gay men did not end with the fall of the Nazis – many remained imprisoned while other victims of the regime were liberated.
Where to drink
Heile Welt  –  a relaxed cocktail bar on Motzstraße in the gay district of Schöneberg.
Hafen  –  popular bar on Motzstraße in the gay district of Schöneberg. Everyone stands outside drinking beer.
Prinzknecht – a cosy bar on Fuggerstraße in the gay district of Schöneberg.
Woof  –  a bear bar in the gay district of Schöneberg, you'll find it on Fuggerstraße.
Where to eat
Black Pug – one of the main restaurants on Motzstraße in the gay district of Schöneberg, this place has changed hands over the years but is currently a very good steak restaurant. They do other things as well, but it's all a bit of a meat-feast.
Romeo und Romeo –  a popular cafe on Motzstraße in the gay district of Schöneberg. A good place to start your day with a light breakfast, or catch-up with friends for a coffee or a drink throughout the day.
Zsa Zsa Burger – a popular burger joint on Motzstraße in the gay district of Schöneberg.
Sissi  -  an Austrian restaurant on Motzstraße in the gay district of Schöneberg.
Things to eat
It's hard to go past the giant pretzels that you see vendors selling at the tourist spots. They're a pretty good option if you're hungry.
Currywurst has somehow become an iconic Berlin street-food. It's a hot-dog in a tomato sauce with curry powder. Surprisingly delicious.