Blowhole - a new play about queer life in London
We go behind the scenes with Benjamin Salmon.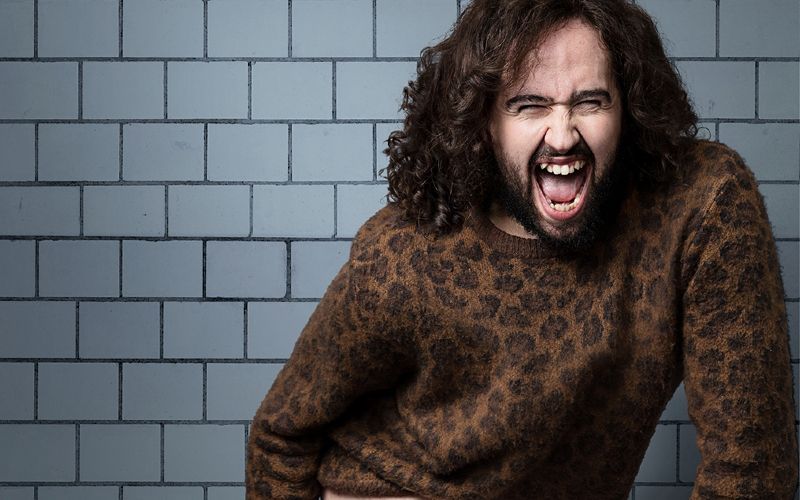 Blowhole is a new play written and performed by Benjamin Salmon.
Immersing us in the chaotic life of a single guy in London, Blowhole finds the humour in contemporary queer culture.
Ahead of the show's opening at the Pleasance Theatre in London, I caught up with Benjamin for a behind-the-scenes look at the production.
What was your inspiration for Blowhole?
Quite frankly, I just didn't see anything in theatre, television, film, the wider culture, that actually explored the reality of how bitterly disappointing it can be to be queer, single, in your twenties, and navigating the queer landscape of hook-ups, dating and relationships with no real skill or help.
The closest thing I'd see to that were stories based in the past that didn't feel particularly relevant to now, or stories that centred on characters who weren't queer, or stories that grossly overestimated the glory and success of queer people's sex lives.
Nothing in the wider culture felt indicative of what me and my friends were experiencing. None of it felt particularly truthful.
That was the main provocation to start writing Blowhole, as well as to explore the comedy that instinctively comes from this reality of how crappy your twenties can be – which is equally painful and amusing when you've perhaps waited your entire life for your twenties to start and for life to finally start feeling exciting.
I think grief and love and sex all tie into how we allow – or don't allow – ourselves to be vulnerable.
When I took stock of how fascinated I am by those things, the character of Him quite quickly revealed himself to me, and it was then just full steam ahead in terms of crafting his story and the play that he finds himself in.
What's been the creative process to bring Blowhole to the stage?
It's been quite the journey, actually!
I started really giving precise time and energy to Blowhole during my time on Soho Theatre's Writers Lab program in 2018.
During that time, the play went through three early drafts, before I met my wonderful director, Tom Wright. Together, we developed the play further, and showcased rehearsed readings of the work at Park Theatre and Tristan Bates Theatre, back in 2019.
We were all set for a full production in 2020, but of course Miss Rona came to town, and things went into inevitable postponement.
This premiere at Pleasance, this year, feels like such a homecoming. And the wait and the journey and the evolution that has happened during these years, I feel, has made the work more urgent and pressing to share.
I feel very terrified about the run, but in a really good, excited way.
It's all rather delicious how it's all led up to this moment of premiering after such a time of disconnect for the world, when we could all do with a lot of reintroduction to intimacy and connection – which Blowhole is totally the antidote for.
The starting point for Blowhole is hook-up apps. Is this a story that only gay men will really connect with it, or is there some universality to this story?
I do think there's universality to the story. I think now more than ever, more and more of us are experiencing serial swipe-right/swipe-left culture that is so brutal and so weirdly virtual and that can so easily jar with what it means to be human.
I also think grappling with loneliness, and dealing with a sense of feeling disconnected from a community, from life, from yourself is quite universal for many different types of people.
For sure, there's definitely detail in the play around these themes that will feel particularly relevant and timely for the queer audiences who engage with Blowhole, but what I love about what the play does is how its fabulous, uncensored gay protagonist connects to such varied audiences, because of his undeniable humanity and vulnerability – those very things are just so universal for so many of us, particularly during that twenty-something era of your life.
Would you describe Blowhole as a cautionary tale?
I wouldn't say Blowhole is a cautionary tale, but I totally think the disconnect and the frustration that Him experiences in the play are so linked to how generally ill-equipped most humans are, when it comes to beginning to forge and maintain new relationships in their twenties, and beyond.
We are never taught about the emotional complexities that come up all the time in sexual and romantic relationships, and how best to navigate those – let alone from a queer perspective.
Blowhole is definitely for audiences over the age of 18 as I do swear – a lot – and talk about sex – a lot. But I think Him's journey of learning to be authentic and real within so many aspects of his life resonates a great deal, and that is essential for younger, queer audiences to recognise and engage with – that their innate vulnerability is a super-power when dealing with the complexities and fragilities of life.
What do you want people to feel when watching Blowhole?
I'd like audiences to feel entertained, for sure – and to fall in love with Him pretty quickly and organically, just because I think there is a lot to love about him.
I'd love for them to feel a lot of love not just for all of Him's vulnerabilities and wobbles, but for their own personal vulnerabilities and wobbles.
I also hope audiences take away the reminder or realisation that the most important relationship in life really is the one you have with yourself.
I think the best theatre reminds you of what it is to be human – the good bits, the bad bits, all of it – but it also reminds you of why life is worth living for, no matter how painful, frustrating or heartbreaking it can sometimes be.
If Blowhole can help audiences to find as much of that as possible, then it would make me very happy.
Blowhole will run at the Pleasance Theatre from 31 August until 11 September