Bourgeois and Maurice are Insane Animals - an epic comedy adventure
The legend of Gilgamesh is now a queer musical.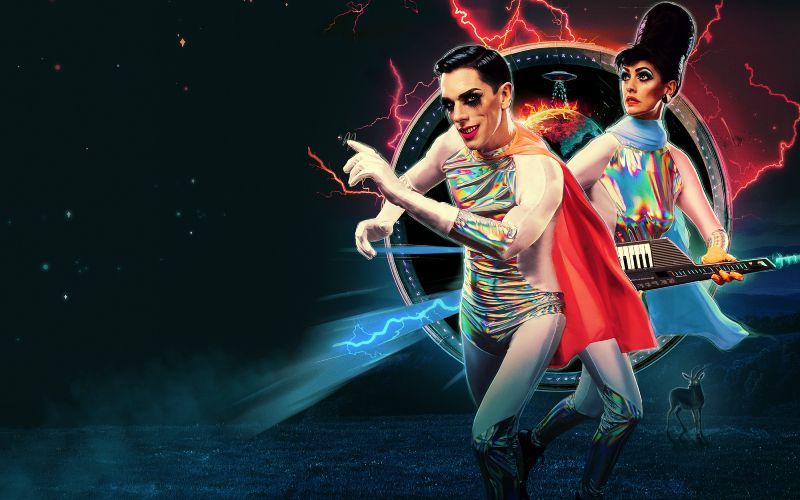 The latest show from Bourgeois & Maurice – queer cabaret superstars – is Insane Animals.
A full production musical comedy, Insane Animals had its debut in 2020. The original cast recording will be released in March.
The story of Insane Animals begins in the present day, with humanity facing extinction by way of multiple threats – meteor collision, environmental collapse, and desperate old men clinging to power. However, hope is found somewhere in the first story that humans ever wrote down – The Epic of Gilgamesh.
The Epic of Gilgamesh tells of the relationship between Gilgamesh, a cruel and tyrannical king, and Enkidu, a gentle wild man. The Gods tell Gilgamesh to love Enkidu "like a wife", making this arguably the world's first queer love story. When Enkidu is killed by the Gods, Gilgamesh goes on a quest to defeat death and find the secret to eternal life. In Bourgeois & Maurice's retelling of the story, this quest takes Gilgamesh – and his alien guides – on a time-travelling journey to the near-present future where he discovers a strange and terrifying new world of science, technology and transhumanism.
"Insane Animals is the biggest and most ambitious show we've ever been involved with…" explain Bourgeois & Maurice. After three years in development, the premiere at HOME in March was beyond our wildest dreams – a result of the incredible team we had working with us. We're so excited to share all the songs from the show with the world and we can't wait to get the full production back on its feet when life goes back to being a bit more normal-ish."
The original cast recording of Insane Animals will be released in March