Brighton turned the sunshine on for its exciting new queer literature festival
The Coast is Queer brought together LGBTQ authors, writers, and readers, and showcased Brighton at its best.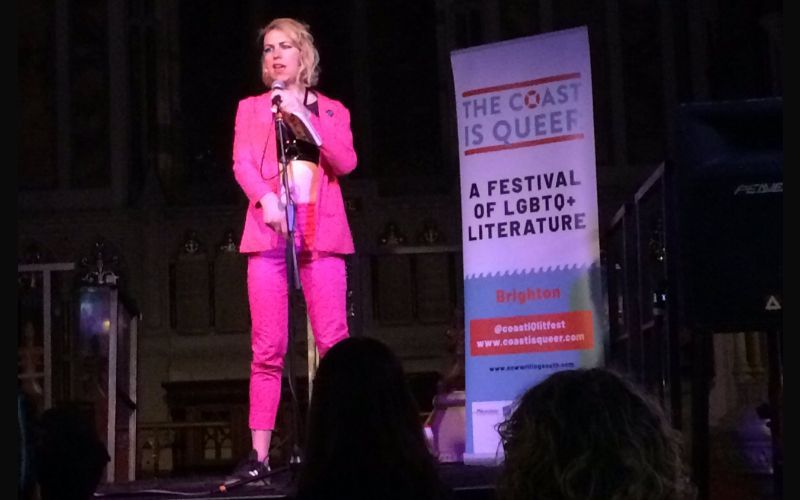 It's been a weekend of brilliant sunshine in Brighton, and it's also seen a brilliant first edition of the city's new LGBT literature festival – The Coast Is Queer.
The festival, co-hosted by New Writing South and the Marlborough Theatre,  brought together writers, performers, academics, activists and readers for a vibrant weekend of events, workshops, panel discussions and performances – it was an engaging celebration of queer lives and writing.
One of the writers who took part in the festival was Jonathan Harvey – known for queer classics such as Beautiful Thing, Gimme Gimme Gimme, Closer to Heaven, and Coronation Street. Ahead of the festival, I caught up with him to talk literature.
What appeals to you about being involved in the Coast is Queer literary festival?
I have lots of friends in Brighton and Hove, so it's a good excuse to get down and catch up and visit one of my favourite parts of the country.
The session that you're taking part in is a conversation session – how do you prepare for a session like that?
I don't. I'm lazy. But I do like the sound of my own voice so it's all good. And – hopefully – I can remember my own work, just about.
You started out writing for theatre, but you've been able to translate your writing into film, television, musicals, and novels – how challenging is it to adapt your writing style to different formats?
You just have to remember not to say 'fuck' when writing Coronation Street. Well, not on the page anyway. Aside from that, it's just common sense really. I write in the style required for the job at hand.
Much of your writing seems to be inspired by what you see around you, and an affection for what people are dealing with in everyday life. Is that a good starting point for someone wanting to try their hand at writing?
Yes, and write about what you know – the people you know, the things that excite, interest, or upset you.
Much of your work, and especially a piece such as Beautiful Thing, is directly influenced by the social and political forces that are shaping the lives of your characters. Are the current political dramas of the UK a major influence on what you're currently writing?
I'm not too good at analysing my own writing but as my work focuses on human beings – and their lives are affected by the world we live in – I guess the answer should be yes. But I don't sit there going – Oh, let's write something about Brexit, that'll be fun!
What do you hope that people feel when they're attending the Coast is Queer literary festival?
That they haven't wasted their time or money. That's a good start.
Dive into the world of the Coast is Queer