Buddies - the queer film classic that captures an important moment of our history
Taking us back to the dark days of New York at the height of the AIDS pandemic.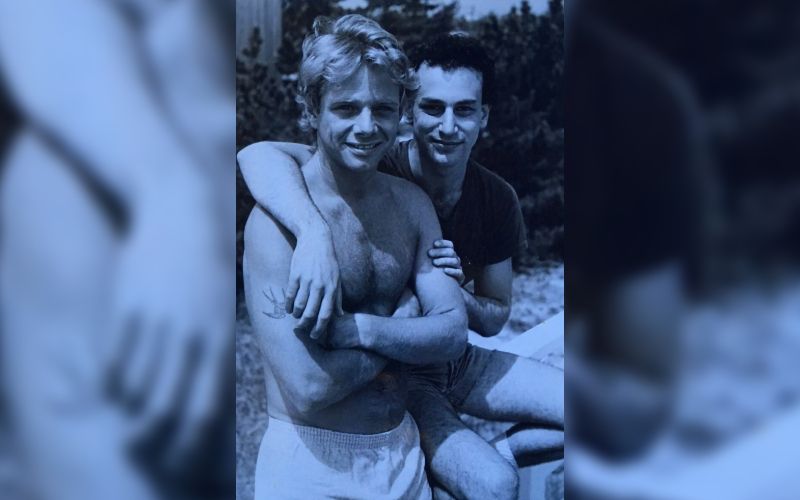 A digitally restored version of Buddies, by Arthur J. Bressan has now been re-released – it's a film worth getting your hands on.
Initially released in cinemas in 1985, the film is a moving and timeless portrayal of a key era in queer history.
Buddies is recognised as the first full-length drama about the AIDS pandemic.
The story focuses on 25-year-old David (David Schachter) – a gay man living in New York City, David signs up with the gay community centre as a volunteer to be a 'buddy' to an AIDS patient. He's assigned to Robert (Geoff Edholm), a 32-year-old politically impassioned California gardener who seems to have been abandoned by his family, friends, and lovers.
Revolving around the confines of Robert's Manhattan hospital room, Bressan skilfully unfolds this two-hander with devastating effect.
It's a moving film that is a powerful reminder of how lucky we are to have lived to see a time where we can effectively treat HIV and prevent the transmission of the virus.
Interview with David Schachter about Buddies
To coincide with the re-release of Buddies, we caught up with David Schachter – who played the role of David – for a behind-the-scenes look at the film.
Given where we are today, how do you feel about Buddies, your role in the film, and what the film documented?
Watching Buddies upon its re-release, more than 30 years after we made the film, makes me feel extremely honoured to be a part of this historical artefact.
The film captures a very specific moment in time – not only for the gay community, but for all of us – when a group of people were marginalised to such a degree that they were often abandoned in massive numbers by their families, friends, communities, and government.
I don't think any of us imagined the ultimate toll AIDS would take when we were making the film.
Would it be fair to describe Buddies as a protest film?
I actually see Buddies as a love story. It's a tale of two men from different backgrounds, who don't really like each other at first, but eventually find things in each other that spur them to be emotionally and physically intimate.
It's also a coming-of-age story, in that David starts the film as a bit of a cipher and becomes more fully-realised by the end.
Artie and I discussed David's arc in the film. We didn't want his growth to be graceful, like a rosebud unfolding, but more angular and awkward, like Pinocchio becoming a real boy. It just so happens that the boy became an activist as a result of his love for Robert.
Geoff and I rehearsed in Artie's apartment for two weeks before shooting, and this helped create an intimate space for us that translated to the set. We shot all of the hospital scenes in three days and in sequence, mostly in just one or two takes.
The entire film was shot in just nine days. It was guerrilla film-making.
There's an added poignancy to the film, knowing that we lost both Arthur Bressan and Geoff Edholm to the pandemic in the following years. Is it difficult for you to talk about the film, without having them here?
Artie named my character David to, in his words, "condemn me to good health." I'm not sure I feel survivor's guilt, but I do feel incredibly lucky. The amount of loss since then is hard to fathom.
There are two scenes in the film that always get to me.
The first – there's a moment when Robert and David are laughing and getting a positive sense of one another for the first time, and Geoff makes a sort of knowing and agreeable sound after some laughter, it's a bit of a happy sigh. Hearing it still leaves me smiling – it so perfectly captured Geoff's affability, spontaneity, and connectedness.
The second – Artie actually voices David's work colleague, even though he's not credited and we never see him on screen. It's amazing to be able to hear his voice.
Both of these moments always creep up on me, take me by surprise, and brings them both back to life – and kill me emotionally.
You worked with Bressan on the film Abuse. What was the process that led to you being cast in Buddies?
Artie and I met in 1979 – we were cruising each other on Christopher Street. Our affair didn't last very long, but we remained close friends.
When he was making Abuse in the early 80s, he asked if I could get some of my NYU friends to be in a scene that took place in a college classroom. There were six of us in that scene, and I basically wound up on the cutting room floor – so much for sleeping with the director!
In February of 1985, I got a call from Artie saying he wanted to make a film focusing on a person with AIDS and his volunteer buddy, and he asked if I would be interested in playing the buddy. He went to San Francisco to raise some money and write the script. In April, he called to say he was back in New York with the script, and he wrote the part of David with me in mind.
Thankfully, we're now at a different place with HIV than we were when Buddies was filmed. Do you feel that Buddies played a role in shifting public perception of HIV and the AIDS pandemic?
Artie was among a group of artists telling early narratives about the crisis.
In 1985, the theatre community already had Larry Kramer's The Normal Heart and William Hoffman's As Is. So I don't think Buddies in and of itself shifted public perception. We were simply part of a wave of storytellers who wanted to make sure these stories were not forgotten.
What do you hope that today's audiences feel when they watch Buddies?
I now work at New York University as the Associate Dean for Admissions and Student Affairs at the Wagner Graduate School of Public Service. We are committed to helping people who want to work in nonprofits and government do their work better. I see this passion in our students who are motivated to take action, and I think the arc of my character in this film is the arc of an activist.
David, like Artie, grabbed a platform at the end of the film by which he was transformed, and I think when we find ways to engage – as opposed to disengage – to make this world a better place, it's amazing what a group of people can do.
To me, it's this wonderful clarion call to action – to step out of the shadows and not be ashamed of who you are or what you stand for.
Buddies is distributed by Peccadillo Pictures