Butt sex for beginners
Sex Ed tips for gay men.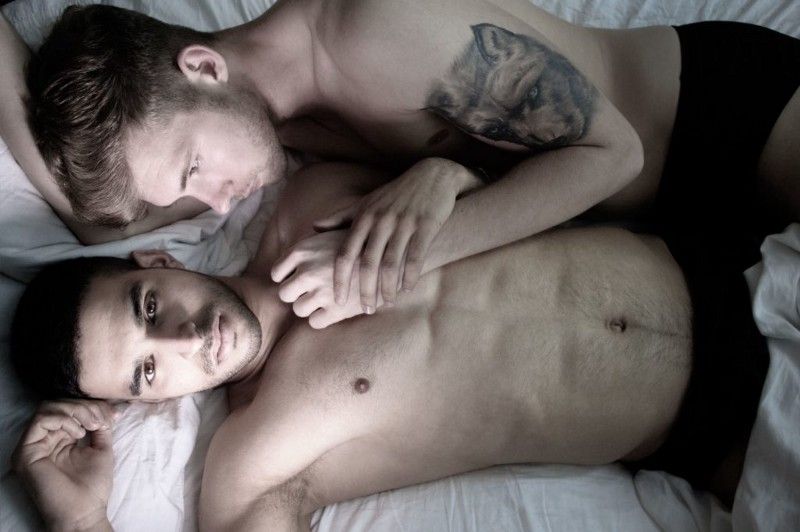 Depending on where and when you went to school, your sex education classes may not have been that comprehensive. There's every chance that your Sex Ed classes didn't tackle gay sex at all.
Here's some of the things that I wish had been covered in Sex Ed classes at my school.
Lube. It's pretty essential for fucking and can also be good fun for general play. Especially when you're starting out, you want everything as wet and as slippery as possible.
Mess. Sex generally involves some ass play and often includes fucking. It's inevitable that you're going to encounter some messy situations from time-to-time. Deal with it, don't make a drama out of it. Take a break, get cleaned up, and get back to business.
Feelings. You don't have to have a deep emotional attachment with everyone that you have sex with. If you realise that you really like someone, that's okay — don't try and bury your emotions.
Versatility. Deciding that you're exclusively a top or exclusively a bottom is a bit dumb. Sure, you might have a preference. You might feel a bit more confident in one position or another. But you should be aiming to be versatile. The more that you can experience, the more you'll understand about how to give pleasure.
Cum. Semen is cool. Have some fun with it.
Porn. Porn is great to get you all juiced up or to give you some inspiration. Don't measure your sexual encounters against the porn that you watch. Porn isn't real life. You're probably not watching too much porn, but if you think that you might be then take some steps to change how you navigate porn and sex.
Explore. Don't get stuck in the kind of sex that you have. Try new things. Be adventurous.
Size. Don't worry about what size your cock size. Everyone is different.
STIs. Get tested regularly. Early detection of any STIs makes it easier to treat and prevents you from passing anything on to someone else.
Relax. Take your time with sex. It's not a race. It's not always possible to pace things so that you both cum at about the same time — but it's amazing when you can.
Friends. You don't have to have sex with every guy that you meet — friends are just as important as fuck-buddies. You can still be friends with someone after you've had sex.
Hard. Your cock is an amazing part of the body. If you don't get hard for some reason, don't stress about it. It happens sometimes, there's lots of factors that could be at play. If it's an ongoing issue, there's lots of help and options out there that you can explore. Don't be too embarrassed to search for solutions.
Noise. If you're not making porn then you don't have to make porn noises or dodgy dialogue while you're having sex. But being totally silent is a bit weird — if you're enjoying yourself then it's good to vocalise that.
Education. Stay up-to-date with the latest health developments. It's important that you understand what's happening with HIV. Do you know about U=U? Do you know about PrEP? Make sure that you've got the information you need.
Oral. Oral sex is great. Be great at sucking cock.
Articulate. Let your sex partners know what you like and what you don't like. It will save a lot of time and gets you to the good stuff quicker.
Kinks. Fetish play can be a lot of fun to explore. Don't be embarrassed by anything that you're into. Try some role-play to push your boundaries.
Shame. There's no such thing as having too much sex or not enough sex. Have the sex that's right for you. Calling someone a slut or a prude just makes you look dumb.
Consent. It's totally okay to say no. If someone says no to you, then you have to respect that. Sober sex is good — if there's drugs or alcohol involved then you might not be clear about what you have consented and what you haven't.
Competition. No one cares how many people you've had sex with. Focus on having great sex with the guy that you're with.
Foreplay. It's not an optional extra. Put the effort in. Make it count.
Kissing. Make sure that you're a really good kisser. Clean teeth and fresh breath is sexy.
Adventure. It's not easy to have sex in a car, but it's generally worth the effort. If you're in a hot-tub or a pool, it's generally better to get out of the water to have sex. Sex outdoors or somewhere where you might get caught is awesome. Being able to look in a mirror and watch yourself having sex is awesome.
Filming. Filming yourself having sex can be a lot of fun. Make sure that everyone involved is okay with being filmed. Make sure that everyone involved knows what will happen to the footage and that they're okay with that.
Connection. Eye-contact during sex is super-hot. Don't be too gentle with each other, sex is a physical, full-contact sport.
Relationships. It's hard to maintain the excitement of sex in a long-term relationship. It takes work and effort, but it's worth it.
Labels. Don't close yourself off to potential opportunities just because you think you're only attracted to certain types of guys. Everyone has got something to offer. Be open to new things.
Clubs. Parties and clubs and bathhouses can call be great fun. Know what your limits are. Sometimes it's good to go with friends or a fuck-buddy, sometimes it's good to go by yourself.
Pubes. What your pubes look like is up to you. A bit of a trim is generally sensible to keep things neat and tidy, but it's not essential.
Body. Everyone has things about their body that they wish that they could change or improve. Don't stress about it. If you're at the point where you're getting naked and getting it on, then you have nothing to worry about.
Performance. Sexual encounters don't always deliver great sex. Maybe it's you, maybe it's him, maybe it's just an off night. It's not big deal.
Cruising. Practice your in-person, face-to-face cruising skills. Eye-contact says everything.
Etiquette. Honesty is the best policy. If you want him to leave once you've had sex then it's okay to ask him to go. If you want him to stay after you've had sex, it's okay to ask him to stay. If he doesn't want to stay, that's okay — don't take it personally, he may just have things to do.