Can there be a happy-ever-after for a gay prince?
Happily Ever Poofter is a one-man show starring Rich Watkins.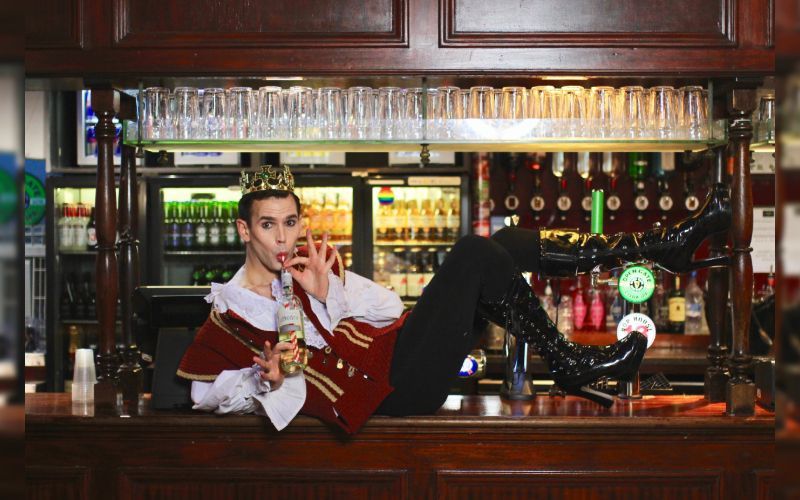 After a successful run at the Edinburgh Fringe Festival, I caught up with Rich Watkins, Denholm Spurr, and Simone Murphy – the creative team behind Happily Ever Poofter.
They're now bringing the show back to London for a run at the King's Head Theatre.
How was the show devised?
Rich Watkins: Having grown up watching Disney films and reading fairy tales, I've always loved magical kingdoms and happy-ever-afters. As I grew into my queer identity, I quickly realised that most happy-ever-afters are the typical boy-meets-girl narrative. So, I decided to write my own story – the story of a gay fairy-tale prince on his quest for true love.
I've had a lot of experience doing pantomime – including adult pantomime at the Royal Vauxhall Tavern – so,  stylistically I knew that was the route I wanted to go down. Then I just started to write. That was last December, and by April the show was written!
How did the creative team come together?
Rich Watkins: Once I knew the show was going to feature music, I realised I needed a strong choreographer to help my two left feet! I'd trained with Simone Murphy at the MTA, and have always loved her work, and she's a dear friend. I casually asked her if she'd take a look at two of the numbers before the show's debut in April. MTA graduates never do anything by half, so sure enough, a few weeks later, Simone was choreographing the whole show and bringing the physicality of the characters to life.
I'd worked with Denholm Spurr many times through Dragonflies Theatre – The Chemsex Monologues, The Grass Is Always Grindr – and I hold his opinion as an artist, and particularly as a queer artist, in the highest regard. I originally asked him to come in and listen to the script and give feedback. Dramaturgy, essentially. Denholm saw the project through the same lens I did, and I responded to his notes, so he came on board as director extraordinaire. What you see on stage is really a product of Denholm's genius and patience.
Finally, I was very lucky to have Katharine Drury involved as a creative consultant. Guildhall Graduate and Producer, Katharine assisted in ironing out many of the creases of the early version of the show, bringing it from simply an
idea in my head onto the stage.
There's no better feeling than working with friends on something we all believe in, and I couldn't be more grateful for the experience.
What was the process of development like?
Denholm Spurr: I remember when Rich first told me about the idea. He casually dropped into conversation that he was thinking of creating a gay Disney pantomime-inspired parody show. I'm sure Rich will have no problem in
admitting my scepticism at first. Not that I don't love Disney – I really do – but I hate panto, mainly because it's all fluff and little substance. Also, being very familiar with the work of The Sex Shells – who use Disney songs to examine queer
culture – I wasn't sure whether the show could bring anything new. I think this scepticism was healthy early on in terms of the feedback I could offer Rich when he was writing.
I was completely bowled over when I read the completed first draft. Rich has a natural genius as a lyricist and, to be honest, we have made very little changes to the songs from that first draft. It was a tight script, with an excellent structure, which has been a director's dream-come-true. It's allowed me to focus on the emotional journey and overarching message of the piece, and Rich has been incredibly responsive my direction. I wanted to ensure that the pantomime tropes lull the audience into a false sense of security and then hit them right where it hurts when they realise this is more than just a frivolous fairy-tale.
I think the three of us on the creative team are a perfect match. I'm probably the serious one, and I definitely have a tendency to get lost in that. At the end of the day this is a comedy – Simone's general charisma and chirpy choreography helps keep the piece from falling off a dark moody precipice.
Simone Murphy: For me – as a cis-gendered, heterosexual woman – the development process involved a lot of research into as many aspects of gay culture as I could, from watching Drag Race to researching the history of Stonewall, to speaking directly to members of the LGBTQ community and hearing  their stories and experience. I wanted to broaden my knowledge of what it means to be LGBTQ so that I could attempt to sensitively and joyfully reflect the trials, tribulations and triumphs of the past 50 years and beyond. After just our first read-through, we all knew this was an extremely special piece, and after just a few tweaks rehearsal began. Working with Rich and Denholm is such a pleasure – we work very collaboratively and always seem to be able to complement each other's ideas. This has allowed the piece to develop not only through rehearsals but also in the performances. We learn something new from
every audience and every space we're in – this keeps the show fresh and allows us to keep developing the piece so that it's never tired and always current.
In what ways has the production evolved?
Rich Watkins: The show is essentially exactly as I first imagined it. The story, the musical numbers, the message are all exactly as I first envisaged. However, there are many details which have been nipped and tucked as we've gone along. And, in recent performances, Denholm has brought a real sense of story arc and journey to the piece, which certainly is a development from where the show began. We learn something new with every performance, but essentially the show is exactly where I want it to be.
It's a showcase for Rich. Was this the intention?
Rich Watkins: I'm an actor, darling, of course it was! I had no idea how exposing and challenging a one-man show
would be. I've worked a lot in the drag and cabaret scenes, and I thought I was ready to be on-stage by myself for an hour. Then I wrote a show with 11 musical numbers, six costume changes, five characters, and no respite! It's become a mini-marathon. I always try to challenge myself and push myself, but I only wrote things I knew I was capable of doing – with a fair bit of hard work!
Was the plan always to take the show to the Edinburgh Fringe Festival?
Rich Watkins: Edinburgh kind of just happened! We did the show first time back in April at the Royal Vauxhall Tavern, and the feedback was so overwhelming that it became clear the show had to have future life. I had enquired a bit about
Edinburgh, but due to previous commitments, I was only ever available for the first week. We popped in an application for Free-Fringe, hoping something would come up. As luck would have it, a slot for week-one in Edinburgh's gay district opened up!
How does this show sit within the traditions of British Queer Theatre?
Rich Watkins: I've been involved in queer theatre throughout my career – which is something I'm very proud of – and I always wanted to write something which celebrates and champions our community, as well as informing those who
maybe don't belong to it. Of course, our queer community is so wonderfully wide and diverse that it can be difficult to represent all of our stories. I am a white gay man telling a white gay man's story – with it being a one-man show there was no escaping that. As a demographic, my story has been told quite a lot – from Queer as Folk to The Inheritance – so I wanted the show to be as inclusive as possible. I hope I've succeeded.
Denholm Spurr: I'm very vocal in my criticism of the media in terms of queer representation – particularly in our modern fairy-tales and legends. If a little gay child never sees themselves as a Prince or a Superhero because Disney and Marvel refuse to even acknowledge they exist, then they won't have a very high opinion of themselves, they won't see themselves being worthy of being heads of state or superheroes. I'm currently in the process of setting up a website called Queerticks, which examines not only if LGBTQ peoples are represented in the media but also how we are represented. This show really brings those questions into focus and so I feel it's on the vanguard of contemporary queer theatre.
You reference Queer history. Is it important to have queer shows produced?
Rich Watkins: We must keep telling our stories. Culture survives on storytelling. I think it's a really interesting time at the moment. The LGBTQ community have come so far. But I think there is a risk in forgetting where we have come from, and neglecting those for whom things haven't changed as much. This year, on the fiftieth anniversary of Stonewall, there has been an impressive and beautiful display of recognition for our past. Long may that continue. As an artist, I believe the best way to keep that recognition up is through our storytelling. So please, keep supporting queer theatre and queer art!
Happily Ever Poofter will run at the King's Head Theatre in London from 21 January – 8 February