Can you be gay and embrace your faith?
Brotherly Love  -  a film by Anthony J. Caruso.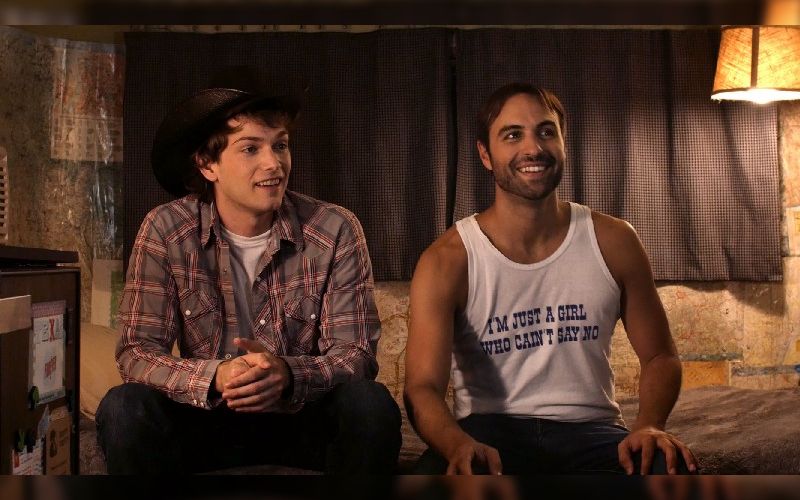 If you're looking for quality queer films to add to your watch-list, check out Brotherly Love.
As well as writing and directing, Anthony J. Caruso also takes the lead role in Brotherly Love  -  a story that he's adapted from the novel Seventy Times Seven written by Salvatore Sapienza.
Brotherly Love gives is about the trials and tribulations of Brother Vito (Anthony J. Caruso) – a young gay guy who is faced with the decision of dedicating his life to the Church, or declaring his love for Gabe (Derek Babb).
We caught up with Anthony J. Caruso for a behind-the-scenes look at the film.
The inspiration
"I met author Salvatore Sapienza at a book reading of Seventy Times Seven…" explains Caruso. "He was travelling to promote his book. I was on a date with a guy who had a connection to Sal, so we went to support him. As Sal was reading the book, I felt it would make a great movie. Afterwards, I spoke to Sal and asked him if he'd ever thought about turning his book into a movie. He lit up and said  -  'I would love that!' He said he needed someone to write it, and I told him that I could do that. He was excited about the movie prospect, but I told him I needed to read it first to see if I identified with it."
"I had a flight to London that weekend, and thought that I would start the book on the plane before I went to sleep…" continues Caruso. "I wound up staying up through the entire flight and was jet-lagged for two days, just because I couldn't put the book down."
"Many members off the LGBTQ community have had to deal with personal issues with faith, myself included…" adds Caruso. "Many of us were brought up with the assumption that the two can't co-exist – that you're either gay or have your faith, but not both. That thinking has led many to have deep struggles, some unfortunately ending in suicide."
"Sal had mentioned how many people wrote to him, talking about how his novel helped them with their personal struggle…" says Caruso. "We thought that, with the reach of a film, many more people could be helped. So, not only did I identify with the themes of the book, but I wanted to create a film that would help people at the same time."
The logistics
"It took a month to get the initial draft finished, but I did rewrites for several years…" explains Caruso. "Sal and I felt it was appropriate to wait a few years before filming, so I used that time to fine tune the script. However, filming was a very drawn-out process. We were slated to film in 2013, but my main investor backed out at the last minute, causing a one-year delay. Then, after starting to film, Derek Babb, who played Gabe, came down with mono, which meant our entire shooting schedule had to be postponed for months to allow him time to recover. Production wound up taking 10 months to complete, but was only 20 shooting days long, ending in August 2015."
"We held two castings…" says Caruso. "The first was before we started shooting in 2013. Then we replaced cast members we lost due to scheduling conflicts once shooting was rescheduled for late 2014. We had a difficult time casting Gabe due to the love scene. Many guys refused to read for the part due to the scene – either due to their own personal issues or their girlfriends and wives vetoed the audition. Eventually we found Derek."
"As for my playing Vito, Sal actually mentioned to me in our initial conversation that he felt I would be a good Vito, so as I read the novel for the first time, and I connected with the character, I knew that I'd be playing him."
"One of the biggest challenges was that I didn't have a second set of eyes to watch what I'm giving the camera…" explains Caruso. "When I'm only directing, I can give feedback right away, but as an actor, I have to go back and watch the footage we just shot, which takes up time. Plus, when you have a director and actor, there's a sort of collaboration where you can bounce ideas off each other, but when you're doing both jobs, you have to really know what the best decisions are, as you lose a second voice with new ideas. Fortunately, I had a great AD in Sheree L. Ross. She was indispensable as my second set of eyes and integral in helping me get my creative vision on the screen."
Gay men versus religion
"A lot of us grew up with religious or spiritual backgrounds and were told that God didn't approve of us, didn't love us, we were an abomination, that we were going to hell…" reflects Caruso. "Most movies that deal with the topic present an either/or choice. Either be gay or follow your faith, but not both. And the film then leads the main character on a journey where the church is so oppressive, and the new guy is so hot, charming, smart, and funny, that the lead character has no other choice to renounce what he believes in spiritually in order to have a hot boyfriend."
"I wanted to make a film that presented another option  -  be gay and embrace your faith…" continues Caruso. "Many people don't feel they have that option, so it was important to me to stress Vito's issue was with celibacy, not being gay. Sal, being a gay pastor of a church in Michigan, had a similar vision."
"Audiences are resonating with the lighter tone of the film  –  how it's not anti-church and how it's a more lighthearted look at the subject…" says Caruso. "I have gotten letters from people sharing the impact that the film had on them  –  how they have struggled to reconcile their spirituality and sexuality and that this has helped them. It's been extremely gratifying and humbling."
"I doubt the church would be comfortable with the film, even though I was very careful to not make this a referendum on the Catholic faith. Just showing a Brother having sex is blasphemous enough to get me ex-communicated."
"Religious films can strike different people in different ways…" reflects Caruso. "It can trigger deep emotional responses in people who have been damaged. I want everyone to have their own personal experience. But I want them to enjoy themselves as they have that experience. My goal was to make a lighthearted film that would make people smile. Religious films can be so heavy, so I created Brotherly Love to be a film that you wouldn't need a drink after watching."
Brotherly Love (image supplied)