Category is? Ballroom virgin
David Luca checks out the ballroom community in Malaga and finds a vibrant community who always bring it to the runway.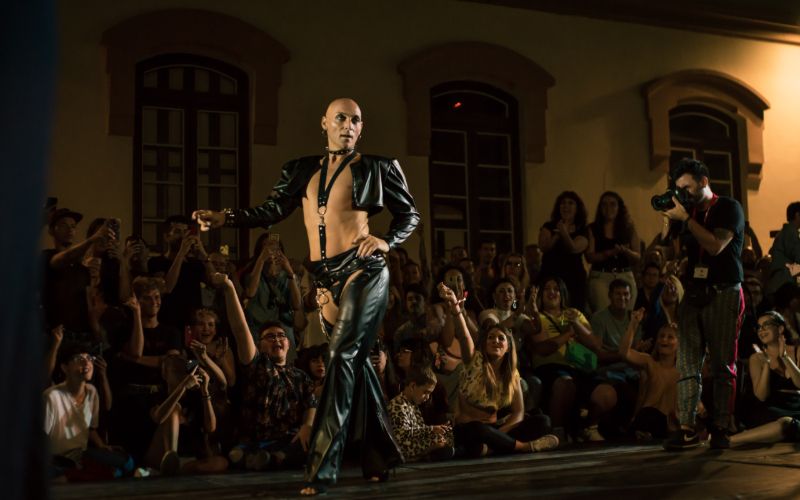 "1, 2, 3 and now hold that pose for me!"
Many of you reading this might have heard of the ballroom scene thanks to the hit show Pose, Drag Race, or the OG Madonna, but not many of us get to experience it in person.
This underground world is complex, queer and mysterious. Even today, in the age of social media, most out and fiercely proud Queer people don't know the origins of America's queer culture nor the importance of the black and Latin communities involved.
Last weekend, I went to my first major ball and I can honestly say it has changed my life.
The origins of ballroom date back to the 19th century, but evolved into its current form in the 80s – around the beginning of the AIDS crisis. Started by the legendary Crystal LaBeija – a Latina drag queen from New York – as a protest against the racism in pre-existing queer competitions. Crystal, mother of the first ever house, started a cultural revolution that continues to inspire young queer people today – especially queer people of colour.
In a time when queer youth were normally kicked out of home by conservative parents, we began to form 'houses' – families formed by kindness and love rather than blood.
Older queer people would house, feed and train those who had nowhere to go. They would teach them to dance and to perform, and the various houses of New York would compete in competitions called balls.
Forty years later, this world has now spread to London, Moscow, Paris, and even my home town of Malaga.
Before I went to the ball (call me Cinderfella), I had some reservations. The origins of the ballroom scene were deeply rooted in American culture. Racial struggles and New York queer lingo define the scene. I questioned whether the empowering nature of this small world would apply to me as a white Latino and as a British European – especially in the year 2019.
Luckily, I found out that all of my fears were entirely unfounded. Seeing other queer people expressing themselves at their gayest or most trans or most feminine or even most masculine had a powerful effect on me. In particular, seeing
people of colour who continue to face under-representation and racism – even in our community.
This not only lifted me up but enlightened me to the struggles of other more marginalised members of our diverse and talented community. Seeing others express themselves freely is empowering, something we need now just as much as we did in the 80s.
We live in a world where LGBTQ rights are no longer progressing, racial tensions are increasing at a horrific rate – especially in the US and UK. We live in a world of Trump and Brexit. Unity, Liberal Values and representation are crucial to our survival and our happiness. The Ball is a celebration of all of those things.
Each ball has a different theme. This month's ball was based on the MTV awards. It mattered a lot to the local community because it shows that Malaga is now on the international ball map. People flew in from London, Paris, The Netherlands, and New York to judge or participate. A great turn out for our local scene.
It was also a chance for local talent to battle some of the biggest names in the European scene. It takes years to build a reputation and to reach the status of 'legendary' within the ballroom community – thanks to these international events, the best of Malaga is beginning their journey towards international recognition.
Malaga's first steps towards having its own community started when Ilyak Visori Crown began teaching Vogue at the Dflow school of Dance, seven years ago. Within a few years, the first balls were being held. In 2018, he opened the first
major house in Spain – the House of Visori. Under his guidance, both the Kiki and Major ball scenes have grown and made way for other houses and many 007 members of the scene – 007 is the surname given to people who don't belong to a house.
The Ball is split into various categories – the most famous being the various voguing categories such as Vogue Femme, old way, and new way. There are also creative categories such as Best Dressed and Bizarre. Bizarre involves creating a look and a performance that should weird-out the judges.
The judge's panel is made up of legendary senior members of the community, often house mothers and fathers with years of experience who will give tens or a chop. Tens mean that the contestant did well enough in their category so that they will go on to battle other contestants to see who will win the grand prize. A chop means they have to work on their performance or look and come back at another ball. Other categories include realness, which involves being able to pass yourself off as a heterosexual man. There is a category for everyone.
To sum up the experience, the ball was entertaining and changed – for the better – my perspective on what it means to be queer.
If any of you have the opportunity to go to a ball, GO! Any celebration of our identity is worth going to. A ball also happens to be a fantastic day out. I can't wait to go to the next one and also to walk my first ball. I will keep on reporting on my journey.