Celebrating the queeroes who are making the world are more interesting place
Get your hands on the latest issue of Sassify zine.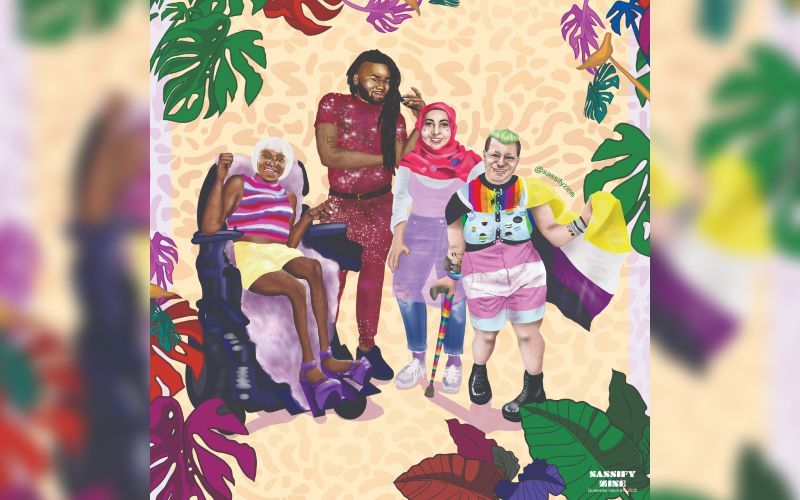 We caught up with Jason Kattenhorn of Sassify zine to talk queer heroes and their upcoming Queeroes issue.
What draws you to the zine format?
I grew up devouring magazines as a kid – my nan and gramp would buy me Smash Hits and Buffy magazine on our shopping trips every Saturday morning. I would read through them while eating a pack of Orange Club chocolate biscuits. I used to daydream of making a magazine of my own.
In finding my queerness, I also found zines. Zines are so radical in their design and content and I wanted to be part of that conversation somehow.
It's a creative outlet for my queer artwork, but also allows me to talk and work with my queer peers. What I mean by queer art is something that is bold, defiant, intersectional and inclusive.
Queer art isn't just for queer people. Having something tangible to hold and read is important to me. Each issue is a small gallery of art that people can look at and carry around with them. A zine is something to be treasured.
Why was the theme of queer heroes something that you wanted to focus on?
Celebrating Queeroes is totally about enhancing solidarity. I want to change attitudes towards LGBTQ people – both within and outside of that community – through queer art and storytelling. Changes in social diversity seem threatening at first, and I hope to give everyone the tools to become a better ally by relearning everything we think we know about the LGBTQ community.
The only way I could think of doing this was by showcasing the talents of modern-day queer activists with a nod to our Queeroes of the past. Not all of us are high-profile activists or social media influencers, but we can or do use whatever talents we have to amplify those overlooked queer voices in the world.
I wanted an excuse to work with my queer peers because we continue to see a lack of access to LGBTQ art and storytelling in mainstream media – especially in rural towns and communities. The creation of Sassify was the response to that, helping us work towards a safer queer future, together. I'm still working on this myself, and I hope to encourage other people to do so as well.
What was the creative process you followed for this issue?
There is now a small team of us that print Sassify annually, and each issue takes around six months to complete. This includes, interviewing people, commissioning artists, designing and editing, and printing. It's not-for-profit, so all the money generated from sales goes back into producing another printed issue.
I'm inspired by so many people, but I have a page count to stick to so must reign my ideas of grandeur in a lot of the time. Each contributor is someone that I've admired online, or that I've met in person at a zine fair. The work ranges from pieces submitted or work I've commissioned for a segment in that issue. Email and Instagram have proven to be an amazing tool to connect me with people.
Now this issue is complete, I'm looking to build a Queer Artists directory on the Sassify website so people can commission or collaborate with the artists that I've had the pleasure to work with.
Our cover artist Sofie Birkin is someone who I look up to, not only in terms of illustrative style, but for her sheer audacity to create inclusive work for all to see. I'm so lucky she said yes to creating the cover.
Who are some of the queer heroes that inspire you?
I will be forever grateful to all the queer heroes of the past, such as Sylvia Rivera, Marsha P Johnson and those that fought at the Compton Cafeteria riots. They paved the way for us all today.
What I try and focus on is the here and now. Queeroes such as Moranda Reaux inspire me because she is representing for all the black, queer, non-abled bodies that often get overlooked in mainstream media. Hafsa Qureshi – Stonewall's Bi Role model of the Year 2019 – taught me that you can have faith but also be part of the LGBTQ community.
Every trans, or gender diverse kid who I have met, or will meet inspire me. To live your true self in the face of adversity all the time is inspiring.
What's your perspective on the magazines and publications currently available for queer people?
There are a lot of magazines out there that cater for different brackets of the LGBTQ spectrum. We need that! However, I rarely see content that caters to everyone in one place. I want to see more media talking about Intersex issues, HIV issues. I want to see non-abled bodies, every ethnicity. That's something I'm working towards with each issue of Sassify.
Art and illustration also tend to be quite a high-brow – an elitist subject where people pay to be in the pages of the top magazine of that time. I want to open that creative floor out to everyone. I want to see up-and-coming artists sitting on the page next to a more established artist. I also want Queer, straight, CIS, and everyone in-between to have information readily available for them to devour it if they want it.
I think we, as an LGBTQ community, sometime have a problem communicating with straight and cis-gendered people. I know that it's those people who have the issues with us, but a lot of the time I genuinely think they just don't understand it all and need things explained to them. I'm lucky I can use my platform of privilege as a white person with an invisible queerness to challenge this by making queer art accessible to all.
What do you hope that people feel when reading the Queeroes issue of the zine?
I want people to feel excited, titillated even. Ready to explore the expansive expression that everything being LGBTQ has to offer.
The Queeroes issues of Sassify zine will be released on 15 March – pre-orders are now open