Celebrating the resilience of the Rainbow People - a queer poem that will make your heart sing
A powerful poem from Lee Evans and Thinking Film.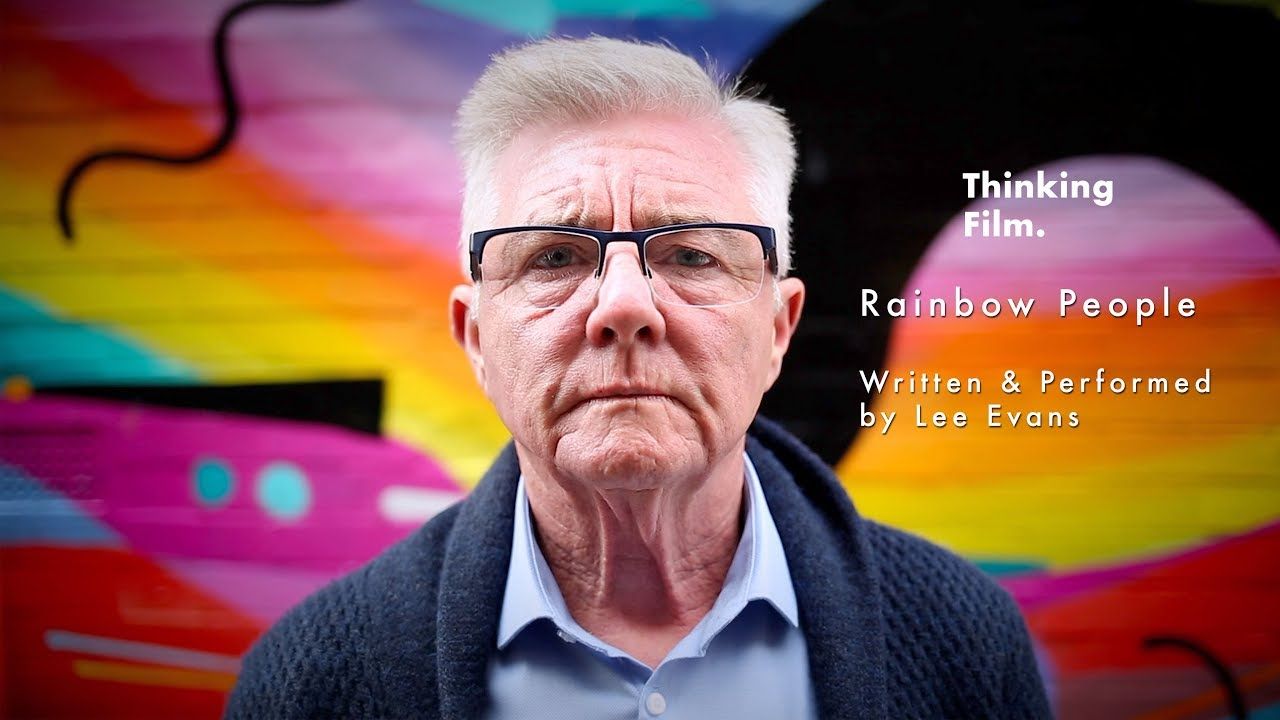 Rainbow People is a poem written and performed by Lee Evans. It's been captured on film by Danny Kilbride of Thinking Film.
I caught up with Lee Evans and Danny Kilbride for a behind-the-scenes look at the project.
What was the inspiration that led to the creation of the poem and the film?
Lee Evans: Inspiration for the poem came from reflecting on how far the LGBTQ community has come over the past 40 years, and how wonderful it is to see people all over the world come together to celebrate that during Pride.
Danny Kilbride: A mutual friend shared Lee's poem with me, and we managed to get Lee a performance at a Liverpool Pride event – called Come Out of the Shadows – which aims to increase visibility of LGBTQ people across the city region. After seeing Lee perform, and the response from the audience, I knew we had to do more with the poem and share it with a wider audience.
The messages of the poem are universal, but the film showcases the accent and voice of Liverpool. How does the character and spirit of Liverpool shape this work?
Lee Evans: Liverpool is a very broad-minded city with a very big heart and fighting all forms of injustice is in its DNA. As a proud born-and-bred Scouser, Liverpool shapes everything that I do.
Danny Kilbride: When I first read the poem, not having met Lee, my first question was – Is Lee from Liverpool? In my head it was a Scouse voice, I don't think it could have been any other. The poem's heart is in Liverpool, but the experiences of LGBTQ people are universal – we wanted to reflect that in the film's visuals. I think that's why the film has done so well on social media and reached so many people.
What's the LGBTQ community like in Liverpool?
Danny Kilbride: I've worked with the majority of LGBTQ organisations in Liverpool, delivering over 30 projects with LGBTQ people and communities. As a filmmaker I work with LGBTQ people, communities, and organisations in order to provide a voice – to allow people to speak out and be heard. I think it's incredibly important for LGBTQ people to be given that platform. From my experience, we're a resilient community, one that celebrates and welcomes diversity. I think we're active – practically and politically – we're not afraid to speak out and have a DIY attitude. In recent years, there has been an increase in grass-roots organising, responding to the growing diversity of the LGBTQ community in Liverpool, and ensuring that there is something for everyone.
What are some of the key issues that the LGBTQ community in Liverpool is currently focused on?
Danny Kilbride: I've been concerned with the increase in transphobia and anti-trans rhetoric across the UK. The LGBTQ community in Liverpool has rallied and responded, showing its support and solidarity with the trans community. This year, I've produced films with trans young people, exploring mental health and well-being, as well as a film for Liverpool Pride exploring trans hate crime. As a cis-gender gay man, it's important that I use my privilege to provide trans people and communities with a voice. Next year, I'll continue to work with trans young people, and LGBTQ young people more broadly, on a project called I'm Coming Out – which has been funded by BBC Children in Need. The project will share the stories and experiences of LGBTQ young people, helping to develop the activists and community leaders of the future.
Does this poem have a life beyond this film?
Lee Evans: The poem has been published in an anthology – Constellations. Beyond that, I'm in discussions with Danny, and others, about tuning the film into a tourist promotion film for city breaks in Liverpool during Liverpool Pride weekend.
Danny Kilbride: As soon as Lee told me he was writing a performance poem specifically for the trans community, I knew we had to make another film together. We've been talking about reaching out to include trans people and allies in the film, to really celebrate the diversity of the trans community in Liverpool.
What do you hope that people feel when hearing this poem?
Lee Evans: I hope the poem gives a sense of history, achievement, and pride to the LBGTQ community, and inspires others in the fight for equality. I hope it strengthens that sense of solidarity we all have, so the phobes out there know that when they brutalise kill or silence one voice, the rest of us will sing.