Charlie Carver is a New York hustler in The Boys in the Band
Giving us exactly the kind of birthday present we're hoping for - the film is now available on Netflix.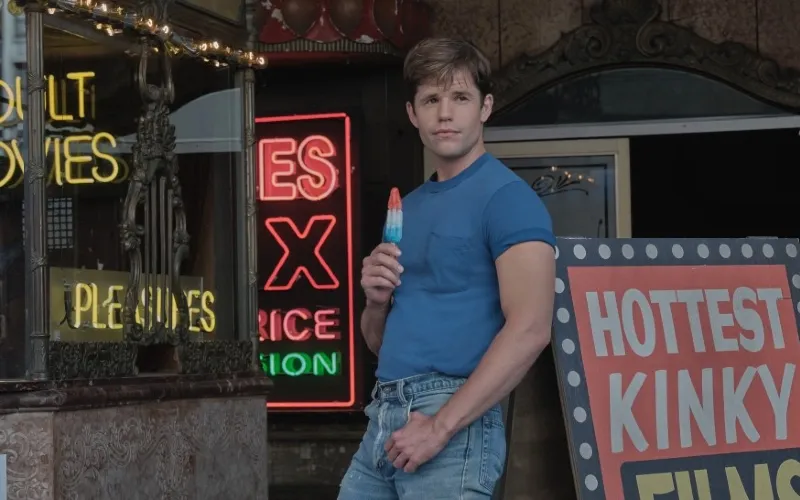 Charlie Carver is back on our screens. You can catch him playing the role of Cowboy in the screen adaptation of The Boys in the Band.
Cowboy is a young hustler who has been hired as the birthday gift at a party being thrown by a group of queer friends in Manhattan.
Carver made his Broadway debut with this role, and it's great to see him bring it to the screen with an all-star cast that really does justice to this iconic play.
Who is Charlie Carver?
Early life
Carver was born in San Francisco in 1988.
He has an identical twin brother, Max.
He graduated from the University of Southern California in 2012, and has also studied acting at The American Conservatory Theater in San Francisco.
Career
Carver began acting at school. His screen debut was with his brother in the television series, Desperate Housewives – they played Porter and Preston Scavo, sons to Lynette Scavo and Tom Scavo.
Charlie and Max also both appeared in the series Teen Wolf, playing twin werewolves.
Charlie's film roles have included I Am Michael, as well as the series When We Rise.
Carver made his Broadway debut is as Cowboy in the 2018 revival of Mart Crowley's The Boys in the Band.
He's currently on-screen in the Netflix series Ratched.
The film adaptation of The Boys in the Band will be released in September.
Personal life
Carver first publicly discussed his sexuality in 2016, posting on Instagram.
The Boys in the Band is now available on Netflix