Circuit Festival Miami on hold until 2021
Unsurprising, but disappointing.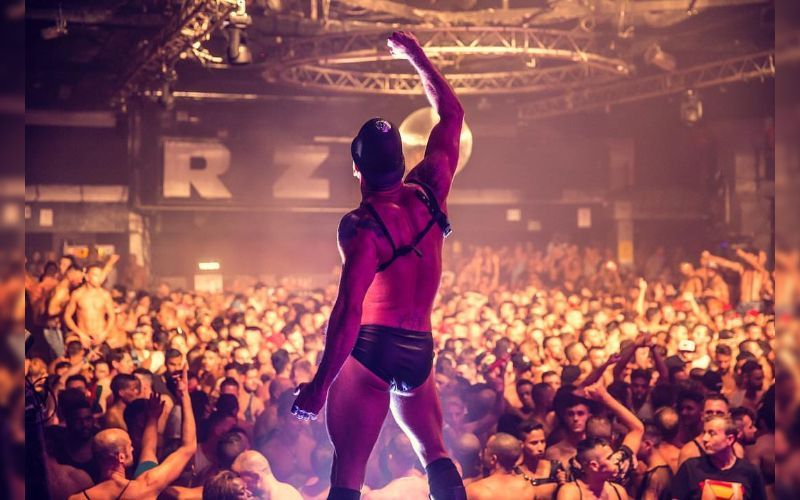 Unsurprisingly, Circuit Festival Miami isn't going to happen this year – organisers have confirmed that they're holding everything over until 2021.
The plan was to hold the event over the Thanksgiving weekend, and organisers have advised to pencil in the dates for 2021 when they're hoping to be back on South Beach.
The dates for 2021 will be 25-29 November.
Circuit Festival Miami has become a bit of a Thanksgiving Weekend tradition, with the boys of Miami embracing the Barcelona Beach Vibe for a weekend of partying – including a massive night on South Beach.
A while back, we caught up with event producer Hilton Wolman for a behind-the-scenes look at Circuit Festival Miami.
Circuit parties have an image of being all about gym-fit, body-conscious guys. Is that the audience who you're pitching Circuit Miami at?
The eye candy at Circuit Festival comes in all shapes and sizes. We strive to be an inclusive event, welcoming all body types and ethnicities. After all, we're all gay, proud, and connected by a common love of music and having fun on the dance floor and on the beach.
Is Miami a good place to party?
November in Miami is traditionally the start of our dry season and the weather is usually fantastic. Few other cities in the US can offer such spectacular beaches and spectacular weather alongside the nighttime activities of an event like Circuit.
During November, Miami is easy to get to and hotel rooms are extremely well-priced.
We also spoke with promoter Luis Morera about some of the logistics of the event.
The beach party is one of the main highlights of Circuit Festival Miami. You also organise a beach clean-up – how does that work?
As we all know, the beaches are like the jewels of our city so we don't only want to give back to the community in a financial way but also by adding some community work. We're working with the city to see which go-green non-profit will be appointed to do the clean-up. Once we come up with a date and time, we'll send messages to our email list and social media to gather volunteers.
Ideally we want the beach clean-up to feel like a fun event as well. We know that picking up garbage isn't exactly entertaining, but if you add a bunch of hunky guys and all your friends it becomes light work for a community of caring people. Not to mention that it's a fantastic feeling – doing good with your Circuit family.
It's not like you only came to party, you actively participated in keeping the landscape of these events as pristine as when you arrived. We're expecting a lot of good people with big hearts picking up trash, taking selfies, meeting like-minded strangers, and just having a good time. A little soul food, so to speak, to go with all the partying.
What are some of the challenges in putting together an event like Circuit Festival Miami?
There are a ton of moving parts, and making sure you've got them all covered is kind of the challenging part. You have to see what's happening in the party scene around the world to stay with it or predict how to top it. You have to find the DJs that are really having a 'moment' in their careers right now, and that also line up with the sound you want to put out.
There is a huge partnership that needs to be built and really maintained all year-round with the city as well. You need to have open and clear communication with your city leaders and planning teams. Everything needs to be communicated – everything!
Then there is the challenge of how you leave a positive lasting mark with your fans to keep them actively engaged until next year.
More broadly, there's a running theme for the festival – a message that you need to have in your head as you put together these events. Of course, these are celebrations but what are we celebrating? What is the focus? Is it spreading the word about STI testing? Is it a platform for spreading information about political candidates helping out our community? Is it climate change? Believe it or not, all of this is at the root of every event. There is a cause for each party – a reason to bring us all together, aside from sweaty muscle boys and music.
What do you hope that people feel when attending Circuit Festival Miami?
Above all, we want our attendees to feel like this is the festival to look forward to! Whether that's because they feel good about how it helps out with the beach clean-up, or how friendly every one is, or even that they just love the overall vibe of the events – that is enough.
We want every single person to feel that amazing – 'Wow, that was incredible!' feeling on their flights home. That's what creates real ties at a festival like this. The experience has to be so big that it touches everyone in their own way. It's an ambitious endeavour but we're already seeing repeat customers, so we must be doing something right.
Circuit Festival (image supplied)