Classic operas given a queer twist with Opera Undone
A dramatic double bill of love, lust, and betrayal.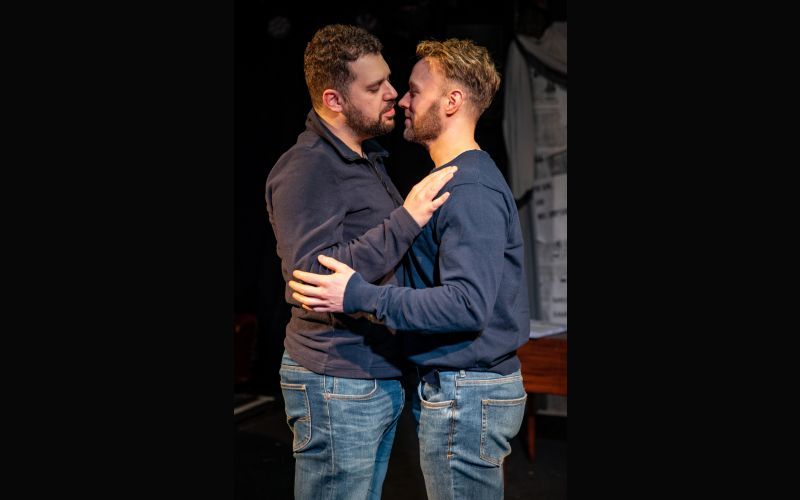 Opera Undone is a double-bill of Tosca and La bohème. Playing at London's Trafalgar Studios, this is part of the opera programming from King's Head Theatre – a long-standing hub of queer theatre in London.
Opera Undone sees famous operas radically re-imagined in a 60-minute format and sung entirely in English.
Whether you're already a fan of opera, or just starting to discover the art-form, this promises to be an extraordinarily accessible way to experience two famous operatic tales of love, heartbreak and deception.
La bohème
La bohème is the classic tale that was the inspiration for the musical Rent. It's given another twist here as it becomes a thoroughly modern look at relationships, addiction and co-dependency in London's hip and happening Peckham. On-off couple Marcello (Marcus) and Musetta (Melissa) navigate the emotional complexities of a polyamorous relationship, whilst flatmate Rodolfo's (Rod) gratification on Grindr is disrupted when he meets the beautiful and enigmatic Mimi (Luca).
Tosca
Tosca is an electrifying tale of love, lies and abuse in present-day Hollywood. Amidst the glitz and glamour of Tinsel Town, an all-powerful producer preys on an actress, seeking to manipulate and distort her relationship with an up-and-coming screenwriter for his own nefarious and troubling purposes.
Cast
Fiona Finsbury and Honey Rouhani share the roles of Musetta (Melissa) and Tosca.
Robert Barbaro, Philip Lee, and Roger Paterson share the roles of Cavaradossi, Rodolfo (Rod) and Mimi (Luca).
Michael Georgiou and Hugo Herman Wilson share the roles of Scarpia and Marcello (Marcus).
Behind-the-scenes
Adam Spreadbury-Maher, Artistic Director of the King's Head Theatre, is directing the production, with musical direction from David Eaton.
I caught up with Adam to talk about Opera Undone.
How recognisable will these new interpretations of Puccini's operas be?
This will be very recognisable – we are keeping every major aria and the key motifs that the characters identify and interact with. There will be a lot of familiar music and the genius of Puccini's composition will remain respectfully intact
If you've never really had much exposure to opera before, is a contemporary production such as this a good starting point?
Opera Undone is a fantastic first step for anyone with a blossoming interest in opera – the structure and staging is far more theatrical than a traditional opera, and it's performed entirely in English.
The English libretto has been written specifically for this production, so it really does fit like a glove. There's no need to fill in the gaps – which is often the case when using old translations for new productions.
The artists that make up our cast are a true representation of the characters we are portraying, in age particularly – we really want our audience to connect and become absorbed in this world.
What's the creative process when you're tackling something like this?
The creative process is very much about looking at the overarching thematic ideas and concepts, looking to not only Puccini but also the original librettists whose work we then put to music.
It's a common misconception that the music is written first – more often than not, it's the other way round. Therefore, our job is far more challenging in that we have to unpick the original libretto to fit the existing music and our new concept.
We're also very much guided by the original ideas that come even before Puccini and the original libretto. Tosca and La bohème are based on novels that predate the operas, which I've credited on the first page of the libretto as forming a substantial part of the creative process.
What's the casting process?
We have an open casting policy whereby we post roles on online casting databases so anyone can apply. We love to work with new people, perhaps those that have just graduated and are making their debut. It's very exciting to provide them with an opportunity and a professional platform – it's an attitude and practise that is really in the King's Head's DNA. We also like to work with performers that we've worked with before, to continue developing our relationships with them artistically.
With a structure like Opera Undone, we're relying more on the stories and performances – we need the singers to be able to create characters and so we spend rehearsals looking at objectives and motivations. It's a great opportunity for singers to really refine their acting abilities.
This process can be really rewarding as a director. You essentially take a group of artists who approach acting completely differently, then we work towards a convergence and crafting a common language and approach that is also radical and new.
Could the Opera Undone approach be applied to any opera, or is there something about Puccini's work that makes it particularly accessible?
Puccini is a great starting point for Opera Undone because the music is more well-known – it's used commercially in adverts, cinema and popular classical music compilation albums. There's already a familiarity there, be it perhaps vague for newcomers to opera.
Puccini's work also has a degree of realism to it which can be useful when re-imagining it in different contexts. However, there's no reason why other composers – such as Rossini, Verdi and Bizet – couldn't also be given the Opera Undone treatment.
What do you hope that people feel when watching this Puccini double bill of Opera Undone?
Entertained and moved! And that ultimately, opera is for everyone, everywhere.
Opera Undon will run at Trafalgar Studios until 7 March