Daniel Arzola is no joke - he's changing the world with his art
"Artivism transmits a social message that can't be destroyed."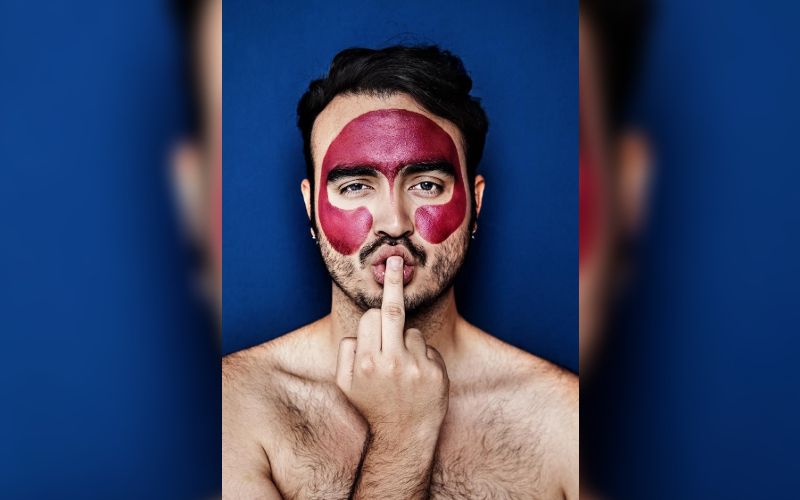 One of the artists we've been keenly following is Daniel Arzola.
Venezuelan-born Arzola's distinctive style and defiantly political point of view is making waves around the world  –  he's using his art to help change the world.
We caught up with Daniel Arzola to discuss why his series No Soy Tu Chiste  -  I Am Not A Joke  -  is actually pretty serious.
How would you describe your style of art?
I define my work as Artivism  –   the use of art as a tool to raise awareness on social problems. My graphic medium is digital illustration mixed with collage, reproduced on traditional materials such as canvas, posters, murals, or even billboards. I also like to feature my poetry in my exhibitions.
I try to represent inner universes, It's very important for me that when you see one of my works, that work makes you feel something, I want the subject to look you in the eyes and make you feel that you know that person.
What does Artivism mean to you?
For me, Artivism is using art to transmit a social message that can't be destroyed. But that message must be able to represent realities that are generally excluded from the culture. It's to focus the communicative language of art through symbols that allow us to identify ourselves in the culture. Because many people grow up without being able to feel positively represented, that makes the process of building your identity even more difficult.
What was your original inspiration for the No Soy Tu Chiste series that you've created?
I was born and raised in Venezuela, a country where homophobia and transphobia continue to be normalised and justified. Venezuela was homophobic before I was born, and it still is. The most common homophobic format used by Venezuelans is mockery  –  over the last 50 years, the media has been responsible for mocking LGBTQ people. In addition to this, the lack of sexual education creates a society that limits you to a ghetto, where you're criticised if you express affection in public or act in any way outside of the sexist norm.
I grew up being a joke for many around me. No Soy Tu Chiste  -  I'm not a Joke  –  was an answer to that. It's my way of culturally representing people who are like me.
Even today in Venezuela, there's no law that recognises or protects us from attacks based on homophobia and transphobia.
What kind of response did you have to the No Soy Tu Chiste series?
It's changed my life. It was the project that put me in front of the eyes of the international LGBTQ community, but it was also the work that allowed me to escape from the dictatorship in Venezuela.
I've received support from people who have given me a space to show my art, and people who continue to open spaces for me. I've received commissions to create an installation in a subway station in Buenos Aires, and also to create images for Logo's Trailblazer Awards.
When people respond in that way, you know that everything at any time can change, that we're not as alone as we think.
Who are some of your art heroes or inspirations?
They are many, I like to feel that Keith Haring is my spiritual lover, Federico García Lorca was always a beacon in the darkness, Reinaldo Arenas gave me the strength to be a rebel, and Chavela Vargas helped me to embrace my feelings. I remember what the songs of Michael Jackson made me feel when I was a kid, and the power to reveal my vulnerability as a teenager with Tori Amos and her songs.
What are some of your goals and aspirations for the months ahead?
I'd like to continue counting on the luck of being able to live on my work, which is what every artist yearns for. In recent years, I've had the opportunity to travel to different universities and colleges in the United States and Canada to give Artivism workshops  –  it's something I love to do and would like to continue doing. I've visited more than 20 universities teaching my theory of Artivism, even though I was never able to attend university in Venezuela.
Follow Daniel Arzola on Twitter
Support Daniel Arzola on Patreon
Queer and Migrant by Daniel Arzola (image supplied)
Daniel Arzola. Photo: Ernst Coppejans (image supplied)