Deimos - our favourite demon is back in action
Class Comics invites you to immerse yourself in the erotic escapades of this horny little devil.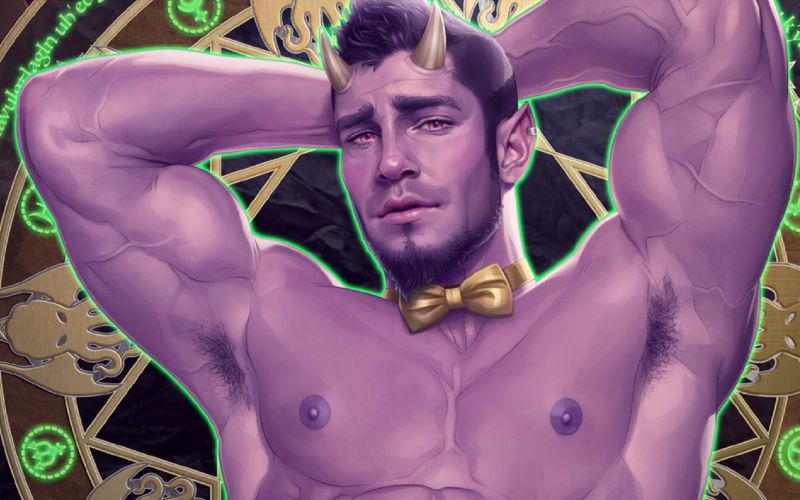 There comes a time when we all just want to unleash the sexy demon lurking inside us.
To help fuel our demonic sex-filled fantasies, Class Comics have released Deimos: Tales of the Taro Demon #5.
Deimos is the big-dicked Demon of our dreams, and this collection of sexed-up short-stories gives us three new adventures to fuel our fantasies.
The stories
Captivity
Kicking off the adventures is Captivity – continuing the storyline that was established in Gay For Slay #2, which is part of the Isaiah Shade timeline.
Written and illustrated by Patrick Fillion, this story sees Isaiah Shade returning to the Swallows Motel looking for Deimos. Isaiah is stunned to learn that the Taro Demon has actually left, leaving only a note to explain his departure. While Julio Flores is quick to accept the letter as genuine, Isaiah isn't so sure.
While his friends ponder his sudden decision to leave them, Deimos is, in fact, being held captive by the twisted Silas LaFoy. The eccentric billionaire put Deimos through the sexual wringer, and the Taro Demon begins to wonder if he ever has any hope of escape.
Loosely allied to LaFoy is Stygian – a bizarre, unearthly self-proclaimed dark priest of the Great Dreamer. Stygian seems to find his LaFoy's treatment of Deimos  wasteful and disrespectful. This could create opportunities for Deimos.
The Errand
Written by Patrick Fillion and illustrated by Tom Cray, The Errand sees Deimos and Stygian in Portugal on a mission for LaFoy.
Deimos stumbles upon a creature so old and foul, even his mighty powers may not be enough to save him.
A Gift For Krampus
Written and illustrated by Patrick Fillion, the final story in this collection is a Christmas special. Deimos was waiting for Santa, but instead gets a visit from a horned-up Krampus.
The verdict
Deimos is one of the most popular characters within the Class Comics universe, and he's clearly also one of Patrick Fillion's favourites. It's great to be able to explore these three Deimos stories – expanding our understanding of the big-dicked demon.
We've been fans of the work of Class Comics for years – they really set the standard on the production and distribution of erotic gay comics. Tales of the Taro Demon #5 takes it to the next level – demonstrating the confidence of a creative team that knows their audience and knows that they can make their own rules when it comes exploring the possibilities of this genre.
Get your hands on Tales of the Taro Demon #5 from Class Comics