Deimos - our favourite demon is back in action
Class Comics enables us to immerse ourselves in the erotic escapades of this horny little devil.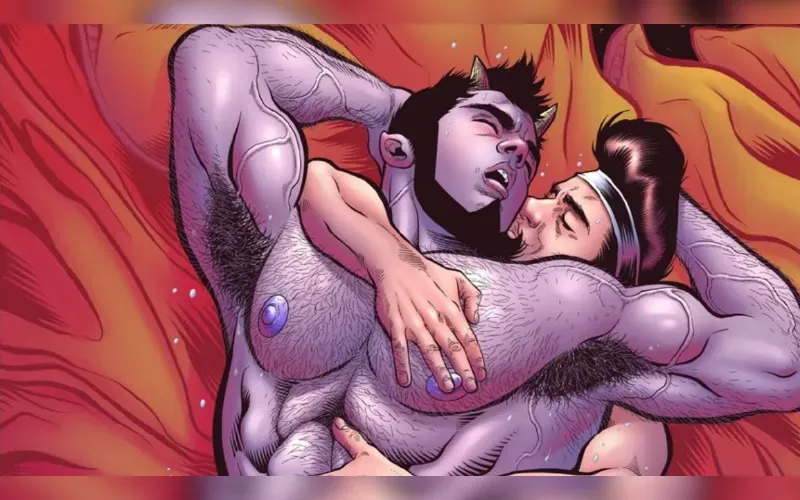 There comes a time when we all just want to unleash the sexy demon lurking inside us.
To help fuel our demonic sex-filled fantasies, Class Comics have released a bumper edition showcasing Deimos – the big-dicked Demon of our dreams.
Tales of the Taro Demon #4 by Patrick Fillion gives us four sex-fuelled Deimos adventures, and also features the illustrations of Stephen Player, CLX, and Rokudenashi.
The stories
Sacrilege
Written by Patrick Fillion and illustrated by Stephen Player, this story follows Deimos as he is summoned to a church basement by an old friend. Deimos is horrified to discover that twin boys, Ethan and Lucas, have been taken over by one of his old foes. Old scores aren't settled easily but Deimos never gives in.
Meatcute
Written by Patrick Fillion and illustrated by CLX, this story takes us back to when Deimos first met his on-again, off-again boyfriend Mack MacKenzie. The heat between them showcases their instant connection.
Slaves of the White Worm
Written and illustrated by Patrick Fillion, this story picks up immediately after Deimos and Isaiah Shade are surprised by the dreaded White Worm. It's a story that leads young Deimos and his new allies down a bold and exciting new road.
Lair of the White Worm
Written by Patrick Fillion and illustrated by Rokudenashi, this is an intense encounter that takes us right up close as Deimos is thoroughly worked over from every angle.
The verdict
Deimos is one of the most popular characters within the Class Comics universe, and he's clearly also one of Patrick Fillion's favourites. It's great to be able to explore these four Deimos stories – expanding our understanding of the big-dicked demon.
What's particularly interesting about this edition from Class Comics is that it brings together the work of four different illustrators, each interpreting the same character in different styles.
The deluxe edition also takes us into the creative process of the illustrators – showing us how they develop the characters and how they map out how the action will be presented on each page.
We've been fans of the work of Class Comics for years – they really set the standard on the production and distribution of erotic gay comics. Tales of the Taro Demon #4 takes it to the next level – demonstrating the confidence of a creative team that knows their audience and knows that they can make their own rules when it comes exploring the possibilities of this genre.
Get your hands on Tales of the Taro Demon #4 from Class Comics
Comments