Do you really want to hurt me? The struggle of young queers.
A coming-of-age story with banging tunes and dance moves from the 80s.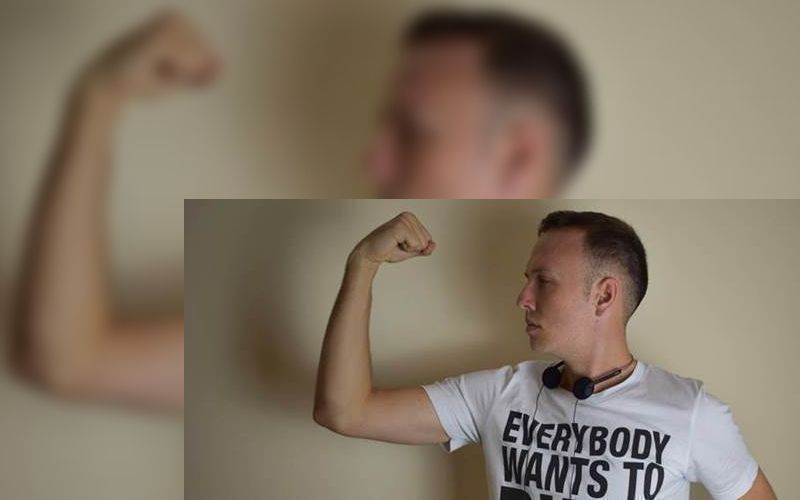 Really Want to Hurt Me is a production about growing up gay in the 80s, but delivered in a way that's desinged to connect with younger audiences of today – celebrating the ways in which queer people manage to survive and claim their identities against all odds. Featuring a soundtrack drawn from Culture Club, Eurythmics, Kate Bush and more, it explores a queer struggle with suicidal low self-esteem in the face of bullying and the life-saving power of pop and theatre.
As he prepares to embark on a UK tour with the show, I caught up with writer/director Ben SantaMaria for a behind-the-scenes look at the production.
You're drawing on your personal experiences for this play, was it therapeutic or cathartic to put it all on stage?
Therapeutic, cathartic, challenging, emotionally exposing, liberating, enlightening – all of these, and more! I'd never planned to write such an intensely personal piece but somehow it snuck up on me as unfinished life business that needed exploring.
The play's not completely autobiographical, but it is much more so than my other writing. Creating something so personal really made me question my memories of growing up – that big swirl of feelings and vague images we carry around in our heads and bodies and need a major prompt, like writing a play, to stop and look at more closely to check the finer details.
It dredged up so much, and made me confront it in a way I don't think I'd have been able to otherwise. Facing and distilling such an important part of the past taught me all over again that what happened when I was growing up still defines so much of my life now.
What was the creative and production process to bring the story to the stage?
In 2017, I was asked to write a piece for the Monday Club collective's scratch night in London. It was a celebration of the 50th anniversary of the partial decriminalisation of homosexuality in the UK, called Prejudice and Pride. It invited us to question the limits of equality as well as celebrating progress. What struck me was how many of the performance and dance pieces that night focused on the same trauma – being bullied and feeling worthless at school, and the lasting effects of that. My piece was set in the mid80s, pre-Section 28, while others were based on recent experiences. But everyone was still having the same soul-destroying 'rite of passage'.
I decided I wanted to create a story about this terrifying enforced denial of yourself in your formative years that could speak to all kinds of audiences, while staying honest to my memories of 80's Devon. I wanted to resist the temptation to make the story too neat and tidy. It needed to feel like the particular pace of life and the awkward innocence of that time and place. There are plenty of grown-up, big city LGBTQ stories being told as supposedly representative of our realities. I wanted to honour the reality of those fragile, naive years we all go through and often disown later.
After the scratch version of the play was long-listed for the Heretic Voices competition at the Arcola Theatre, an Arts Council grant was the lifeline that let me develop it into a full-length show. The drafting of the full script and the choreography of the dance sequences was done in intensive bursts as we previewed the show in Exeter, then at the Old Red Lion and Theatre503 in London, and then took it to Edinburgh last summer, and finished the year in Soho Theatre's Soho Rising festival.
The dance sequences came together through improvisation and by gradually refining them over the different phases of the show – we're still making changes for this new UK tour. I originally started out as a director and devised work that was as much about movement as spoken word, and wanted this character to be able to burst out of his frustrations at key moments. This physical release also allowed us to really foreground the incredible music of the era.
As for how the tracks were selected, apart from the reference to Culture Club's Do You Really Want to Hurt Me? in the show title, it was a case of having to be rigorous about making the music work with the flow of the story, not just including all of my favourite 80s songs!
What was the casting process?
I cast with just the initial scratch version in mind, so it was quite a fast process while I was writing and directing the piece to a tight deadline. But that's not to say it didn't need to be absolutely right. Luckily, Ryan Price had the acting range, the all-important sense of timing, and the fluid movement that the part needed.
I was keen to develop the dance sequences in a way that connected with the boy's everyday movements, so they happened in a heightened private fantasy world but were still very much expressing his personality rather than capital-D Dance.
As the scratch piece expanded into a slightly longer version for a Tristan Bates Theatre showcase, and then plans for the full-length version gathered steam, it just felt natural for Ryan to keep evolving the character. We've both said a few times – over the two years we've been working on the play – that starting from a 20-minute draft gave us the confidence to organically build it up over time, rather than tackling a full one-person show in one go.
You're about to embark on a tour of the UK. How does this play fit within the context and conversation of when it's appropriate for children to learn about LGBTQ people and queer relationships?
When we previewed the play at the Old Red Lion last year, the leaders of the Schools Out UK charity discussed the issues it raises in our post-show Q&As. I'd been curious to find out how much things were improving for young LGBTQ people at school today, as there are so many mixed messages about this with no coherent guidelines in place.
One of my prompts while developing the play was Stonewall's latest School Report study from 2017, which found that almost half of LGBTQ people at school still face bullying, half regularly hear homophobic insults and many suffer low self-worth, self-harm and attempt suicide. This sense of slow progress with the same serious problems still being the reality for many was backed up by the Schools Out UK team, who suggested that access to LGBTQ-inclusive education and community continues to be very much down to luck. If you're at a supportive school, you'll have a much healthier experience of growing up than one where your existence isn't acknowledged or welcomed.
Regulations have been passed this year for LGBTQ-inclusive relationships and sex education from September 2020. But this major breakthrough is in the context of headlines about protests by phobic parents at schools and escalating anti-LGBTQ hate crimes. So, Really Want to Hurt Me is a reminder of how far things have improved with visibility in the last 30 years, but also of how much is stuck in exactly the same depressing struggle.
The play references how films like Flashdance and My Beautiful Laundrette were rated 15+ in the mid-80s, compared to the more relaxed 14+ age restriction today for a lot of material that would've been 18+ then. Our show is for anyone aged 14+ and I hope that some of the LGBTQ people at school now that it's speaking to will come along to see it, and to the free writing workshops we're running at some venues for anyone aged 14+ to start exploring how to tell their own life stories.
What do you hope that people feel when watching the play?
For those who lived through the 80s and other earlier eras, I'd like them to enjoy the nostalgia of the music and all the references to 80s life. I also hope the boy's story lets them go to a deeper level than general nostalgia and have a space to reflect on what they survived in those often difficult years.
For those who are growing up today, I hope they see their struggles and bravery reflected, in the same way audience members of all ages have told us they've been emotionally affected by the show so far.
There's a lot of comedy and an intimate connection builds up between the character and the audience as he confides in them. This lets him open up about his self-hatred and feeling hopeless in a way that gives the audience an intense, first-hand sense of the psychological effects of living with homophobia and gender norms, day in, day out. That intimacy also means the audience can experience his gradual self-discovery with him, as he gains confidence over the two-year span of the action. Plus, there are all those banging 80s songs and dance moves to enjoy!
Really Want to Hurt Me is touring the UK throughout June – October 2019. Check the website for locations and booking details