Don Giovanni swaggers back into London at the Royal Opera House
An opera that reminds us that love and desire makes fools of us all.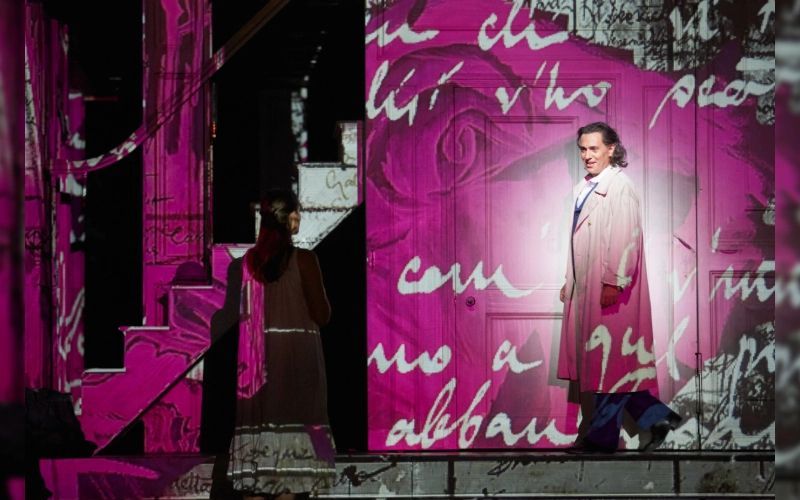 Recognised as one of Mozart's great operas, Don Giovanni was first performed in 1787. It's reasonable to ask what old-school high-brow opera has to offer today's audiences. The short answer is – plenty.
The version of Don Giovanni currently being presented at London's Royal Opera House is a contemporary approach to a classic.
This production of Don Giovanni was created by Kasper Holten in 2014 – it's been staged previously by the Royal Opera House, and it's easy to see why they've brought it back to the Covent Garden stage. The revival director is Jack Furness. The visually spectacular set was designed by Es Devlin, and it features evocative video designs by Luke Halls.
Conducted by Hartmut Haenchen, the principals are Erwin Schrott (Don Giovanni), Roberto Tagliavini (Leporello), Malin Byström (Donna Anna), Daniel Behle (Don Ottavio), Myrtò Papatanasiu (Donna Elvira), Louise Alder (Zerlina), Leon Košavić (Masetto) and Brindley Sherratt (The Commendatore).
It's a strong cast, and the foundation of this production is the dazzling music that Mozart created combined with engaging storytelling.
Don Giovanni is a tragicomedy, a version of the Don Juan character that has long been part of our cultural fabric.
In this version of the story, Don Giovanni is a Spanish nobleman whose uncontrollable urge to seduce women eventually sees him come undone.
While Don Giovanni's actions have inevitable consequences, Holten's production presents him as a likeable rogue – giving him an earthy sexuality and a charming swagger that is fully embraced by Erwin Schrott. The saucy humour is played to the full, and the women in this story are by no means innocent victims – they're just as lusty and devious as the men.
The constantly revolving and evolving set dominates the stage. It's cubic form frames the action, and the projections create Escher-like dimensions and stunning visual effects.
Ultimately, this is an opera that reminds us that love and desire make fools of us all. You may not need a night of high-brow opera to learn that lesson, but this is a powerful and creative production that's worth making the effort to see.
Don Giovanni at London's Royal Opera House will run until 10 October
Main image: Erwin Schrott as Don Giovanni (C) ROH 2019 Photographed by Mark Douet