Don't Blame Jack is featured in Boys on Film 20: Heaven Can Wait
The collection of short films celebrates the 20th anniversary of Peccadillo Pictures.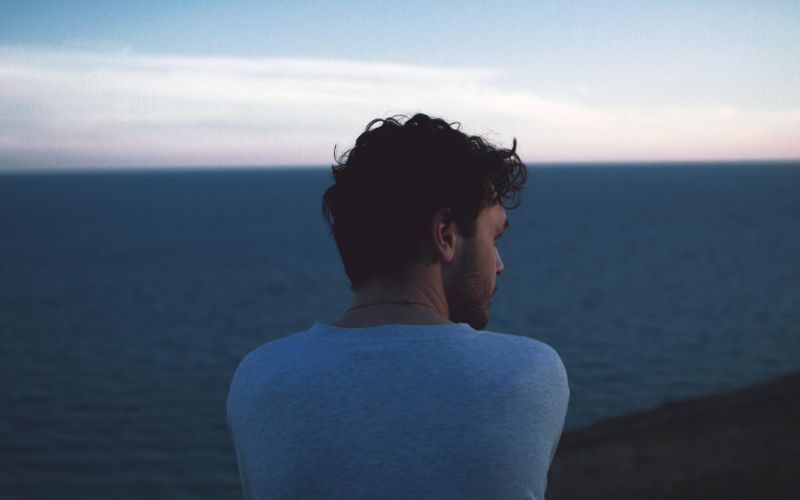 Don't Blame Jack – a film by Dale John Allen – has been selected for inclusion in the short film collection Boys on Film.
Celebrating the 20th anniversary since LGBTQ film distributor Peccadillo Pictures was founded, this edition of their Boys on Film collection is titled Heaven Can Wait.
Don't Blame Jack was written and directed by Dale John Allen. The film explores how a queer man navigates his mental health issues.
We caught up with Dale John Allen for a behind-the-scenes look at the film.
You've written that this story is drawing on your personal experiences – how autobiographical is it?
The story is very much based on my own story. In January 2015, I was diagnosed with Bipolar Affective Disorder, which I documented in my 2016 short – A Film About Love. Writing sort of became my therapy after that, and it was in making that film that I knew I wanted to tell the story in a more focused way, which led to me writing Don't Blame Jack.
It's not 100 percent autobiographical in terms of the structure of the narrative, but it is very much based on the reality of my situation. The magic of film-making is that you can re-visit these troubled times in your life and sort of re-write them in a way that helps you make sense of them in a way that you didn't necessarily understand before. It was a really therapeutic experience – I really had to dig deep to feel like I was doing the story justice. I'm really proud of it.
What's been the production journey that you've followed to bring this story to the screen?
I made the film for my MA at Manchester School of Art. The script took a few months to write, mainly because I found it really difficult to put myself back into Jack's mindset, as the film is all told from his perspective – his mentality is not the same as mine is now. CampbellX, my Executive Producer, was absolutely great at reading through various script drafts and encouraging me to find my voice in the script.
Once the script was written, we crowdfunded the bulk of the budget. We also got a grant from Superbia at Manchester Pride, and a sponsor from Greater Manchester LGBT Social Support Network. We also had a number of private investments, which helped us reach our budget target.
After the budget was secured, we shot the bulk of the film over the course of two weeks in Brighton and Manchester.
What was your casting process?
I met Jordan Tweddle, who plays Jack, after seeing him in a play at Home in Manchester. We chatted and he was really up for the challenge. I didn't quite realise how talented he was until we started day one of the shoot in Brighton. Campbell and I were absolutely blown away by his performance and how he managed to take my story and completely make it his own. He was great to work with and I've no doubt that he's got a great career ahead of him.
I cast Lydia as we've worked together before. I'm a huge fan-girl of her work, and wrote her scene specifically so I could showcase this fabulous performance which I've always been astounded by. She is so commanding – filming with her was a really magical experience.
I found Kane – who plays Frank – on Twitter after seeing him in The Chemsex Monologues. He's incredible and so humble and was so much fun to work with. It was so freeing to work with actors who are not afraid of specific subject matters and are willing to try anything.
In simple terms, this is a story about a gay man's experience with mental health. Is the queer experience of mental health something unique to LGBTQ people, or is this a queer version of a universal story?
It is a universal story and very much non-specific to the LGBTQ community. It's told from the perspective of a gay man because it was written by a gay man.
We're now in a climate where queer stories are being told authentically and with brutal honesty, which is wonderfully inspiring as a queer filmmaker to be able to add to the ever-expanding queer discourse on screen. It's so important to keep telling queer stories and broaden the narratives of queer storytelling beyond the 'coming-out' framework. I wanted to make Don't Blame Jack an authentically queer story that doesn't centralise its queerness in typical form but rather allows it to just be, with the story going on around it.
Do films such as this help to challenge the stigma surrounding mental health?
Absolutely. I think it's really important to be able to see accurate portrayals of mental health. The most challenging part of my recovery was facing up to the fact that bipolar does not go away once you receive the diagnosis, but instead the long, often dull reality of recovery just begins, which is what I wanted to highlight in Don't Blame Jack.
The film isn't afraid to be ugly, which is so very important when creating a story on this subject matter. I felt a lot of responsibility to show the ugliness of recovery – the excessive sex-drive and self-harm, the forced affirmations and the sense of drowning in a feeling of emptiness. The search for that magical moment of madness is always present, and that need is universal and not specific to those with Bipolar or who are LGBTQ, which is what I felt was so powerful when writing the script – it felt relatable.
What do you hope that people feel when watching Don't Blame Jack?
I hope it resonates with people. I'd like for people to understand that just because you take medication and seemingly live a normal life, that deep down you might still be struggling.
I think the film sort of asks the audience to re-define the meaning of 'madness' – I hope it sparks some interesting conversations.
Follow Don't Blame Jack on Twitter