Drag Heals delivers new insights into the queens of Canada
The new season is hitting our screens in early October.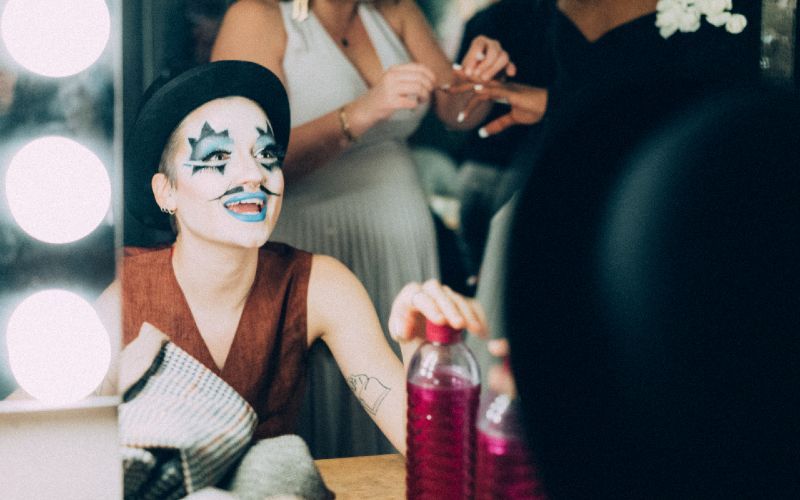 If you can't get enough of the drag queens of Canada, then you're probably going to want to take a look at Drag Heals. The second season of the series will be hitting our screens in early October.
Drag Heals follows eight drag artists over an intensive ten-day workshop as they each work to build their own show.
I caught up with show director Charlie David for a behind-the-scenes look at the series.
The success of Canada's Drag Race has put Canadian drag performers on everyone's radar – how does Drag Heals compare to a competition format such as Drag Race?
It was such a fantastic season and it's wonderful to be reading such positive reviews for Canada's Drag Race. The contestants were so magnetic, it really was a special season.
One of the biggest differences between Drag Race and Drag Heals is that on Drag Race they are competitors and the vibe can turn shady and negative on a dime. Drag Heals is a celebration of people's very personal stories. It's truly a family dynamic and collaborative effort by the drag artists to craft a stage show for a live audience.
The performers are courageously sharing personal experiences, that are often heart-wrenching, in order to bring something real, honest and authentic to the audience. When they take the mic on stage – they aren't derivative artists in terms of lip syncing someone else's words. They are generative artists speaking with their own voices and telling their truth. I think there's something magical and transformative about that.
This is the second series for Drag Heals – are there any changes?
Season 1 of Drag Heals featured eight drag queens and for season two we really wanted to expand what we believe drag is and can be – an art form for everyone.
Our youngest performer in season two is eighteen years old and our eldest is in his eighties. We also believe drag isn't just for cis men to perform as queens but an awesome creative tool for everyone in our society to play with and explore constructs of gender. Drag Heals season two boasts Drag Kings, Queens, Things, and a Monarch.
By pulling together segments of the LGBTQ community that unfortunately don't always intersect, we had an opportunity for some really challenging and difficult conversations around acceptance and language that many of us use flippantly that can be hurtful. Drag is an opportunity to play and also to look at our collective history and identify where we can do and be better moving forward.
Who's the target audience for Drag Heals?
Drag Heals is for the LGBTQ audience and our growing ally audience around the world who love drag and are excited for a big heart squeeze. Everyone who watches the series admits to shedding some tears!
How do you cast for a show like Drag Heals?
Casting for Drag Heals is such an exciting part of the journey.
It starts with the heart of the show which is our host and theatre director, Tracey Erin Smith. Tracey is a total pro with an innate understanding of story. When she's working with our cast, it's a powerful thing to watch. None of it is scripted, she's going by pure instinct and that's a rare and special talent.
With Tracey as the captain of our ship, we do a multi-interview process which starts with reviewing self-tapes that come through casting, Tracey then does one-on-one phone or video calls with our top picks and then we do another round of producer interviews.
Once we have our cast, we present to network – in this case that's OUTtv Canada – for consultation with them.
We're really lucky that in Toronto we have a robust drag scene so we have so many incredible talents to choose from. With the season two cast, I feel like we discovered treasure.
What does the cast of Drag Heals show us about the drag scene and the LGBTQ experience in Canada?
I invite everyone to explore season one of Drag Heals to meet incredible drag queens – that season is very special in its own way as it was a super low-key filming experiment. My producing partner, Nickolaos Stagias, heard that Tracey Erin Smith was doing a 10-week workshop on drag and we decided to take a camera and see what was up. After our first session, we were hooked – we knew we were witnessing something very special. But from a TV stand-point, it wasn't planned, it was pure documentary fly on the wall style.
For the second season, I'm excited to show the world the expansive, inclusive drag scene that exists in Canada. We're far from perfect in this country but we strive to be a place and a people that respects and welcomes everyone. When so many LGBTQ people are persecuted, displaced, separated, murdered, incarcerated, and discriminated against in countries around the world – I don't take our rights and freedoms for granted. I'm grateful and feel it's our duty to shine a light and spread love and understanding wherever and however we can. Drag Heals is one small way we're doing that.
What do you hope that people feel when watching Drag Heals?
I hope it starts a conversation. I hope it elicits reflection on our own journeys as queer people and how we can turn the sticks and stones we've endured into something beautiful.