Dumbledore Is So Gay - drawing on the queer power of the wizarding world
Robert Holtom's play is now available to watch online.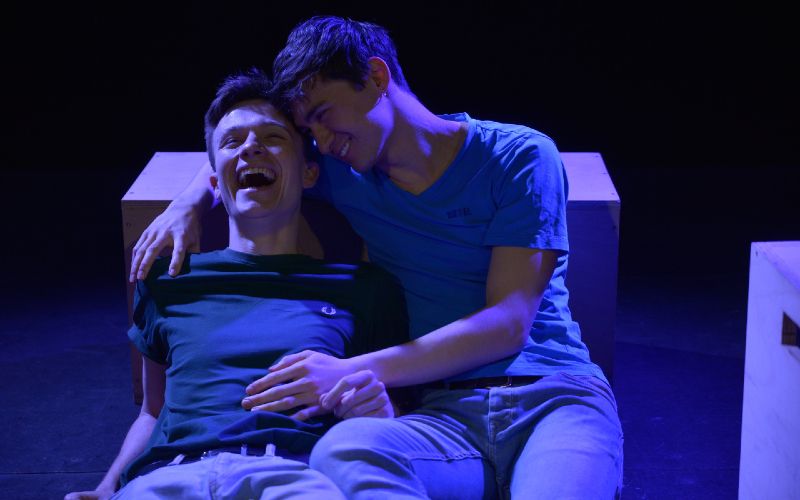 Written by Robert Holtom, Dumbledore Is So Gay gives us the story of Jack. Jack is in love with his best friend, but getting the guy is going to need some magic in this queer coming-of-age time-travelling adventure.
I caught up with Robert Holtom for a behind-the-scenes look at the play – you can now watch the latest production online.
The production is directed by Tom Wright, and stars Alex Britt, Max Percy, and Charlotte Dowding.
This story is firmly rooted in the mythology of the Harry Potter universe. You wrote the play a couple of years ago? I was wondering how you're feeling about that connection with Harry Potter now that the LGBTQ community is having to navigate a more complex relationship with J.K. Rowling?
I think there's something very powerful in being able to claim a fictional world for oneself. There's so much amazing LGBTQ fan fiction inspired by the Harry Potter universe, including stories of Lupin and Sirius as transgender and non-binary characters. I love that. If I'd created a popular fictional world I would be thrilled and honoured to see people so creatively stimulated by it. I'm not quite the Harry Potter super-fan that Jack is but I know Harry Potter will always mean a lot to him, as will fighting for the equality and liberation of people of all genders and sexualities. However, just as Harry learns with Dumbledore, no role model is beyond questioning, and as much as we admire someone they may well disappoint and hurt us. How we respond to this is up to us.
For this run of the production, you've been able to reunite the original cast. That must have made it easier to bring the play back to the stage?
The cast are a dream team and I was over the moon when they all agreed to come back. We were so keen to take this further last year and it's been a long 18 months in-between. The play means a lot to each of us and it feels like a true homecoming to be able to work together. We've had a blast making more magic.
The play has evolved in many ways, including the arrival of Set and Costume Designer, Natalie Johnson, whose stage design is beautiful. Having Hannah Elsy, Producer, lead the production team has taken the show to the next level, hence playing at the main stage of the Pleasance, a truly great space. Script-wise, I put in a few more noughties references but the story remains the same.
Resilience is a key theme of the play – that's a theme that obviously has even greater resonance in a post-Covid world. But we are still experiencing homophobic assaults and homophobia feels like it's rising across Europe. Plus, the mental health of young people has been particularly hard hit during the pandemic. In that context, is resilience a tough message to sell?
I'm not trying to sell a message through the play, I'm trying to honestly tell a fictional story inspired by my own life experiences and worldview. Resilience is indeed a key theme and something Jack grows as the action unfolds. Other important themes include the need for friendship, love, self-compassion, ally-ship, hope, familial support, elders, education and joy.
So often, LGBTQ people are blamed for being the problem but I wanted to show that the problem is societal prejudice, abuse and neglect. Furthermore, in a cultural landscape that so often appropriates and trivialises LGBTQ stories, I wanted to claim the narrative for myself and tell the story on my terms. That is why the play both celebrates our power and strength, and honours our losses and pain.
Regarding broader societal issues, history shows the rise of prejudice and violence in the wake of economic instability, especially as those in power pit those with less against one another. Covid has only but exacerbated this. It's tragic how this affects us all, especially young people, especially young LGBTQ people. The play does not touch on these issues – although sub-prime mortgages and toxic assets do get a shout out – and Jack hasn't got around to reading Das Kapital, Straightjacket or Eradicating Ecocide, but he will.
Resilience is vital for getting through these increasingly difficult times and one group of people who know a lot about resilience is the LGBTQ community.
Visibility and role models are obviously essential for young LGBTQ people – is this play the kind of production that could be touring schools to help tackle homophobia and empower young LGBTQ people?
I would love that! A few teacher friends of mine have said how much they enjoyed the show and how much they think their students would as well. One friend even said she wants to teach the play, which would be amazing.
As a queer teen in the early noughties, I did my best with what I had – which was often next to nothing. Now, I want a world in which LGBTQ kids can continue to have so much more. If my play can form a piece of that larger cultural and political landscape, I will be truly honoured.
What do you hope that people feel when watching Dumbledore Is So Gay?
I hope they feel the rollercoaster of emotions that Jack does as he lives his lives – laughing with him, feeling for him in his times of difficulty, and being overjoyed for him in his happy moments.
For LGBTQ folks, I think a lot of them will see parts of their own lives in Jack's story and I hope it serves to remind them how brilliant and important they are.
For straight allies, I hope it reminds them how much we value their support and how LGBTQ liberation liberates us all.
It's also a very hopeful play and I believe hope is possible even if we don't have access to a Time Turner.
Watch Dumbledore Is So Gay online – available until 17 October