Easy, Tiger - we're ready to celebrate the new year!
Time to unleash your inner beast!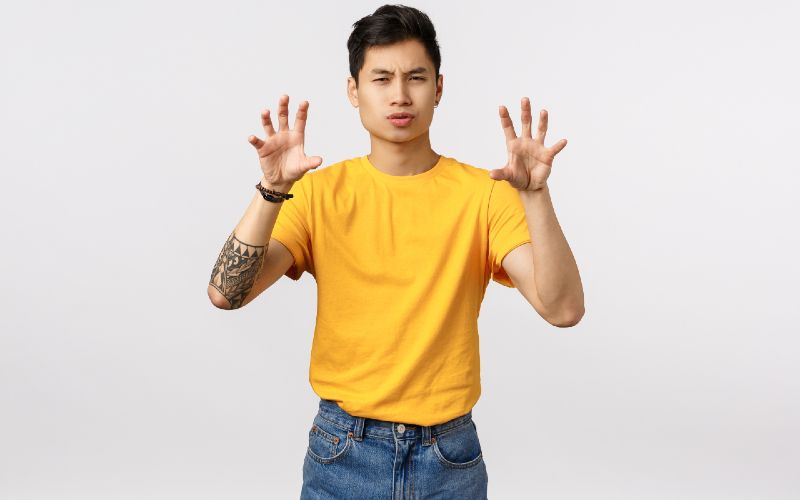 Happy New Year and welcome to the Year of the Tiger!
If you're following the Chinese zodiac, 2022 is all about unleashing your inner beast and getting a bit wild. Well, that's our interpretation anyway.
Why is 2022 the Year of the Tiger?
The Chinese zodiac follows a 12-year cycle. Each year in the cycle is associated with a specific animal.
The Tiger is the third of all the zodiac animals. According to one myth, the Jade Emperor said the order would be decided by the order in which they arrived to his palace. The Ox was about to be the first to arrive, but Rat tricked Ox into giving him a ride. Then, just as they arrived, Rat jumped down and landed ahead of Ox. In this way, Ox became the second animal.
The Tiger came in third because he was able to move quickly, just beating out the fast-paced Rabbit.
The sequence is:
Rat
Ox
Tiger
Rabbit
Dragon
Snake
Horse
Goat
Monkey
Rooster
Dog
Pig
Last year was a Year of the Ox, so that means that 2022 is a Year of the Tiger.
What characteristics are associated with people born in a Year of the Tiger?
Those born in the Year of the Tiger are believed to be brave, they value independence, and also have a strong sense of justice.
How should we celebrate the Year of the Tiger?
The Spring Festival at the start of a new year is a major event for people around the world.
Homes are decorated with red paper lanterns, and friends and families get together to share sumptuous feasts.
What's a good gay romantic gift to celebrate the new year?
Sexy underwear
Okay, this might seem a bit crass, but it's not a bad move to buy your guy something a bit high-end that he wouldn't normally wear. A thong may not be something that he's going to wear to the office, but it could be fun to try on and play around with on date night?
A sex toy
Sure, sex-toys are often a go-to option when you're by yourself, but they can be a lot of fun to enjoy together. Try and surprise him with something a bit unexpected but that you're confident he's going to enjoy. It could be a dildo, something vibrating, or maybe some stylish nipple clamps.
The gym bag
Don't go for this unless your man is already a totally gym-head. This isn't about trying to motivate someone to hit the gym, it's about recognising that the gym is something they love and looking for ways to enhance the experience. A new gym bag is always a bit of a treat, or there's plenty of gym-related accessories that you could consider. Slutty gym shorts are always a safe option.
Grooming goodness
A guy can never really have too many grooming products. Put together a package of grooming goodies that are a pleasure to use and also smell good. Look for things that he'll probably want you to rub all over him.
Smell sensations
When it comes to sex, we're often leading with our nose. If it smells good, we're going to want to get right up close. We're obsessed with boutique scent stores. Find something that's similar to his current aftershave or whatever and then choose something that gives it a bit of a twist or takes it to the next level.
Knot a problem
If he's ever expressed an interest in a bit of bondage role-play, why not find a way to explore that together. One option is to hire a sex-worker who knows the ropes (literally) and get them to work with you both on how to tie each other up in knots that feel so good.
Silky sleepwear
You're probably not wearing anything when you actually get into bed, but having some silky sleepwear is a treat for just lounging around the house. Maybe it's a luxurious robe, or some satiny trousers that are both comfortable and sexy. Find something that makes it an appealing prospect to just spend the day together on the sofa.
Gay date ideas
Let's assume that you've already found some guys in your neighbourhood that you've got a connection with. You've found them on your dating app, your chat has been good, you've sent nudes, and there's a lot of boxes being ticked. You might have already hooked up and ticked that box as well.
If you want to get to know a guy a bit better – learn his name, see him again, hang out – then you're moving into the dating zone.
Here's some of the date ideas that we're currently road-testing.
Let's get coffee?
A coffee catch-up is easy first-base of dating.
You might have already had sex, but sitting down with a guy and having coffee with him means that you're going to have to talk to each other.
Chat. Flirt. Get to know each other.
Cook with me?
Inviting a guy over and cooking dinner for him might seem like too much too soon, but why not suggest a joint cooking project?
You find a lot out about someone when you see them in action in the kitchen.
Making bread or pasta is a good option because it's very tactile and takes a while.
Or make cupcakes and then decorate them together.
Let's go outside
Exploring a bit of cruising action together could be a good date option. It gets you outdoors, spending time together, but you've also got that sexual edge of looking for some fun and looking for some fun together.
Let's go dancing!
You don't have to be in a club to go dancing – you could do this at home or in the park – but dancing in a club is pretty awesome.
Find out what kind of music he's into. Find out whether he's got any rhythm.
Netflix and chill?
This is old-school, but it works. Get the popcorn, get comfortable, and make sure that he knows that it's a sleep-over.
Spa day?
You don't have to spend big money on a day spa experience – although that is a lot of fun.
Spend some time together exploring face-masks, body scrubs, foot massages – the lot!
Photo-shoot
This can just be you and your iPhone, but it can be a lot of fun just to allocate some time to taking photos of each other. Maybe it's an underwear shoot? Find your angles, try out different poses, discuss your favourites, try on lots of different pairs of underwear.
Get driven
The concept is to hire a limo for a couple of hours, grab a bottle of champagne, and get driven around for a bit while you live it up in the back seat.
Get cultural
Going to the theatre is a fail-safe thing to do on date night. Get dressed up, get a bit glamorous. Kick the night off with a class of champagne and get into it.
Get kinky
Why not use date night as an opportunity to explore your sexual fantasies? Talk about what turns each of you on, figure out the logistics of how you could explore some of those fantasies together. Maybe you need to buy some toys, find some role-play fetish-wear, or hire a sex-worker to help make it happen.
Get rhythm
What about a dance class? It could be Salsa or Argentine Tango – something that gets you moving together, figuring it out together. It doesn't matter if you're rubbish at it, it's all about having fun with each other and giving it a go.
Get pampered
One of our favourite date night treats is to book a posh hotel room. It's often more fun than going out for dinner – you get to order room-service, lounge around in fluffy bathrobes, slurp on champagne that you've smuggled in.