Election result in Hungary leaves LGBTQ people questioning their future in the country
Another big win by the right-wing government leaves the queer community vulnerable.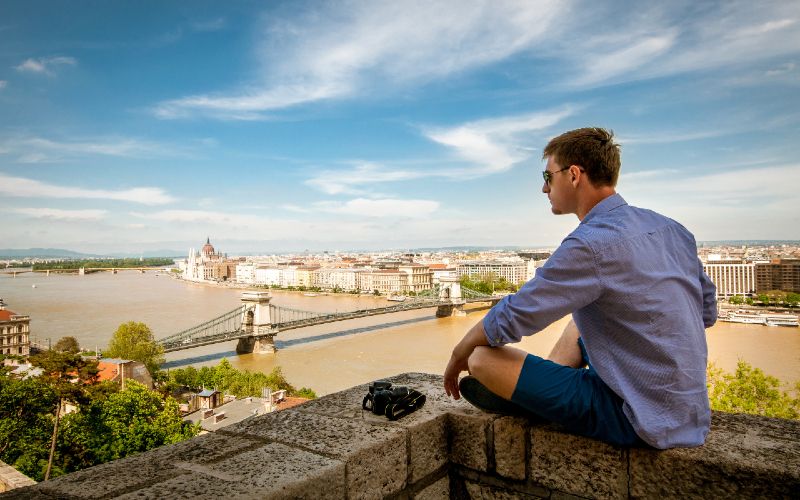 Votes have been counted in Hungary's presidential election and the result is a major victory for the incumbent Viktor Orbán and his party, Fidesz.
Having already been in power for 12 years, this election victory will give Orbán and his government a fourth consecutive term in office and a super-majority that will strengthen his control of the parliament and legislative process.
"The entire world can see that our brand of Christian democratic, conservative, patriotic politics has won…" said Orbán in his victory speech. "We are sending Europe a message that this is not the past – this is the future."
Although alleged gerrymandering has undoubtedly made Orbán's victory easier, Fidesz has also won the popular vote – securing around 54% of voters. This demonstrates the effectiveness of Orbán's control of media in Hungary, being able to shape the narrative of the country and sway public opinion.
Orbán's continuing hold on power is bad news for Hungary's LGBTQ community – increasingly being used as a scapegoat by socially conservative politicians.
However, there was one bright spot on election night – the failure of the referendum
What was the LGBTQ referendum in Hungary?
As well as going to the polls in the Presidential Elections, voters were also asked to cast a ballot on legislation that limits schools' teaching about homosexuality and trans issues.
The legislation is equivalent to the "Don't Say Gay" restrictions in Florida, or the Section 28 prohibitions that used to be in place in the UK.
The LGBTQ community and a number of NGOs in Hungary launched a concerted campaign to try and defeat the referendum – encouraging people to cast invalid votes. Voters were encouraged to invalidate their referendum vote by marking each question on their paper twice – effectively selecting both Yes and No, making it an invalid vote.
A referendum in Hungary cannot be deemed valid without at least 50% of the electorate casting a valid vote.
It seems as if the campaign has been successful.
Four questions were asked in the referendum, these were:
Do you support the holding of sexual orientation sessions for minor children in public education without parental consent?
Do you support the promotion of gender reassignment treatments for minors?
Do you support the unrestricted introduction of sexual media content to minors that affects their development?
Do you support the display of gender-sensitive media content to minors?
Humen – an LGBTQ publication in Budapest – reports that according to the data of the National Electoral Office, with 98.94% of votes processed, all four questions on the referendum failed the threshold to be deemed valid. An average of 1.6 million invalid votes were received for each question, meaning that they did not meet the threshold of 50% of the electorate casting a valid vote.
What's life like for LGBTQ people in Hungary?
What's life like for LGBTQ people in Hungary? Let's take a look at some of the key equality indicators.
Is homosexuality legal in Hungary?
Yes. As modern-day Hungary emerged in the aftermath of World War I, the country's penal code listed sex between men as a criminal offence. Homosexuality was decriminalised in 1961.
Are there anti-discrimination protections in place for LGBTQ people?
Yes. In 2000, the Constitutional Court recognised that the constitutional ban on discrimination based on "other status" covers sexual orientation as well.
Additionally, Hungarian law prohibits hate crimes and hate speech on the basis of sexual orientation and gender identity.
Is there Marriage Equality in Hungary?
No, but there is legal recognition of same-sex relationships.
Legal recognition of same-sex relationships became possible in 1996 when Hungary adopted the concept of Unregistered Cohabitation. This recognised the rights of any couple living together in an economic and sexual relationship, and was applied equally regardless of gender or sexuality.
This was strengthened in 2009 when legislation was implemented that created registered partnerships for same-sex couples.
However, a significant barrier to marriage equality was introduced in 2012 with the adoption of a new constitution for Hungary. The new constitution explicitly restricts marriage to opposite sex couples.
What's life like for LGBTQ people in Hungary?
Despite the anti-LGBTQ position of the country's government, Hungary is a country where attitudes to LGBTQ people have been steadily evolving over time – particularly in the capital, Budapest.
When we look at the key equality measures, progress has been made but all of that feels under threat as the right-wing government continues to stoke anti-gay sentiment for political purposes.