Explore desire, love, and identity throughout our queer history
An important exhibition from the British Museum.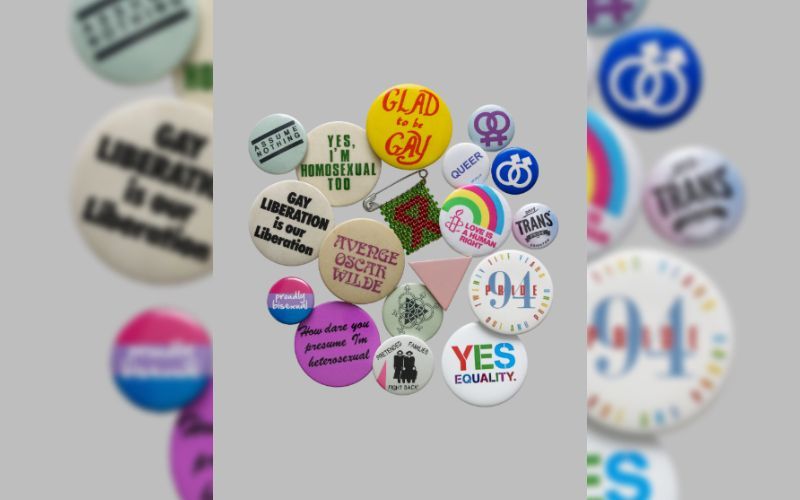 Desire, love, identity: exploring LGBTQ histories is an exhibition presented by the British Museum.
I caught up with Stuart Frost, the curator of the exhibition, for a behind-the-scenes look at Desire, love, identity: exploring LGBTQ histories.
This exhibition has been touring the UK, but it arrives in Dorset at a time where there is renewed debate about the role of LGBTQ people in day-to-day life. Specifically in Birmingham, there has been debate about whether children should be taught about the existence of LGBTQ people. How does this exhibition contribute to that conversation?
Desire, love identity: exploring LGBTQ histories highlights that same-sex love and desire, as well as gender diversity, are an integral part of the human experience, and that they always have been throughout human history, from deep history to the present day.
This is historic reality and has to be acknowledged – in the school classroom, and in every other public forum – so that history is presented honestly and accurately. This also allows the wider public to be fully informed and to appreciate that there is a long, global LGBTQ history, one that has been denied and suppressed until comparatively recently.
Teaching children about LGBTQ people and their history in the classroom, museums and archives is essential to supporting young people in coming to terms with their identity, and contributes towards saving young peoples' lives.
We've used a number of objects in the exhibition as part of Sex and Relationship programming for schools.
The touring exhibition has an important role to play in educating the wider public about LGBTQ histories and experiences. We've had feedback from visitors that visiting the exhibition with their parents – and talking to them about it – has been a really valuable experience, and one that has helped them.
Spanning centuries, the exhibition traces the evolution of the LGBTQ experience in the UK. Does the timeline of the exhibition confirm an "It Gets Better" linear journey towards equality, or is it more of a roller-coaster ride?
The chronology of the exhibition spans from around 11,000 years ago to the present day, and is global in scope. The exhibition highlights that same-sex love, desire and gender diversity are universal, although the way they have been expressed culturally has varied widely. There isn't one single narrative – the exhibition provides glimpses into varied LGBTQ histories. The objects in the exhibition contradict any ideas of a smooth linear progression towards equality throughout history.
For example, there are badges in the exhibition related to widespread protests against Section 28 of the Local Government Act 1988, which prohibited local authorities in the UK from 'promoting' homosexuality or gay 'pretended family relationships'. The Act was only repealed in Scotland in 2000 and in the rest of the UK in 2003. It is a reminder that governments can become more conservative and repressive, as well as more liberal and inclusive. Homophobic attacks are still widespread, and the United Nations states that discriminatory legislation still exists in at least 76 countries. The need for campaigning in the UK and around the world is ongoing.
Alan Turing – who was educated in Dorset – is in the news at the moment, with the announcement regarding the £50 note. How does this exhibition present Alan Turing's story?
Shire Hall will have a free handout available to all visitors that ties the exhibition in to local LGBTQ names, stories, and heroes. One of these will be Alan Turing, the mathematician and computer scientist, famous for helping break the Nazi's Enigma code during the Second World War.
Between the ages of 13 to 19, he attended Sherborne School for boys in Dorset, where he was a schoolboy for his formative years. Shire Hall really wanted to highlight these LGBTQ voices, which were so often not heard during their lifetime, to celebrate their achievements and remember them for who they were.
Is there life for the exhibition beyond this tour? Any follow-up plans by the British Museum to continue to explore and showcase the LGBTQ experience?
We're really pleased that the tour – as part of the British Museum's National Programmes – has been such a success. We've been to Ashmolean Museum, Oxford, National Justice Museum, Nottingham, Bolton Museum and Norwich and Norfolk Millennium Library, and now Dorset.
An ongoing commitment to LGBTQ histories and experience is deeply embedded within the British Museum. The exhibition includes some key objects from the Museum's collection – objects that are part of a permanent LGBTQ trail – and, after Dorset, these pieces will go back on display at the British Museum.
We've recently launched free volunteer-led LGBTQ tours of the Museum. This is another way visitors can find out more about LGBTQ histories through the collection. Volunteers will be undertaking ongoing research with staff and adding new objects to the tours throughout.
We also have plans to appoint a researcher to identify more LGBTQ objects in the collection and to create new catalogue records for them – working with community partners. This new research will then be used to inform future exhibitions, re-displays of the permanent galleries, social media output, and public programming.
What do you hope that people feel when visiting this exhibition?
I hope that they feel inspired and surprised by that the long global histories presented in the exhibition. I also hope that they feel the exhibition is relevant to them – that LGBTQ history is not a minority concern, it is relevant to everyone. Finally, I hope people will want to find out more and to take a deeper interest in object-based histories.
A British Museum touring exhibition Desire, love identity: exploring LGBTQ histories opens at Shire Hall Historic Courthouse Museum, Dorchester on Friday 21 September and runs until Sunday 17 November 2019