Exploring the complexity of being The Third in a threesome
Matthew Lynn's drama draws on his real-life experience of a triad relationship.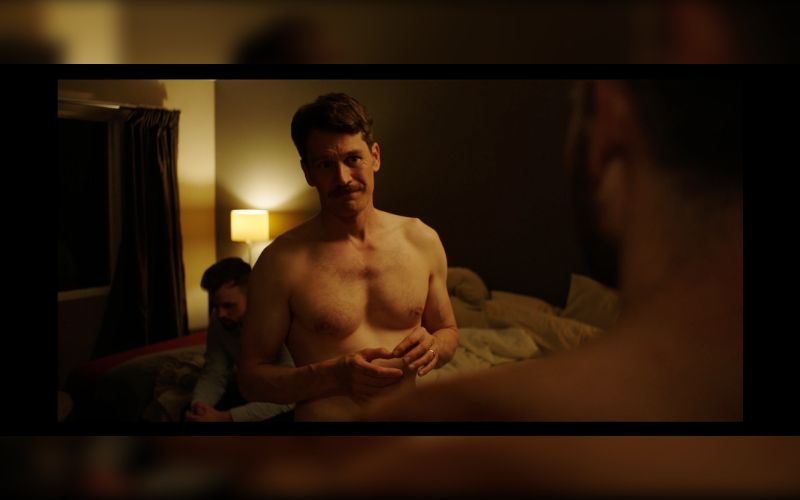 The Third is a series created by Matthew Lynn – it explores what happens when a younger guy connects with an older couple.
The story follows Jason (Sean McBride), a twenty-nine-year-old gay man who stumbles into a 'triad' relationship with Carl and David (Corey Page and Ryland Shelton) – an established couple who live in Palm Springs couple. Having been married for five years, Carl and David are struggling to hold their relationship together.
Thinking that a third person might spice things up, Carl and David agree that Jason could be more than a one-night-stand – but things get complicated. What begins as a passionate three-way affair is jeopardised by scepticism, jealously, and secrets.
We caught up with Matthew Lynn for a behind-the-scenes look at the series.
You've written how this story was initially inspired by your own experience of being The Third in a relationship. Did the creative process of bringing this series to life change in any way your perspective of the real-life threesome relationship that you'd experienced?
While we were writing and prepping the pilot, I was still in the triad relationship.
After making the show, and having some space from the relationship, I realise that triads are great for a very specific type of people. With the right combination of personalities it can create a beautiful, cohesive relationship between three people. We just had the wrong combination.
You've talked about wanting to present gay relationships and queer sexuality with authenticity and without judgement. How difficult was it to maintain the balance of showing complexity, and building some drama, without portraying the older characters as being manipulative?
Aren't we all manipulative in relationships in some ways? I feel that everyone enters into a relationship to get what they need. We, as humans, are liars – it's survival at the core. I feel that relationships are all about learning to let down those barriers and trust people with the truth of who we are.
The creative approach of the show was to not comment on or judge any of these characters or their actions. All of them have baggage. They have experienced things that have led them to this point where they are almost willing to try anything just to have that sense of family and belonging.
The story of the show itself is inspired by real events. Many of the scenes are verbatim what happened in real life, others are fabrications of a particular idea that is expressed in a triad.
We were just honest to who these people are – flawed humans trying to find love. It speaks to the writing and the actors bringing it to life that these people are relatable.
The character of Jason seems particularly vulnerable. Is there a sense that loneliness or isolation pushes us to make decisions or choices that we might think twice about if we were a bit more grounded or had a better support network?
Absolutely. This show is all about the surrogate families we find as gay men. Jason, in a lot of ways, is based on myself. Having lost my family to religion, I was always seeking a surrogate family. I think that desperate need for love and affection is what drives Jason to keep going a little longer – if he was more grounded or had a better support network he might have said, "I'm done" and moved on.
What was the casting process?
We've been working in Los Angeles for years, and had a large group of actors to reach from when we made the pilot.
That being said, we knew going in that the actors' chemistry in the triad was the most important thing in making this show a reality. We had a casting and found Corey Page and Sean McBride right off the bat. In their first auditions we knew they were the ones for their respective roles. We saw a lot of actors to find David, but once we saw Ryland Shelton we knew we had found our triad. The three of them together brought an authenticity that all other pairings couldn't match.
I also have to give a huge shout out to Katherine Cronyn for helping us round out the rest of the cast. She was instrumental in finding the other characters and we couldn't have done it without her.
What do you hope that people feel when watching The Third?
My intention was always that people would watch the show and see that there are other options to heteronormative relationships. There is no right or wrong way to love someone, you have to find out what works for you.
I also wanted to create a series that showcased gay people in a way that isn't what we normally see on TV or the internet. These are just people, living their lives, and trying to be happy. There's no explanation that they're gay or that what they're doing is weird or different, it just is.
That non-apologetic approach allows us to spend time with these people and get to know them. Maybe that will break down barriers. If not, at least it's good entertainment!