Exploring the impact of toxic masculinity
"We weren't supposed to be living in that same moment now…"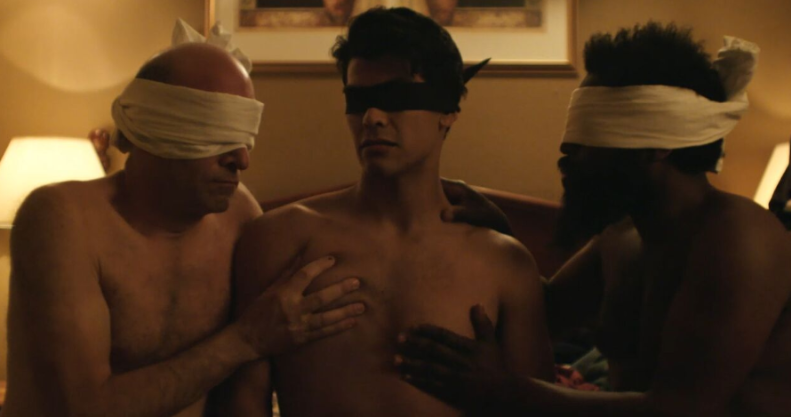 Discreet gives us the story of Alex — a damaged drifter living on the fringes of society in rural Texas. Alex makes a plan to seek revenge on the man from his his past who caused his pain, but his fragile world quickly unravels.
I caught up with filmmaker Travis Mathews for a behind-the-scenes look at the film.
You've written that this story was inspired by your experience of rural Texas in recent years. Are you drawing on any autobiographical elements for this film?
Not in a literal sense — I wanted to harness the energy that was in the air at that time. It was the lead-up to the 2016 election, and I'd begun to listen to AM talk-radio. I also noticed a lot of men either hiding behind black boxes or using the term 'discreet' on the hook-up apps. The rise of the alt-right was being championed, and I was interested in what ways it was impacting men's sexuality or ideas of masculinity. It felt like something was going to burst. I wanted to capture that strange anxious energy in the zeitgeist.
What was your casting process?
Some of the actors came from a simple, local casting call. Jonny Mars was recommended from filmmaker friends, and for good reason — he's a powerhouse and all-round great guy. We created Alex together, and throughout it all he stayed pretty fearless.
The character of Alex is damaged in all sorts of ways. It paints a fairly bleak picture for victims of abuse — was that your intention?
I don't intend to speak for all victims of abuse. Alex is a product of the kind of isolated and toxic representations of masculinity that populate the movie, and which I felt in the air — especially among conservatives and conservative media.
The insight that the film gives us into the lives of gay men in rural Texas suggests that being gay isn't a lot of fun in this part of the world. Was that your experience?
It was less what I was personally experiencing and more what I was witnessing. I grew up in rural Ohio, which is in the same zip code as Discreet. I was familiar with the closeted and hyper-hetero-normative men that are found in the country.
But the political climate in 2016 — and that continues — added a whole other layer to what it meant to be a man in this moment. Straight, white, rural men are terrified and angry right now about losing power — that kind of posturing has an impact on the gay and closeted men around them.
What do you hope that people feel when watching the film?
I hope people question the extent of damage caused with our current stream of toxic masculinity from the powers that be, and that it might provoke them to do something about it. I know that it's an intense and visceral film. Interestingly, we thought we'd be living in a Clinton presidency when we made the film. It was meant as an unapologetic time-stamp to evoke the feel of 2016, we weren't supposed to be living in that same moment now.