Fagabonds
An unapologetic peek into the queer scene of Los Angeles.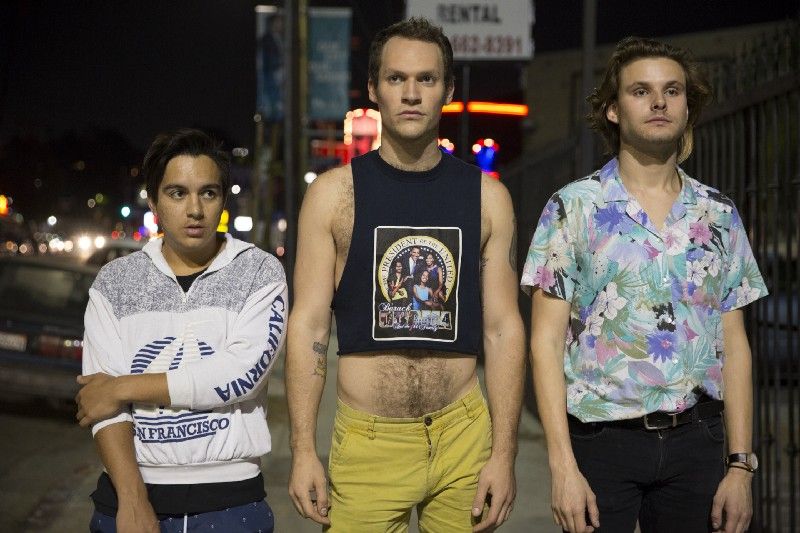 Fagabonds is a web-series created by Matt LeGrande and Ben Simpkins — who also star, along with Johnny Mendiola.
In Fagabonds, three young gay guys from different backgrounds explore dating, sex and ​friendship while navigating their way through life in Los Angeles. Fagabonds is an unapologetic peek into the queer scene of LA.
I caught up with Matt LeGrande for a behind-the-scenes look at the series.
What was the inspiration for Fagabonds?
I grew up in an evangelical missionary home, hidden away from all gay media. I was shocked, after spending time with Ben and Johnny, how organically the three of us were able to have healthy and honest conversations about sexuality and life without shame. I didn't know friendships like that existed between gay men. We wanted to depict that.
Are you drawing on any personal experiences for these characters?
Each character is a caricature of themselves — Matt is naive but well-intentioned, Johnny is playful and shameless, and Ben is a hard-working bitch. We were intentionally honest with our shortcomings — there are moments where we purposefully drag ourselves for the level of privilege we have and how we handle situations poorly — we didn't want to create a glossy portrait of gay life because that's not us.
What was your casting process for the series? Was it always intended that you and and Ben would be playing leads?
Johnny is naturally the funniest person I've met in my life — he has no performance background whatsoever, but I kept hearing him say things in real life that would make me cry laughing. Like, in the first episode, when the dude asks him where to finish and he goes — 'Um… cum in my hole, faggot, duh!" That was a line from real life that I couldn't have written myself.
Originally, it was going to be a buddy comedy — with myself in drag as a clueless self-righteous white girl, and Johnny as himself. But once Ben and I started collaborating on the script, and the three of us started spending significant amounts of time together, it just made sense to incorporate Ben into a trio and nix the drag persona.
I found it interesting that in real life, Johnny, Ben, and myself, all come from drastically different backgrounds. I was raised in Indonesia by evangelical missionary parents, Ben was raised by liberal college professors, and Johnny was raised by DJs in the Midwest, yet somehow we all found ourselves dealing with the same problems any young gay does.
As far as special guests go, I'm a stand-up comedian and I wanted to use as many people in the comedy scene as possible to make this show come to life. That was probably my favourite part, getting to showcase some of the funniest people I know — like Candy Lawrence as the Lyft driver, she is a comedy god.
What was your production process like?
This show was a feat! All three of us worked two different jobs in the midst of creating this show. We worked episode by episode. Ben and I would send drafts back and forth to each other while at work, he would rip my version to shreds and send back a revised version, I would yell at him and cry, and we would eventually come to a healthy medium we were both happy with. Sharing your creative vision is hard, and Ben is incredible for sticking with me.
We had no production team, and zero budget behind us, so after each script was finished we'd rally together and see how the hell we were going to be able to figure out locations and schedules to make each scene happen. Everything was shot guerrilla-style — from sweet-talking an awesome waitress at Astro-diner to let us film a brunch scene there, to telling the guy at Dream Garden that my ex-boyfriend used to work there — we used whatever resources we had to get the shots we needed, and it paid off.
It's important to watch the show as a whole. The fourth episode was actually the second episode created but we quickly realised that we hadn't set up enough of an emotional connection with the characters for viewers to give a shit about their hardships — it felt dishonest and forced, so we revised our plan and created a five-episode format that told a more holistic story.
What does Fagabonds have to say about life for gay men in LA?
We are lost and without guidance and that is 100 percent okay. Probably the most powerful takeaway is the importance of good friendships. I know so many lonely people in this city who haven't taken the time to invest in intimate relationships because they're focused on 'making it.' Sex is fun and money is great, but if you don't have good friends you're going to be unhappy.
I hope people can related to the silliness of this show. Los Angeles is such a goofy place, where people take themselves way too seriously — if you're not laughing at yourself during the process, what the hell are you doing?
What do you hope that people feel when watching Fagabonds?
I hope people feel happy to see queer experiences depicted without judgement, but also that they feel a little sad for these characters. They're so free after being repressed for so long, but they aren't operating in the healthiest ways possible.
There are so many strange encounters that happen in gay culture that often occur without documentation — whether it's a hook-up out of loneliness, a spanking party at a random dude's place in WeHo, or a scary check-in with your STD doctor. Being a baby-gay can be scary, and I want this series to shed light on these coming-of-age experiences. It's okay to be curious, to explore, and to be silly.
What happens next for Fagabonds?
Fagabonds is only the beginning — we've just started to get to know the characters and the world they live in. Whether or not we create a season two for these characters will be played out in other collaborations. Ben and I have already started our next endeavours, and I'm excited to see where this series takes us.
Episode 1
Episode 2
Episode 3
Episode 4
Episode 5
Photos from the series