Feeling the heat in Portugal - Sunburn is a film simmering with sexual tension
A film by Vicente Alves do Ó.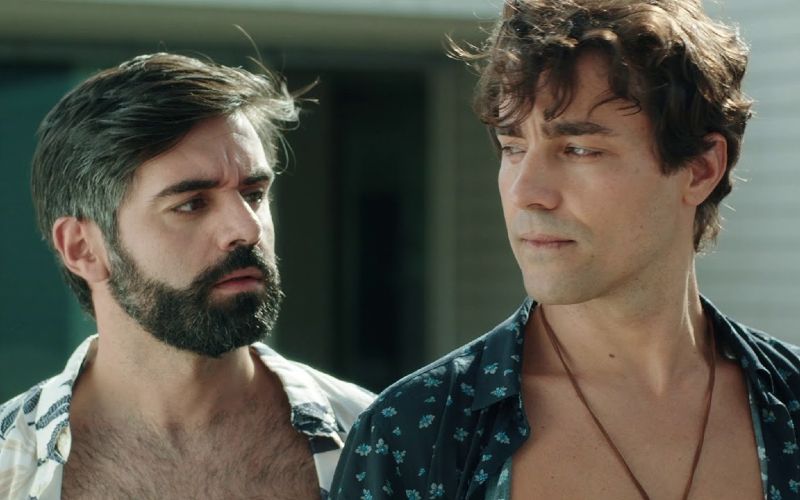 Sunburn is a film from Vicente Alves do Ó.
In this film, we're presented with the story of four friends, one swimming pool, one house, one phone call, and one question – what if the love of your life came back, ten years after everything was over?
The film stars Ricardo Pereira, Oceana Basílio, Nuno Pardal, and Ricardo Barbosa.
We caught up with Vicente Alves do Ó for a behind-the-scenes look at the film.
What was your inspiration for this story?
The inspiration was actually real life. My own, and the one's near me – some friends and people I knew. Maybe we're in a place of our lives where we start thinking about these things. Maybe it's a generational thing. But the truth is that all our stories became more or less this one. So, I wanted to talk about that.
We always use personal stuff in characters or plot lines. It gives fiction much more of a sense of reality and truth. I wanted the film to have that sense, so that it would deliver a much stronger reality. It's sort of my mantra – create from what you know and the world will identify with that.
What was the production process?
The first script was written in 2010. It took some time to develop and rewrite and, above all, to become more mature in terms of characters and dialogue. It was a project that was always with me, but I wasn't in a hurry to shoot it. So, I think it was done when it was ready.
Filming it took a couple of weeks. The location for filming is very near my home town, in the south of Portugal – a very posh place called Comporta.
What was the casting process?
I wanted to find a good mixture of well-known actors and new ones – like Ricardo Barbosa, who plays Simão. I also wanted them to be good to look at, but real – not too much like a model. I was lucky, I guess. The casting process took some months, but the final group matched what I had in mind.
What does the film tell us about how our memories of the past shape us?
I think that the past is always working and shaping us, as if life itself couldn't be contained in time. Our memories and feelings don't know what time is, and it can be evoked just like that – a wind, a message, a kiss, a word.
It actually makes us less depressed about the idea that death is taking us all to the same place. But, it's not death that actually controls us – it's memory and love.
What do you hope that people feel when watching Sunburn?
That it's very difficult to learn how to live, but the great secret of happiness is that there is no secret at all. There is just this idea of acceptance that we need to understand in ourselves. And the reality that we can't control anything.
Sunburn is distributed by TLA Releasing