Fernando Carpaneda and the art of men
Meet the artist exploring the erotic appeal of masculinity.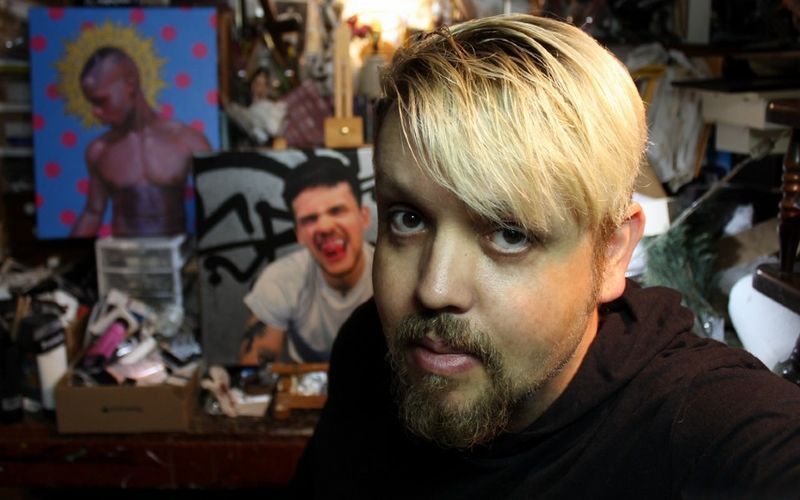 We're big fans of the work of Fernando Carpaneda, so it's exciting to see that he has two paintings selected for the 2020 Long Island Biennial in New York.
The two paintings selected for the biennial are: Homophobia Kills. Case Number 17, and Jesus Christ.
The exhibition of the work included in the Long Island Biennial will be on view from 15 October until 10 January 10
Who is Fernando Carpaneda?
Fernando Carpaneda creates sculptures and paintings with an aggressive creativity within the punk and homoerotic genres. His diversity celebrating works are included in multiple art collections, galleries, and museums around the world.
Little Book of Big Manliness
Carpaneda has also recently released a new book – Little Book of Big Manliness the Miniature Homoerotic Artwork of Fernando Carpaneda.
I spoke with Fernando about the book.
"In the past two years, I've sold more than 80 miniature paintings…" explains Fernando. "So, I decided to make a catalogue, with the paintings that I've sold, to preserve my work in a book. It's a book for anyone who enjoys miniatures and homoerotic paintings."
"I always worked with miniature sculptures, and from there, I started making miniature paintings as well. Miniature paintings and sculptures have always been something I've created in parallel to my large-scale work."
"My paintings and sculptures are a public diary, where I represent the way I live, and the people that I've met during my life. Twenty years ago, I was stabbed in the back by a homophobe who hated my homoerotic paintings of male nudes. That's where the book's reference to manliness comes from – I didn't let the attack stop me from creating homoerotic work – I think that's pretty damn manly."
"Manliness is an attitude. That masculinity is arousing when we see men having sex or masturbating. That's what I'm showing in these paintings."
"I want people to see this collection as a whole – as a collection of work that inspires them to have strength to continue with their dreams and points of view."