Film classics: A unique opportunity to see The Umbrellas of Cherbourg on the big screen
Jacques Demy musical masterpiece is returning to cinemas in the UK.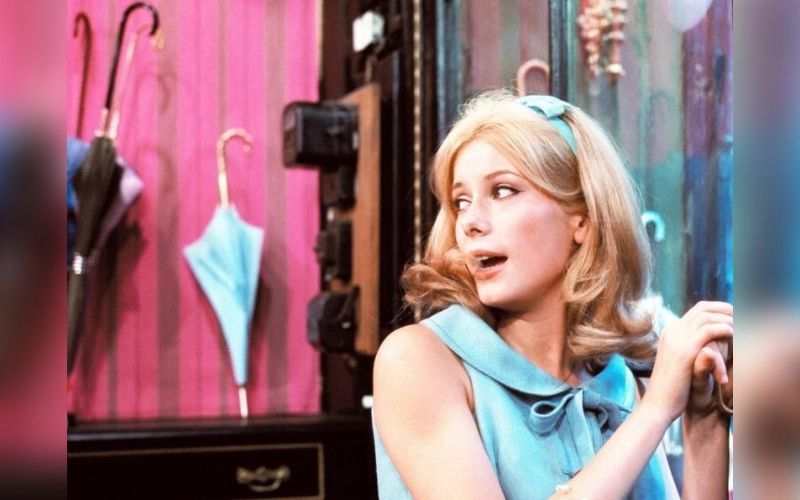 Described by director Jacques Demy as a film in song, The Umbrellas of Cherbourg – Les Parapluies de Cherbourg – pays homage to the Hollywood musical but does so with a determinedly French perspective on the world.
The film introduces us to Guy (Nino Castelnuovo), an auto mechanic, who has fallen in love with Geneviève (Catherine Deneuve), an employee in her widowed mother's chic but financially embattled umbrella shop. On the evening before Guy is to leave for a tour of combat in Algeria, the two share a passionate night, resulting in Geneviève's pregnancy. She must choose between waiting for Guy's return or accepting an offer of marriage from a wealthy diamond merchant.
It's a romantic drama of everyday people trying to make the best choices they can – navigating their emotions and the vagaries of chance.
If this is your first encounter with The Umbrellas of Cherbourg, you'll quickly realise that this film is a world away from the Disney-esque formula that defines the genre of today's musicals. There's no big numbers, there's no dazzling dance choreography.
It's a story told in three acts – The Departure, The Absence, and The Return. Every word of dialogue is sung as recitative, every scene and conversation is sung-through – as you would see in an operatic production.
The score by Michel Legrand provides a rich fabric through which the story is woven. The main song, Je ne pourrai jamais vivre sans toi/I Will Wait for You, was nominated for an Oscar and has been a hit for a number of recording artists.
It may not be like anything else that you've seen but, undeniably, The Umbrellas of Cherbourg is a stunning piece of cinema.
Released in 1964, it won the Palme D'or at the Cannes Film Festival.
As well as a poignant, captivating story, the film is also a visual feast – awash with intense colour, bringing to life a fully realised world with a bold and bright palette at every turn.
Deneuve and Castelnuovo are irresistible on screen, but it's not their voices we're hearing. Danielle Licari sang the role of Geneviève, while José Bartel sang the role of Guy.
While Demy's recitative style of musical film isn't something that we see today, watching The Umbrellas of Cherbourg will immediately bring to mind La La Land – the acclaimed musical film of 2016. La La Land's director, Damien Chazelle has confirmed that The Umbrellas of Cherbourg was a key creative influence for him.
If you want to indulge yourself with a timeless cinematic experience, immerse yourself in the music and magic of The Umbrellas of Cherbourg.
BFI presents The Umbrellas of Cherbourg in cinemas from 6 December