Follow the journey of a queer cowboy who is Too Far From Home
Immerse yourself in the latest series of work from Hovvrad.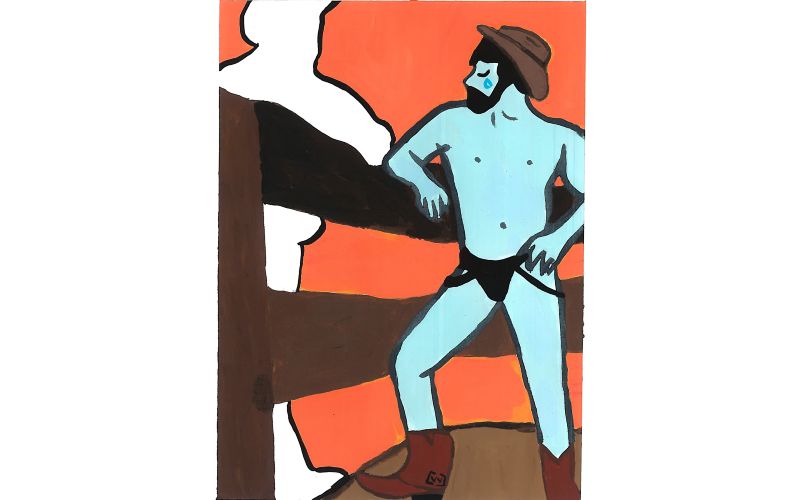 The latest series of work from Hovvrad – pronounced 'how rad' – is Too Far From Home.
Based in California, the artist adopted the name Hovvrad when he started making films around the age of 17 – aiming to stand out in a competitive industry.
In early 2019, Hovvrad began to focus his creative energies on painting, exhibiting his work and building his confidence. The year culminated with being selected as an artist-in-residence at the Tom of Finland Foundation.
As 2020 has unfolded, Hovvrad has been using his art to try and navigate our new-normal. The result is Too Far From Home: Tales of the Midnight Cowboy – a series of paintings and video projects.
Too Far From Home builds on the series There's No Such Place – created during Hovvrad's time with the Tom of Finland Foundation.
The series follows the Midnight Cowboy as he takes the long road home.
Drawing on his love for the mythology of American westerns, Hovvrad's Midnight Cowboy tells the story of a runaway who is searching for a lover he can settle down with.
In this series, Hovvrad is exploring themes of codependency, reflective consciousness, lust, deceit, love, and loss of control. Hovvrad describes the cowboy's journey as a slow realisation that he's chasing an image rather than true love, understanding his codependency in older men, and that he's really only looking for stability and sexual gratification.
"The body of work really explains the failure of my modern love story…" says Hovvrad. "I developed this idea in the winter of 2019 but placed it on the back-burner – at the time, my priorities were different. This project followed one of my worst artistic existential crises during the Covid-19 pandemic. I spent a lot of time in my head while stuck in my room. I would create works, but something wasn't feeling right. No matter how many paintings I made, nothing was speaking to me. So, I stepped back from creating paintings and did nothing for a while."
"Eventually, I came back to a more centred state of mind. The feeling of missing half of what I assumed was going to be a forever kind of thing, really sent my head-space into a frenzy. I began to retrace my thoughts, running back the clock three years to all the fights, lies, and moments of pain and sadness."
"As the first stage of the pandemic was reaching an end, I felt the pressure to have something to show for it. This sudden sense of uselessness hit me hard but also jolted me into action. Once I created my last video, I started sketching this project. Two days later, the paintings started happening, and the story started to build in front of me – almost like I wasn't aware it was happening. As these cowboys came to life, my story was being revealed –  my lesson for why my relationship failed, what I did wrong, my issues brought to life."
Hovvrad is donating the proceeds from the sale of these paintings to #BlackLivesMatter, LGBTQ Pride organisations, and Curious Publishing.