Fortune Feimster is ready to fight!
We love a woman who makes us laugh.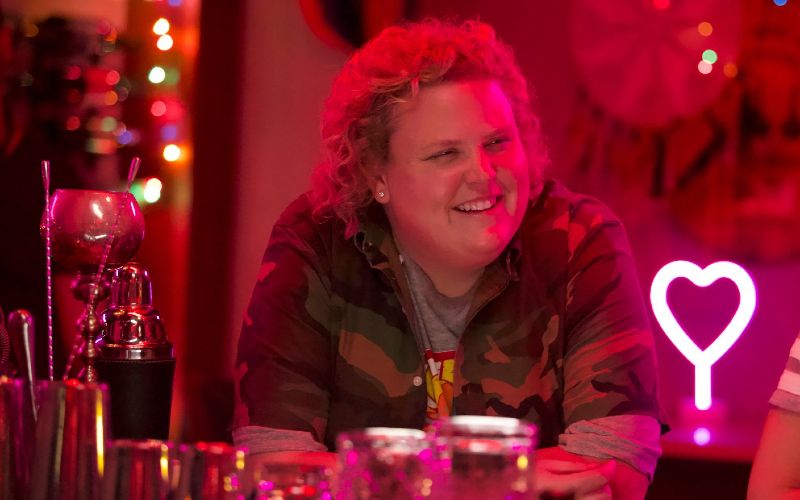 Fortune Feimster is back on our screens in Chick Fight. It's a women-only cage fighting club. Okay, we're interested.
Who is Fortune Feimster?
Fortune Feimster has been steadily building her career since her TV debut in 2010.
Her comedy is warm and relatable, turning everyday situations into entertaining anecdotes that make it pretty clear that Fortune is a woman that you'd like to sit down and chat to over a beer.
As well as her stand-up, Fortune has been a regular on shows such as Chelsea Lately, with major acting roles in The Mindy Project, Office Christmas Party, Champions, Tales of the City, and The L Word: Generation Q.
She currently has a Netflix stand-up special that is a total treat and worth watching.
Fortune was supposed to be touring throughout 2020 – performing shows to leverage the Netflix special – but obviously that's all had to be put on hold.
Is Fortune Feimster married?
Fortune Feimster and her partner Jacquelyn Smith have been together for ages, but the appointment of Amy Coney Barrett to the US Supreme Court – and the potential implications that has for Marriage Equality – led the couple to get married.
Fortune and Jacquelyn were married at Malibu in California, in a house that overlooks the ocean.
"It was something small…" Feimster said, speaking to media about the wedding. "We only had a couple of good friends there. We all had COVID tests. We purposefully kept it small for the reasons of it being during a pandemic. We had started planning in early March. We were starting to look at venues and stuff, and then COVID hit. So then we were like, 'I guess that big thing is not happening.'"
Fortune and Jacquelyn met at Chicago Pride in 2015. They got engaged in January 2018.
"I'm not going to lie, there were some nerves about the Supreme Court…" said Fortune. "After Ruth Bader Ginsburg died, all these people started talking about gay marriage again. On the first day of their session, two of the justices brought up gay marriage. I think I had posted something on Instagram, something like, 'Oh man, this is nerve-racking as a gay person.' Especially because we were planning to get married. All these people were like, 'Go get married now.' Who knows what will happen? Hopefully, marriage equality is here to stay. But we wanted to be more proactive and get married while we know we can. It definitely got the ball rolling for us a lot faster."
Fortune and Jacquelyn are planning to honeymoon in the Maldives, when that becomes possible.
Follow Fortune Feimster on Twitter