Fuelling the thrills of an exhibitionist
Do you like to be watched?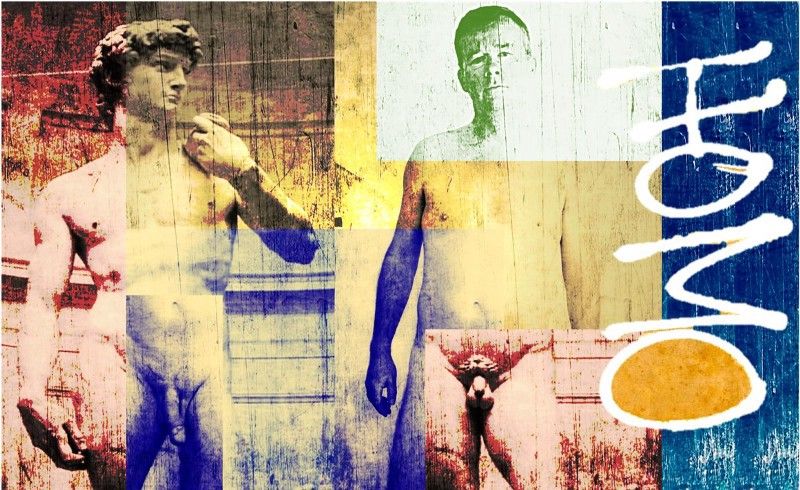 I caught up with Richard Crowe to talk about his determination for the world to see him naked.
With your videos and your blog, you're very open about your body. Would you describe yourself as an exhibitionist?
Yes, but I think we need to deconstruct that word and understand its component parts. I don't just 'make an exhibition of myself' and show off my body, my cock, and arsehole with gay abandon. I'm driven to do what I do. It's a compulsion, an obsession, a mental health condition if you like. It's not all 'just for fun'. I'm motivated by feelings of shame and guilt, a deep desire for humiliation and submission, and a strong self-destructive urge.
But of course, it makes me horny too. I love the thought that guys are seeing my naked images online and getting off to them, and I love their feedback — positive or negative, it all helps feed the urge.
When did you start sharing the naked photos and videos of yourself?
It started when I bought a Polaroid camera in 1977, aged 17, with my first pay packet. I took endless photographs of myself with my pants round my ankles, in mirrors that were rarely fit for purpose. But it was a huge turn-on just to see images of myself naked.
Then I borrowed a video camera from a friend, and started making short films of myself — largely outside, stripping off, and masturbating. I got really excited seeing myself ejaculating on screen like a porn star.
There was a break after this. I kept the films and the photos, but I didn't know what to do with them. There was no easy access to the internet at the time. I certainly couldn't afford a home computer. But there were other exciting opportunities like sex with real people, and the offer of making porno movies — which I did, got paid for, and have some images from, though the films themselves were poor.
Then, suddenly, I earned enough and PCs were cheap enough that I could afford one. It didn't take long for me to discover exactly what it was I could do with my photographs and videos. I saw other men doing it — most with their faces hidden and names withheld — and knew that I wanted to do more and go further.
It took some time. Like most online exhibitionists, I'd post my photos and almost immediately take them down again, I was so afraid of discovery. I spent sleepless nights with my images left on one site or another. Then hours begging X, Y, or Z to remove my images from their sites. While I didn't hide my face, I did adopt different identities.
But all the time, I was getting more excited and bolder about the possibility of permanent, full-on exposure. Then there was an interaction one night with an exposing buddy in Brighton. I would put his details — name, address, photo ID — online live, for as long as he could take it. Then he would tell me to take it down and put mine up there. We did this, on and off, for hours, before I said — 'Leave it there.'
That was that. No going back. I'm there permanently now. All over the internet. Search engines pick up my naked images whether you enter 'Richard Crowe naked' or just 'Richard Crowe.'
Do your friends and family know about your blog and your videos?
Some friends and family are aware of my naked online presence, though few know the details of that. A troll took it upon himself to forward some of my more lurid images to family members. Naturally that caused considerable upset. But families are more robust than trolls, so we live with it and manage it as best we can.
I've had some interesting responses from friends and colleagues who 'stumbled across' my images online. One colleague was so dumbstruck he was moved to mention to me that he'd seen me naked online but could say no more. We sat in a meeting, in shirts and ties, for two hours after that, and I imagined him looking at me and seeing me naked. That's a very horny thought for me.
Another friend contacted me on LinkedIn about a business matter, and ended his communication with a couple of lines about my 'audacious presence online' and invited me round to his house to get naked and pose for him. An offer I gladly accepted. He turned out to be a very good amateur photographer and took some shots that are still among my favourites.
What sort of feedback or response do you get to the content that you post?
Feedback and response is what exhibitionists thrive on. We need confirmation that we've been seen naked.
Individual exhibitionists will all want different comments — some will want to be complimented on the size of their cock, others will want ridicule at the size of theirs. Some will want to know that they've been wanked over, others that they're disgusting to look at.
But essentially, we all just want to know that we've been seen. So, we're happy with any comments we get, especially given that few people ever do comment.
For the most part, given that I'm a reasonably good-looking bloke with an okay body and a good-sized penis, the comments I get tend to be positive. Guys want to touch and suck my cock or fuck my arse, especially young guys now that I've become a 'daddy'. Others want to tie me up and torture my nipples and balls which is fine by me.
We all get the odd nutter, of course, who wants to cut our throats and gut us. But most of my negative press is when I post old photos that guys have seen before. There's always a great pressure in this game to have new and fresh photographs to circulate. Difficult to keep up with when you have a busy work life. There's stress even in being an exhibitionist in the 21st century.
Do you explore being naked or your exhibitionism in other ways beyond the blog and the videos?
I like to visit nude beaches and outdoor areas where it's okay to be naked. For me, that's as much an exhibitionist act as a naturist one, though I do have a genuine attraction to the naturist agenda and deplore society's general disapprobation of the nude body. How many sex crimes could be avoided if we all had a healthier respect, understanding ,and familiarity with nudity from an early age?
I also like to pose nude for artists as a life model. I find it hugely relaxing and non-sexual, in a way a complete contrast to my exposure online. I'd love to do more modelling of this kind, and am always open to offers. Equally, I'm keen to do more homoerotic and artistic stuff, and give the erection a rest.
When I was younger, I used to stand naked in front of open windows and cough to draw attention to myself. For obvious reasons, I don't do that now. Though maybe I would if it wasn't for the internet.
Do you connect with other guys who also like being naked or exploring exhibitionism?
There's an active community of exhibitionists online. Most of us are known to each other, and some of us message often, re-blog each other's posts, and otherwise 'hang out' online.
For the most part, we're ordinary, middle-class, professional guys. We're civil servants, charity workers, engineers, and professionals. You'd never know if you met us. But Google us and you'll see.
What's your ultimate exhibitionist fantasy?
I'd love to be naked on stage, masturbating for a fully-dressed crowd of over one hundred men, maybe getting one guy up to suck him, then another to fuck my arse in full view.
Another fantasy is that I go to this guy's house. I don't know him, I've never met him before. He answers the door and ushers me into his sitting room. He sits on a chair, fully dressed. He stays fully dressed throughout. He tells me to strip naked. I already have an erection. I then start to masturbate. Slowly, very slowly, so he can see every stroke and detail. I move closer to him — right in front of his face so I can feel his breath on my cock and he can smell me. I use my free hand to rub my body, my nipples, I squeeze my balls. I moan and sigh and breathe heavily. I want the guy to know I'm approaching orgasm.
The most exciting bit, beyond seeing his eyes on my cock, is that point of no return. Nothing is going to stop me coming now. Nothing is going to stop him seeing the sperm shoot from my cock. If I'm lucky he will let me shoot my spunk over his face. Wherever it goes — over his sofa or chair or floor or trousers — is good for me. He's just seen me perform my most intimate act, and the buzz is electrifying.
I've done this. More than a few times. But not as many as I'd like. There have been variations — more than one guy there, one guy filming or taking photos, me ending up on my knees being spunked on, the guy pulling my balls and wanking me off — but the basic scenario remains the same and it works for me every time.
Follow Richard Crowe on xhamster