Gavin Hay: Daddy Issues
The former porn star who is getting down to business.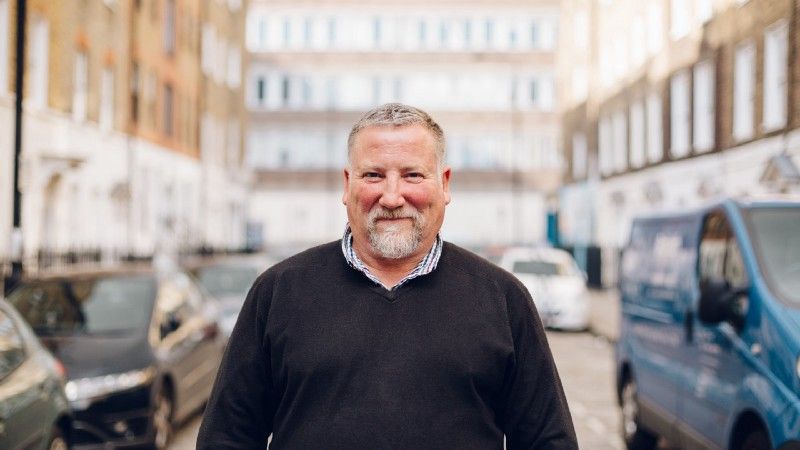 Gavin Hay is the man behind gay porn studios Alphamales, and Eurocreme, as well as post-production agency Cherry Cherry. When he was in front of the camera, he went by the name of Trojan Rock.
I caught up with Gavin to talk about whether being called Daddy is something that we should be embracing.
How old were you when you first had sex with a guy?
Well, as I remember I had a car then. An electric blue Ford Cortina, so I must have been 17.
What was it like?
It was a beauty — and the guy was pretty damn hot. We weren't gay. We would drop off our girlfriends after a night out and head for Margate Seafront car park. We'd ask each other if our respective girlfriends did 'this' or 'that' to us, and if it felt the same. There was probably no kissing.
Remember, in those days we had only John Inman and Larry Grayson as role models, so we had no idea. We weren't hosting the Generation Game, nor were we working in a department store. Seriously — I had no idea.
I was physically sick the first time I kissed my best friend. I was petrified at the level of excitement I felt. I thought I must be a bad person. Depraved. My head swirled. We didn't know anything about being homosexual, beyond that it was wrong.
How did you learn about sex with guys?
A hell of a lot of secret liaisons. A lot of — 'I'm not really gay, I'm just experimental…'
When you made the move into porn, were you confident that you would be able to have sex on camera?
Oddly, I was. I was 40. It was a strange move for a guy who'd spent his thirties wearing V-neck jumpers and corduroy trousers.
In terms of the sex that we see in gay porn, how authentic is that?
What is authentic sex? Sex on camera is nothing like the sex I have with my husband. It is authentic, in that it is sex — you can't get away from that. Is it satisfying and fulfilling? It would depend on the day, the co-star, the direction, the costume, my mood.
It's nowhere near my reality nowadays, but while I was having casual sex on a daily basis, yes, it mirrored my reality. But I'm a monogamous guy — I was pretending to be someone else.
In your experience, what type of guys are best in bed?
In my persona as Trojan Rock, it's all about the perfect cock, the perfect abs, the perfect pecs. To be able to say — 'I had that… I was good enough for him… He got off on me…'
But nothing beats my husband's eyes — it's all about our chemistry, it's about our love and respect for each other. It's about trust.
As we get older, it's easy for gay guys to start to feel a bit invisible — we start to feel that we're too old for the clubs, too old for the apps, too old to be seen as desirable. What advice would you give to older gay guys to help boost their confidence?
I have mates older than me — in their 60s — who are so uncontrollable and still out there having daily encounters. Still good-looking, in a more mature way.
You know, that's just not for me nowadays. It isn't all about clubs and hunting. Done that, been there. For me, I'm happy and content to be finding out what it's like to share life-experiences with a soul-mate.
For those still searching for sex, or a partner, I'd say just go out and get on with it. Have fun.
As an older gay guy, is being called "Daddy" a compliment?
This is the biggest debate amongst my friends of a certain age. For me, being called a Daddy is about attitude. For others, it relates to age. I'd imagine that if you're a bottom, the idea of being called Daddy might just freak you out.
Whatever age you are, sex can be a bit scary, it's when we're at our most vulnerable. Do you still get a bit nervous or apprehensive before sex?
Actually, sort of. Even though for the past six years I've only had sex with my husband, I do sometimes start to get a bit nervous about being the stud he thinks he married, or wants me to be. He's 14 years younger than me.
I'm getting older and, let's be honest, fatter. However, I do relax — in the knowledge that ultimately we are what each other wants. It isn't about body perfection, it's about pleasure.
What makes a guy sexy?
Knowing what he wants. Also, good thighs, a strong back, and a bubble butt.
Listen to an interview with Gavin Hay