Have you got what it takes to be a Rollergirl?
Get your skates on!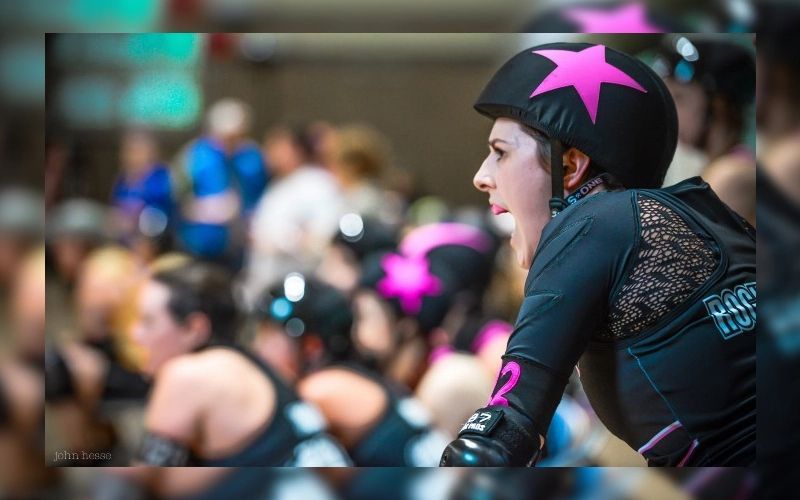 Could roller-derby be what you're looking for to shake things up a bit?
We caught up with Gaz from the London Rollergirls to find out what it takes to make it in an all-female roller derby league.
Established in 2006, the London Rollergirls created the first roller-derby league in Europe. What is it about the Rollergirls that you've been able to create this momentum around a relatively niche sport?
Since the beginning, London Rollergirls has been focused on development and innovation within the sport of roller derby. We want to bring the best of the sport to our skaters and fans alike. We're lucky in that we're based in a major city, and therefore have a great platform to share roller derby with large audience. Thankfully, we've never had a shortage of passionate, motivated people to make this happen.
When you get a group of people together who are deeply passionate about something, it is hard not to create momentum! But honestly, I think that Roller Derby creates momentum for itself. It's a sport that is exciting to watch and even more exciting to play. It's one of those things that people will say – 'I've never heard of it?' and then come back a week later and go – 'I read all the rules, where do I sign up?"
There's a sense of rebellion or danger about roller-derby. Who are the women that are drawn to this particular sport?
Roller Derby really attracts people from all walks of life – people who want a new activity to keep fit, people who are attracted to the community, people who like the idea of having a skate name, and people who are attracted to the complexity and skill of the sport. It really is a diverse group.
One of the many wonderful things about roller derby is that there is no one body type that suits the sport. The Roller Derby athlete comes in all shapes and sizes, which is very attractive to people.
What are your membership numbers?
Overall, we have around 70-80 skating members.
We're constantly recruiting new skaters at the fundamentals level, and we get a lot of skaters requesting to transfer from other roller derby leagues. We're still growing!
Do you have to be really good at roller skating in order to take part in roller derby?
Not at all! At London Rollergirls, we have a fundamentals program, which teaches you the basics of roller derby and skating. People come into the program at all different levels of skating skill. Being able to skate well will certainly help with progression and make learning derby easier, but plenty of people start without a lot of skating experience at all.
There are roller derby teams at all different levels, from complete beginner to world champion level. In London Rollergirls we now have everything from our fundamentals program through to D,C,B, and A teams.
I'd never put on skates when I started roller derby, now I'm on the A-team competing at World Championship level, and I skate for England Roller Derby.
Your league is just for women – is there any discussion about gender identity?
Roller derby works very hard to be inclusive as a sport and as a community. Part of this is an inclusive gender policy, which includes women – trans, inter-sex and cis – and non-binary individuals. Basically, unless you identify as male, you're welcome to skate for London Rollergirls, and any other roller derby team under the umbrella of the Women's Flat Track Derby Association.
There are also many roles within the league for people who aren't able to join as a skater, including Refereeing, Non Skating Official, and bench and support staff. There are also men's roller derby leagues for men wanting to play.
For the derby community, creating a space where people are free and safe to play sport and be part of the community regardless of their identity, particularly gender identity, is very important. The WFTDA has a gender and inclusion committee, and the issues surrounding inclusion are in constant discussion and development.
There's a very heart-warming documentary about a young girl of about nine or ten who has been excluded from sports at her school for her whole life and then discovers roller derby. I couldn't recommend it enough. It's called In the Turn, directed by Erica Tremblay.
Is it accurate to describe roller derby as a queer sport?
I think there are loads of reasons queer people are attracted to derby. My main personal theory is to do with how roller derby subverts the traditional roles and expectations of women. While things are definitely changing, it's still that case that in the vast majority of the world, girls are taught that they are precious and delicate. They're not taught to be physical or use their bodies the same at boys are – just look at the rate girls drop out of sport as they hit puberty. Girls are taught that being smaller is more desirable. Girls are taught that you don't need to – and shouldn't – be strong because men are there for that. We're taught not to be too loud or aggressive.
Roller derby encourages the total opposite. The more space you take up, the more effective you can be, the stronger the better, the louder the better. It's an aggressive, physical, fast sport. Finding a space that encourages you to explore and discover ways of being that you've never been encouraged to be is intoxicating for a lot of people, queer or not.
As a queer person, you're forced to see a different perspective from most people in that your desires don't meet the expectations of society. I think when you live your life from a young age with a perspective different to the norm, it comes much more naturally to question other normative expectations. I think queer people more than others often strive to subvert these things in everyday life. It's very refreshing and empowering to find a community like Roller Derby where gender expectations are subverted and everyone is doing it.
The queer community is also very celebrated in roller derby. There is a themed team called Vagine Regime, that most most countries have a version of, which is solely for queer skaters. Vagine Regime teams will often play exhibition games in tournaments or events. The US Vagine Regime team has several gear sponsors who have created limited edition VR kit. Being part of a community where being queer is both celebrated and normal is really powerful. Also, roller derby is pretty fun, and queers love fun, right?
If someone was interested in giving roller derby a try, what advice or guidance would you give them?
It doesn't matter what level your skating is at, the roller derby community is friendly, supportive and super-fun. Even if you've never put on skates in your life, even if you have no idea what to expect, just contact your local derby league and they will help you with everything you need.
Dive into the world of London Rollergirls