He's a star online but can this Brazilian cam-sex model find a connection in real life?
Hard Paint is the second film from Filipe Matzembacher and Marcio Reolon.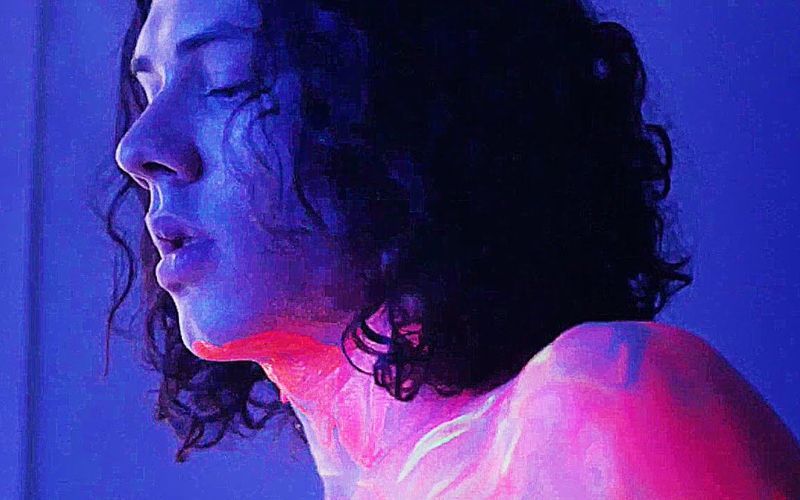 Written and directed by the film-making team of Filipe Matzembacher and Marcio Reolon, Hard Paint – Tinta Bruta – takes us into the world of a cam-sex model.
Set in Brazil's southern city of Porto Alegre, the story of Hard Paint focuses on Pedro – a socially repressed young man who only comes out of his shell during chatroom performances, when he strips and smears neon paints on his body.
Hard Paint is the second feature-length production from Matzembacher and Reolon, and it has a similarly subdued and understated tone to Seashore – their debut film. Immersing us in the mundane of everyday life in Brazil, in a part of the world that seems a long way from the beaches and carnival atmosphere that we often associate with Brazil. Porto Alegre is the home-town for both Matzembacher and Reolon – it's a city that they know well.
"The initial idea came from a feeling of abandonment…" explained the directors in the film's production notes. "We live in a medium-sized city. Therefore, a good part of our friends, as soon as they passed adolescence, moved to larger cities in the country or even abroad. For those who remain there, like ourselves, what is left are the memories and the feeling
of staying in a place abandoned by so many others."
"In a way, if Seashore is a film about self-discovery to face the world, Hard Paint is about surviving into this world,
finding the strength within yourself to move forward and face the judgement of others…" reflected the directors, comparing their two feature-length films. "While in our first feature, at some point the characters sing – I know who I am! But in this new work, Pedro is confronted by a stranger who imposes on him – I know who you are."
"We had to look for some time for the actor who would play Pedro, our main character…" confirmed the directors, discussing their casting process. "We wanted someone from our hometown. And, above all, the actor should have a fragile look but with a latent aggression. We had to believe that, in a specific situation, he could commit a violent act. At a party we met Shico Menegat, and we believed he had that characteristic. He had never acted before, but was very
interested in the challenge. So we started a seven-month rehearsal period. In the third month Bruno Fernandes joined us. Bruno was a student of performing arts and an actor with an important theatre group from our city, but had never worked with video. Since the first time we saw him on stage we wanted to work with him, and we thought that the character of Leo would be that opportunity."
Hard Paint is distributed by Matchbox Films and will be released in UK cinemas on 2 August